Uncle Ed's Golf Hat Meets a Snowstorm…
My Uncle Ed, my Mom's oldest brother, passed away last August. He was a young 94, living to the limit of life every moment of each day until he became ill back in April.
Uncle Ed grew up in Boston, served in the United States Navy during World War II, worked at U.S. Steel until he retired. THEN he moved to the blue skies, warm air, 80-ish daily degrees of Florida, 40 years ago.
In those earlier years back in Boston, Uncle Ed played football on his high school football team, as quarterback. Uncle Ed won the Golden Gloves in the City of Boston (and requested that he be buried with his medal). He was.
He was training to run the Boston Marathon when he enlisted in the service…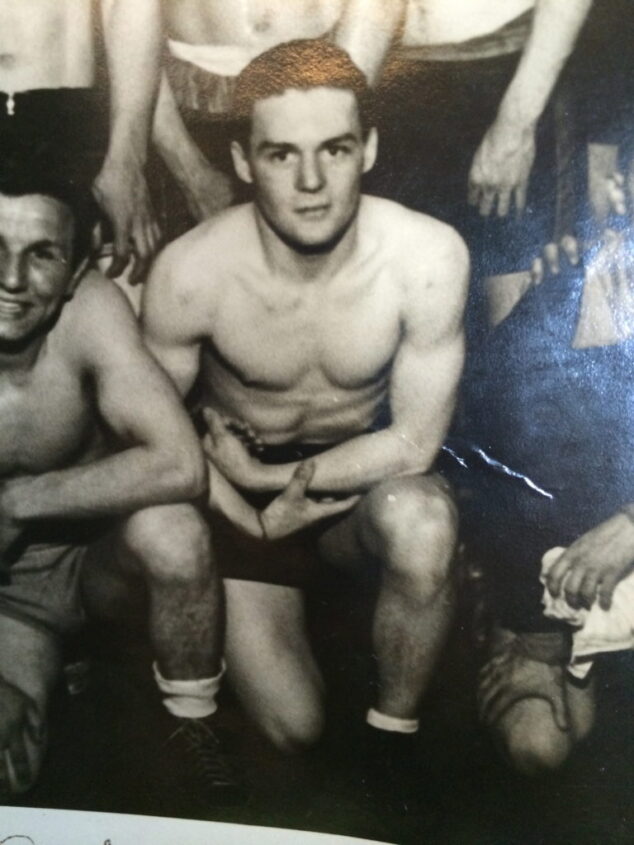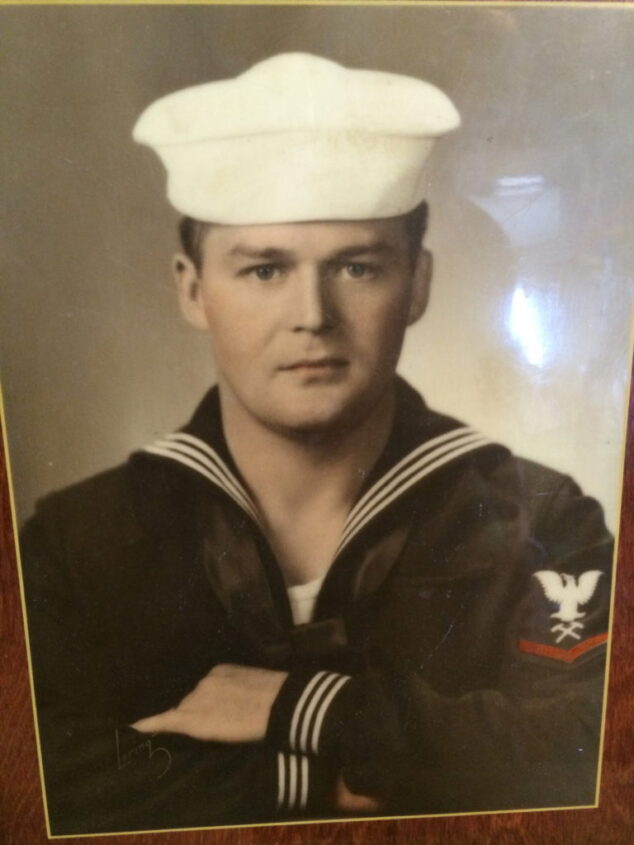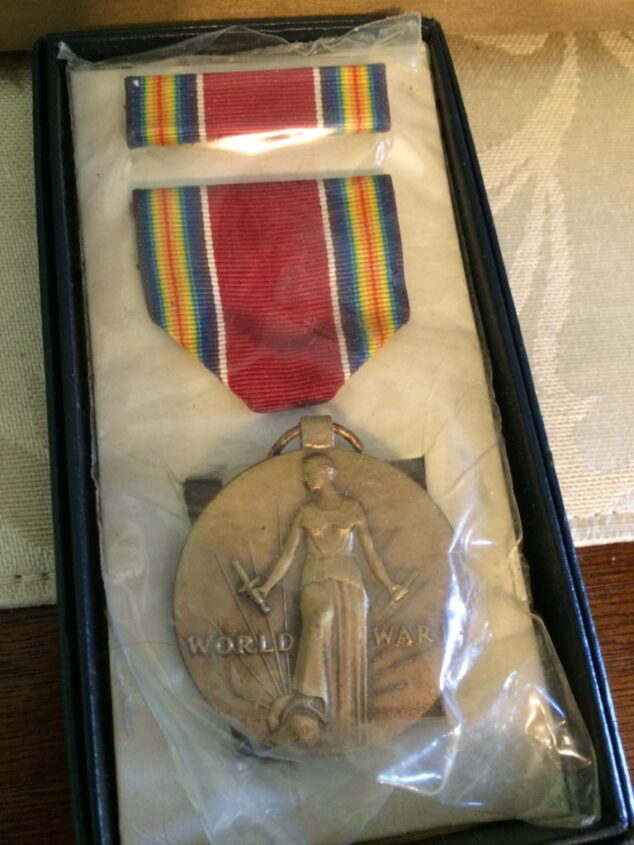 Uncle Ed would never fulfill his dream of running Boston, but it is still a dream that one day I hope to fulfill for him. He would instead get married, be blessed with a son, and tragically lose his son, my cousin Eddie, at age 24.
Uncle Ed always asked about my running. He was particularly proud of my running the Marine Corps Marathon. He would tell and re-tell his stories of running along the Charles River and seeing the famous Boston Marathoner Johnny Kelley training, too. Uncle Ed's blue eyes would twinkle and light up like the sky on the most lovely of days as he recounted these stories of his youth.
In Florida all those years later, Uncle Ed would buy a condo, date lots of women (indeed!) – or "lady friends" as he called them – and play golf every single day. As a matter of fact, he'd often play 2 rounds of 18-holes/day. He actually shot 2 holes-in-one!
Uncle Ed was one of the funniest people I've ever known, sharp as a tack 'til he took his last breath. This would be when he returned to Boston to live my my Aunt Ruth, the youngest of my Mom's siblings, and her family. Even toward the end of life, Uncle Ed had stories to tell, anecdotes to share in his distinctive Boston accent, a laugh that would enlighten the darkness and his quick wit and memory to tell of the stories, anecdotes and fun…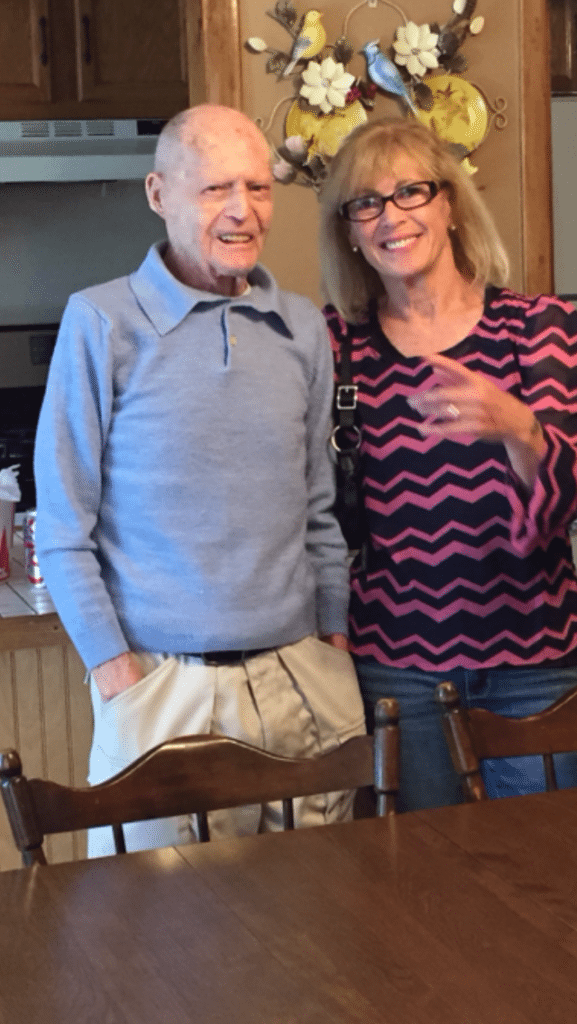 I didn't see Uncle Ed often during his Florida years because Barry and I were busy raising our family. We did visit Uncle Ed in the spring of 2011 and he took us to fine restaurants, with him dressed-to-the-nines. Uncle Ed loved looking sharp and he loved entertaining his family. But most of all, Uncle Ed loved taking Barry and I to his local American Legion, where it was like Cheers when Ed walked in… everyone knew his name.
Uncle Ed and my Dad had been best friends, and I think being with me was like being with my Dad. He even asked me if I could "put down a few beers, like your Dad."
I said, "Try me!"
We did.
Uncle Ed, Barry and me talking, laughing, drinking beer at that Florida American Legion Post from those little ice-cold glasses where the beer stays so cold, surrounded with Uncle Ed's buddies. I think this was one of the best afternoons of my life. Like my Dad was there, too.
It was one of the best and most memorable afternoons of my life.
Of course, Uncle Ed talked golf to Barry.
Uncle Ed LOVED golf.
For Christmas, I would send Uncle Ed gifts of clothing (good stuff!) and then when the kids were older, they would send him gifts, too. He particularly loved gifts from Brown University because he was so proud to tell his buddies (and "lady friends") that that's where his grand-nieces went to college.
Lots of golf stuff.
There were t-shirts, golf shirts, golf towels, golf club covers, tees, tee storage pouches — you name it.
When Uncle Ed passed into eternal life, he had a magnificent Military Funeral and was buried with his parents, his son and other loved ones in a family plot in Boston.
In early December, Barry and I joined two of my cousins and flew to Florida to sort Uncle Ed's worldly goods and prepare to sell Uncle Ed's condo.
It was there that we found all the golf things, all the photos of family back East among all the pastel swirls of his Florida decor.
If it's possible to have some of the best few days of your life with cousins and husband while sorting through a loved one's life, well, we did. We laughed as we re-told Uncle Ed's stories and anecdotes in his distinctive Boston accent. We celebrated Uncle Ed over glasses of beer. We shed a few tears, too, of the missing of a guy little in stature but so very big in life and heart. Condo neighbors came, too, telling of what a great guy Ed was and how sadly he'd be missed…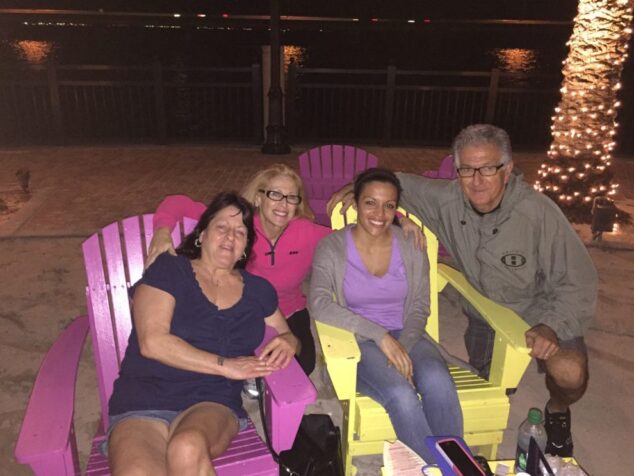 And how life goes and as life is, in all of its grandness of things and the things we accumulate, we each took away a little thing or two of the endless things that tell of the living our lives. After a dozen or more trips to Good Will and a full day of two wonderful men from Habitat for Humanity loading their truck with good stuff from Uncle Ed's condo, what meant the most to me was a golf hat.
And yesterday, as I was heading out to shovel the February snowstorm from my back steps and walkway… of all the hats I have, I picked Uncle Ed's golf hat, the one from Brown University.
The February snow was heavy and wet, but my heart was light and sunny…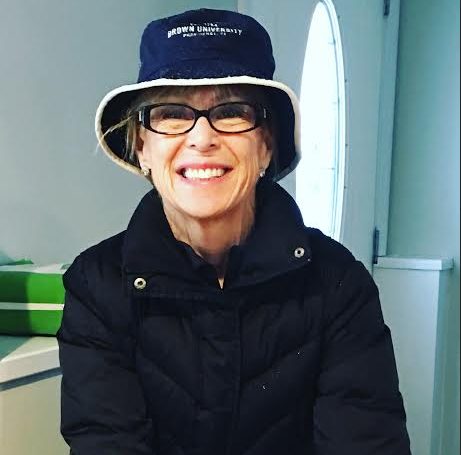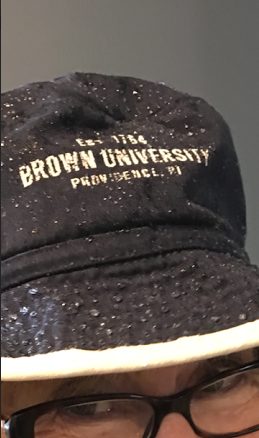 A hat.
A golf hat.
A now rather older golf hat.
Isn't it amazing how the simplest of things have the power to spark our memories, our brains, our love, the intensity of emotions to make us wear an old golf hat while shoveling piles of hard, heavy, wet New England snow with the lightest of spirit because that thing belonged to someone special?
It amazes me.
And then this happened…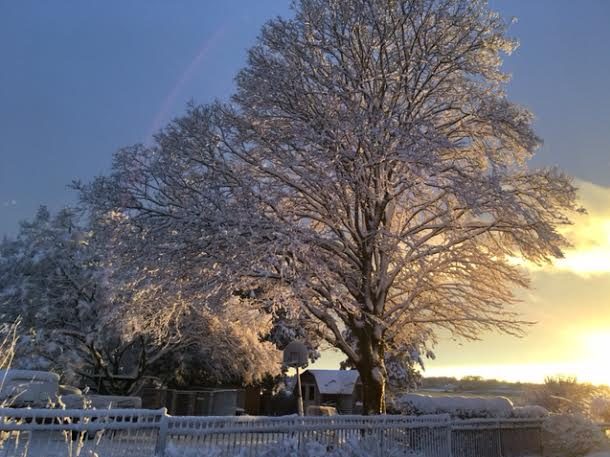 In an instant so sudden and so unexpected, the most glorious sun appeared in the western sky, cloaking my driveway and walkway and illuminating, bathing the late afternoon in pastels.
Ahhhhhhhh.
The warmth and golden hues of Florida.
Uncle Ed had come to visit!
I just know it.