My lovely, versatile Williams-Sonoma olive motif plates…
12 years ago, my daughter Audrey and her husband Matt were living and working in New York City. Their apartment in this great City was on West 57th Street, near Columbus Circle and across the street from The Shops at Columbus Circle, a small, upscale mall in the Time Warner Center.
I had retired from my teaching career by then, and visited Audrey & Matt as often as I could, most often driving in from Rhode Island and every once-in-awhile indulging myself with a wonderful train ride. I loved making my way around the City as a sightseer, theater-goer, and kind-of wide eyes' admirer. I loved the little cafes and restaurants and enjoyed heading across the street to the mall at Columbus Circle for a bite to eat or just enjoy the so many different people who lived in or visited New York City.
It was just plain cool.
One store I loved to peruse at the mall was Williams-Sonoma. Barry and I have always loved to cook and entertain, and Williams-Sonoma is a mecca of fabulous kitchen items.
I, too, actually had the time to peruse. This was so new to me!
During the end of the Christmas season of 2003, I wandered into Willliams-Sonoma one afternoon and saw some lovely olive-inspired motif appetizer/salad/sandwich/dessert plates, made in Portugal, sold in sets of 4. I loved the versatility of the plate size, the olive motif and the Portugal origin, as Barry is Portuguese…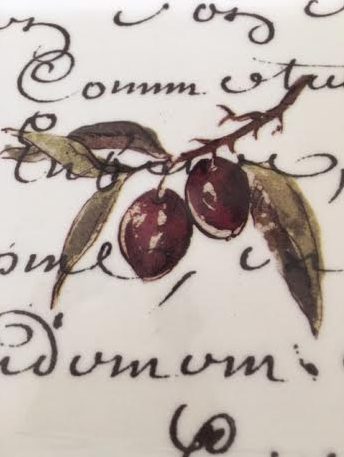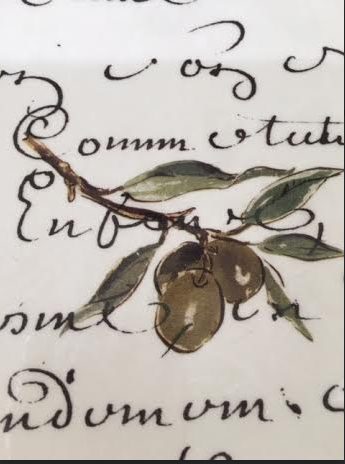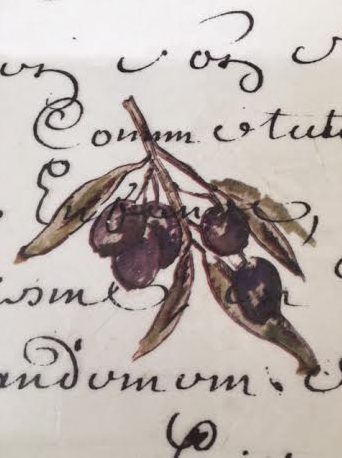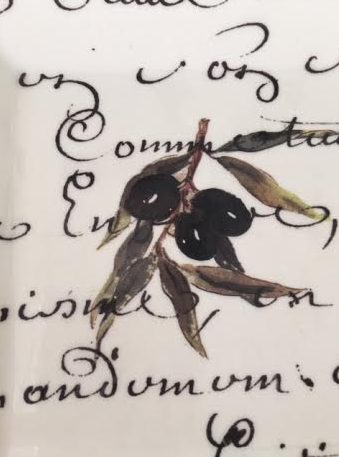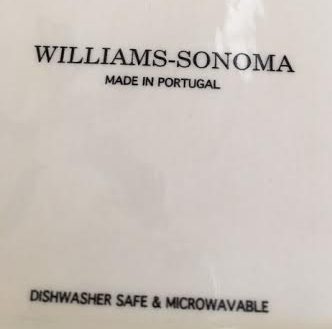 I thought these plates were very special, very lovely, and wanted 4 sets, 16 plates in all, as a Christmas gift for Barry.
The sets were a bit on the expensive side – $24.00/set of 4, but it was Christmas, after all.
Problem was, there was only one set left. The manager called other stores for inventory, but there was nothing. I did purchase that one set, and as I expected, Barry loved them.
But this is not where the story ends.
I visited NYC again, in the middle of January 2004, ended up at Williams-Sonoma (go figure!) one afternoon. And guess what?
Yep.
The olive dishes.
4 sets.
In stock.
On sale.
80% off.
What?
I gobbled up those 4 sets for under $20.00.
I carefully packed the 4 boxes into my luggage and hauled them home on the train.
Barry and I have used these plates every single day for 12+ years. We've served hot foods, cold food, fancy foods, plain foods, kids' foods, appetizers, salads, sandwiches and desserts on them. Over and over and over and over again. We've microwaved them. Dishwashed them. Over and over and over and over again. We've entertained family, friends, grandkids with them. We've seen our grandkids grow to 11, expecting #12, over this years. Over and over and over and over again. And again.
And, of course, we've chipped some, broken some, a couple went home with someone or other and never came back, and we eventually ended up with just 4 plates — but that's a very good record for 12 years of constant, constant use…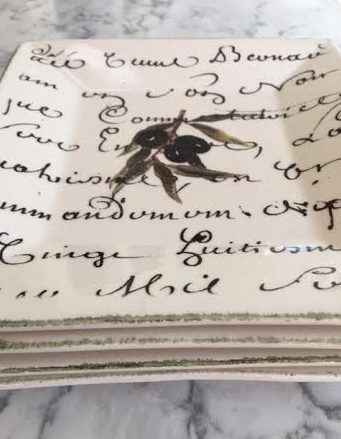 These plates have touched a lot of hands, a lot of food, a lot of hearts, a lot of happiness, a lot of blessings, a lot of Love.
Sometimes, I guess, some "things" just mean so much more than they may seem.