Working out is my zen. It's my time to relax. It's my time to recharge. It's my time to give myself something that's good. It's my time to just be. Working out requires you to have the proper attire, too – athletic shoes are the a definite must! I partnered with Rack Room Shoes to show one of my favorite styles, the ASICS GEL-Contend 3 and how they "role" with me from the pavement and tread to the aisles of the grocery store!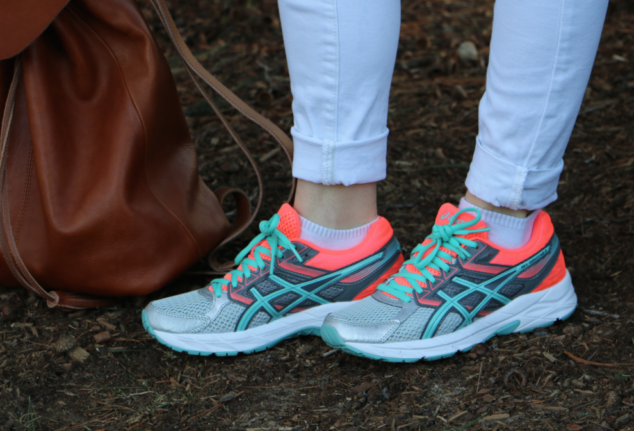 With 5 kids, it's not always easy to sneak in workouts.  I love to run, power walk, stationary bike and do pure barre. All of these workouts require my full attention and really give me what I'm looking for – a full body workout. Sometimes I have 20 minutes to run… and sometimes I have 45. Sometimes I have time for a pure barre class and sometimes I just don't. My schedule – with work and keeping up with William, Alex, Ben, Henry and Victoria – it changes every single day.  That being said, I need to make sure I'm always ready for anything – so I love to find athletic shoes that can transition from the gym to "real life."
Here are my fashion fitness tips for finding athletic shoes to work into your everyday life:
1. Find ones that visually appeal to you.
2. Find ones that are comfortable and fit perfectly.
3. Make sure your athletic shoes give you what you want and what you need (read the features and what they're meant for – running/cross training/etc).
4. Find a price that works for you.
As soon as I saw the ASICS GEL-Contend 3's on Rack Room Shoes, I knew they were the athletic shoe for me to try out. I absolutely loved how they looked, but most important for me – the ASICS GEL-Contend 3 women's shoe is designed to keep new runners psyched about lacing up. I'm training for a 1/2 marathon right now, so I definitely need to keep myself excited and ready to run! The GEL® cushioning technology keeps your ride smooth and absorbs shock on impact, while the mesh upper won't weigh you down.
And… the cool part for this full-time working mom is that I can easily transition these beauties into my life outside of the gym.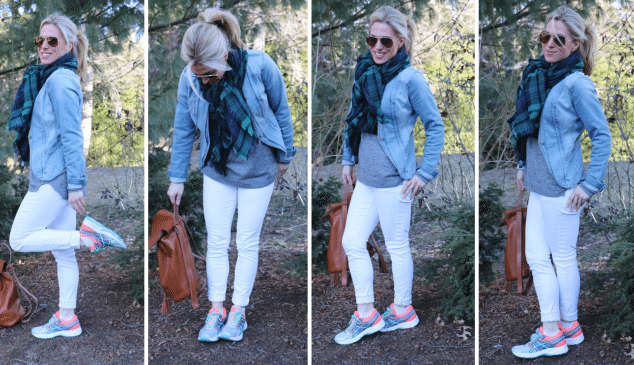 I love how I have the fashion versatility to wear them with my "street" clothes. I'm all about getting the most out of the clothes and accessories and shoes in my closet, I love that I can do that with my ASICS, too. They have such gorgeous and bold colors, I love pairing them with my white jeans, gray top, chunky scarf and denim blazer – and I'm off!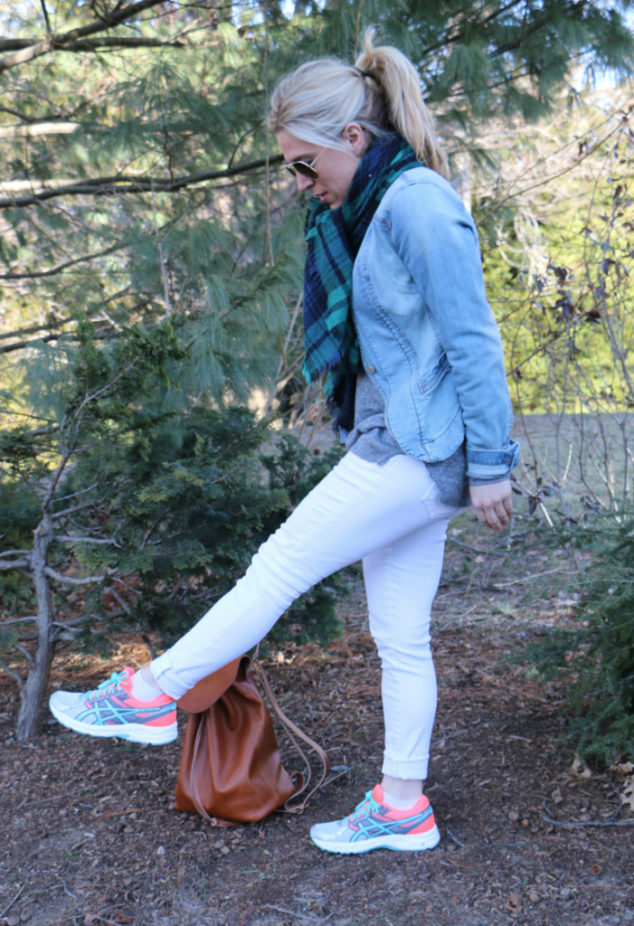 It's fun to be able to have comfy foot attire on while I'm on the go!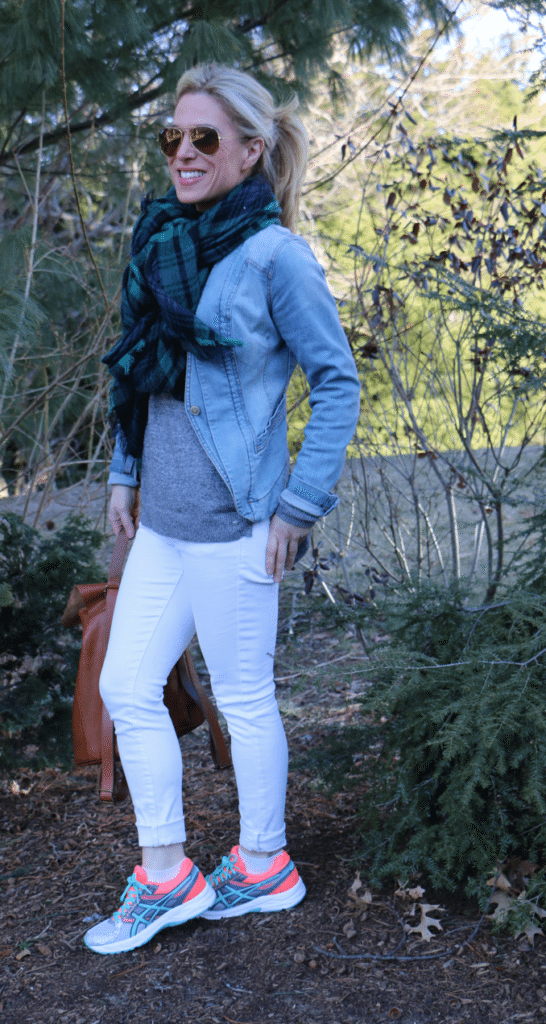 I appreciate Rack Room Shoes offering top-performing athletic styles that cater to families with an active lifestyle. We're ALWAYS on the go and extremely active, having the footwear to keep up with us (all 7!) is necessary!
Let Rack Room Shoes be your go-to "Athletic Shop" – with fashionable and functional footwear that helps families reach their fitness goals. My sons are excited to start doing 5K runs this summer with me and their aunts and uncles (and cousins!), so I've been making sure they have the proper athletic shoes for training with me. Rack Room Shoes has the newest athletic and casual arrivals from brands such as Asics, Nike, New Balance, Puma, Skechers, Saucony and Reebok; plus new patterns and seasonal prints from your favorite brands like Converse, DC Shoes and Vans. Truly, there's something for everyone. You can't beat the affordable pricing at Rack Room Shoes both online and in more than 400 stores nationwide!!
Head over for a shopping trip at Rack Room Shoes and share with me what you found and bought!
Happy day everyone!
*Disclosure: Sponsored posting with Rack Room Shoes. All opinions are 100% my own.