A Snowy Wreath for Snowy Days…
Just about a month ago, I headed to Michael's to take advantage of the 80% Off All Holiday Items Sale.
I wasn't looking for decorating items for next Christmas season, but rather Winter decorating for the rest of this Winter season here in Rhode Island.
I call it finding my festive Joy.
I love Wreaths, in particular.
I love Wreaths for each season, each holiday, each event.
I love the cheerful welcoming of a Wreath.
The Wreath has a long, storied history, dating back to ancient cultures of the Egyptians, Chinese and Hebrews, and throughout Europe, as well. The circular shape tells of eternity, of life never ending. Wreaths were used in religious celebrations, for symbols of victory and representation of immortality. The traditional Christmas Wreath not only symbolizes eternal life, but strength through winter, too.
The custom of hanging a Wreath on a door was also once used for identification purposes, just as house numbers are used today. Most Wreaths were made from flowers grown in the home owner's garden. Isn't this a lovely idea!
Today, a Wreath is most often used as a seasonal decoration.
This is where my Snowy Wreath comes in.
I wanted something winter wonderland-ish. Something snow white-ish with pops of color. I wanted something that spoke to winter in New England.
I think I got it among the sale items at Michael's…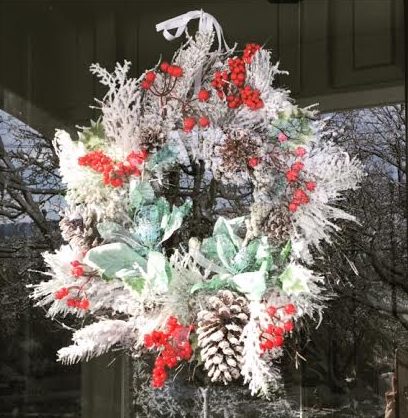 Pops of reds and greens. Soft browns of New England pine cones. And snowy, snowy white.
I've been loving the look of Winter Snowy White from my busy sidewalk on my busy street in my little New England town.
All that was missing was the snow!
Until…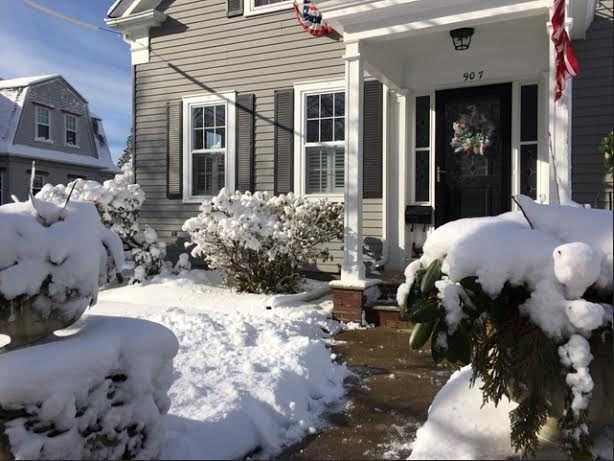 Now my Snowy Wreath with its long, storied history brings this winter wonderland right to my front door.
I am so mesmerized by it all!
I've found my festive Joy!
(Now, if I could get my flower-garden act together and create magnificent Wreaths for Spring, Summer & Fall… so, you know, people could identify my home!)