The perfect Ham & Egg Sandwich that brings back memories all the way from childhood…
This past Saturday morning, the day after a rather significant snowstorm, my husband Barry and I saw the pastels of sunrise and decided to take a walk just a short distance to town for breakfast…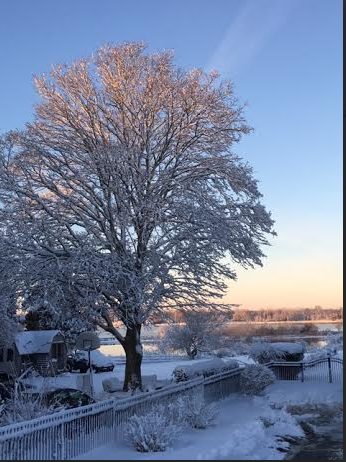 We stopped at one of our favorite little restaurants, Bristol Family Restaurant, a place we've eaten for years, decades, actually –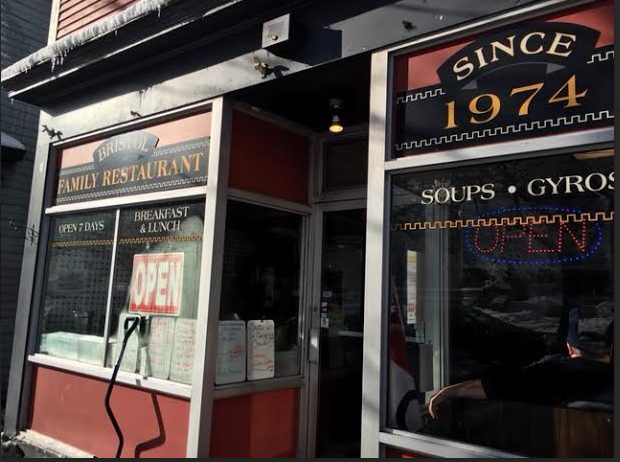 It was recently sold by former owners Christos & Angela Tsimikas, whom established its place in the town of Bristol, RI back in 1974.
Barry and I had become friendly with Christos & Angie (read their beautifully touching story of determination, hard work and success); and, of course, we wanted to support the new owners, Dan & Deb Creeden, too…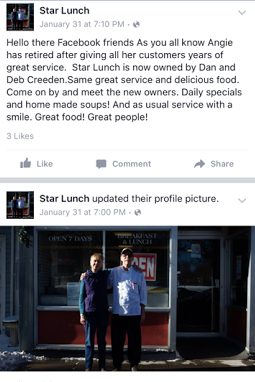 The restaurant's name is new ~ Star Lunch.
The menu is similar, but a bit different, too.
I ordered a Cheddar Cheese & Bacon Sandwich on a Grilled English Muffin.
Barry ordered a Ham & Egg Sandwich on Toasted White Bread with Home Fries...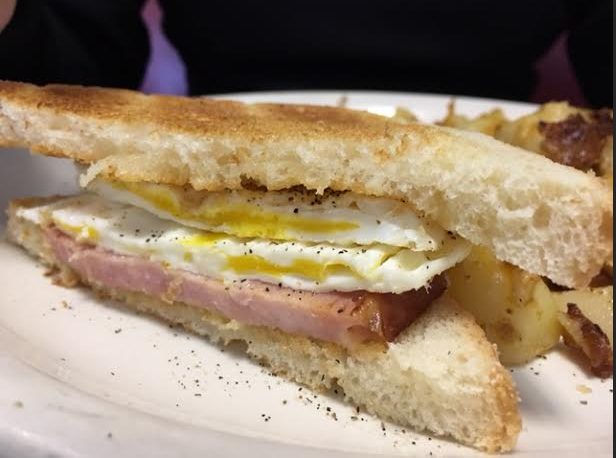 Barry often orders Home Fries, mostly for me. He has heard me tell, for the 40+ years we've been  together, how much I loved my Dad's Saturday morning breakfasts of egg sandwiches with home fries or potato hash.
Barry never met my Dad.
My Dad died suddenly during the same summer back in 1975 that I met Barry. My heart is still happy that I told my Dad of this guy whom I had met while teaching summer school. I think my Dad saw that old twinkle thing in my eye, and I am forever grateful for that. My Dad knew this guy was someone very special and maybe with a Dad's intuition, knew he'd become my husband through my words and smiles and maybe, maybe even some golden angel dust.
And Barry knows my Dad, I think, mostly through my memories of his Saturday morning breakfasts.
I would awaken to the sounds and aromas of a busy kitchen, busy with ham & bacon sizzling and eggs a'cracking and whipping, potatoes a'chopping, slicing, dicing and shredding — and coffee percolating, the old fashioned way.
My Dad grew up on a farm in Michigan and joined the Navy at age 17, so he had lots of experience with this breakfast thing of hearty and good and made to eat up.
But I think it's my Dad's smiles while whipping up his specialties like Ham & Egg Sandwiches & Home Fries/Potato Hash that I so came to cherish, and still do to this day. The preparation was as joyful as the breakfast itself, and was always delivered hot off the griddle.
Barry knows this.
This is one of a zillion reasons I love him so much.
So onto the Star Lunch Ham & Egg Sandwich on Toasted White Bread with Home Fries.
I had already begun to eat the incredible deliciousness of my Cheddar Cheese & Bacon Sandwich, piping hot off the griddle, when I saw Barry's Ham & Egg Sandwich with Home Fries delivered… and all of the Saturday morning breakfasts with my Dad came back to me.
It was my Dad's sandwich and home fries. Right there.
I do think it's food, whether a feast or a simple breakfast, that has the magic to carry us back in time.
Or, perhaps, food is sometimes delivered on angel wings.
Of course, I cut a nice big piece off that Ham & Egg Sandwich from Barry's plate (he's such a good guy!) and sat there enjoying the company of my wonderful husband and my angel Dad.
And, yes… I complimented the cook on the best Ham & Egg Sandwich I've had in a very, very, very long time!