Zootopia opens TODAY and is now playing in theaters everywhere!! To say I'm excited is an understatement!
I had the opportunity to see the movie Zootopia while in Orlando for the press junket and I absolutely (positively!) loved it! There's magic to this movie, that only can be best described at Disney magic. It really was an exceptional movie that I encourage moms and dads, grandparents, aunts and uncles, etc. to bring the kids in their life to! I had the chance to see it with some of my close blogging girlfriends during the press junket and we ALL agreed that it was a total win!
My kids cannot wait to go tonight for our "Friday Family Movie Night!" I woke up this morning to see this on our family calendar for March 4th, it made me smile. Our tickets are already bought for the 5:00PM show tonight, so it's going to be a night all about ZOOTOPIA for the McClelland family! ♥

(According to my guys there are only 4 things that are important this month – No School, Swimming, Birthday Party and ZOOTOPIA!)
So why must you absolutely see Zootopia!?
Honestly, there are many reasons, but I wanted to share with you my top 8 reasons:
1. I always love takeaways in movies, especially for kids. The message in this movie is that you can be anything you want to be. That's a powerful message for a child to embrace and get excited about… even for adults, too! I love in this movie how you see Judy Hopps evolve throughout and become exactly who she wants to be, even with so many obstacles in her away. She kept prevailing. She never gave up. She believed in what she wanted to be and nobody was going to take that away from her. You can be anything you want to be. Those words. This message. It's extraordinary in Zootopia.
2. You'll experience many emotions while you watch this movie. You laugh. You smile. You tear up. You get concerned. You feel empathy. The range of emotions that you feel while watching Zootopia are amazing. You really feel committed to the characters of Judy Hopps and Nick Wilde. I love a movie where you are truly moved by the characters and you are rooting for them.
3. Regardless of your age, you're going to love this movie. Byron Howard and Rich Moore created such a SMART movie. There are so many funny jokes sprinkled throughout the movie that ONLY adults will get… and you're going to absolutely love it. My personal favorite are the Godfather references. I don't want to give too much away, but OMG! I was LAUGHING OUT LOUD!!! And something that Byron Howard said when we interviewed him really hit home to me, too about the laughter in this movie. He said this story… "A real quick story because we're talking about seeing that [DMV] scene around the world. We had a really nice experience in Belgium. When we were watching the Flemish audience watch the DMV scene… there was this father and this little boy. And the father was cracking up at the sloths and the DMV. And his little boy was watching his dad and he's smiling at it — seeing his dad crack up." That's magical and special, seeing your parents experience just as much enjoyment and entertainment in the same movie you're experiencing it in too.
4. The sloth scene. Watching it in the theater, there's nothing like it. That is all. Drop mic.

5. Jason Bateman and Ginnifer Goodwin are incredible as the voices of Nick Wilde (Bateman) and Judy Hopps (Ginnifer). You feel that these characters are actually them in many respects. Especially with Jason Bateman, you actually begin to SEE him AS Nick Wilde. After interviewing each of them for this movie, I was even more impressed as to their passion and dedication to this project. They "play" these characters so well and so fully… and it was a true treat to watch.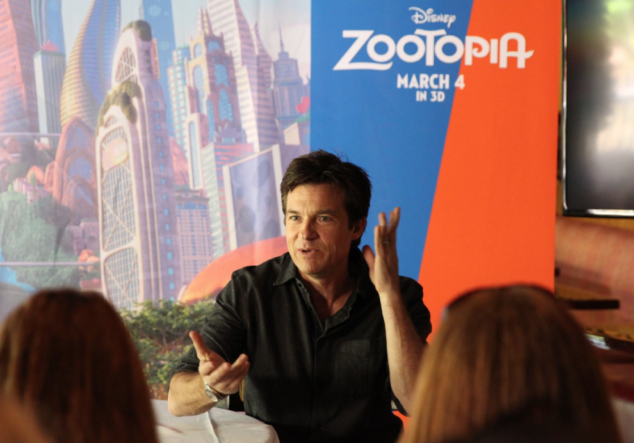 6. It's a teachable movie. I feel Jason Bateman said it best when we were interviewing him, "It's a nice tool for me as a dad to talk about. In this film racism or xenophobia or fear mongering or bullying. When I have a character that I can pause, and I can say okay, you see how that hippopotamus kind of gave a look to the "X"… it kind of makes the medicine go down a little bit easier and it makes it a little less ominous to broach these subjects. It's a nice tool for me as a parent, you know, and I like that." As a mom of 5, I wholeheartedly agree. It is useful to have movies like this to help open the discussion on topics that are very heavy and can be very emotional. Kids nowadays hear and see and know so much more than we did as kids, so it's VERY useful to have moments in "innocent" movies to help talk about these things.
7. Kristen Bell's 2-word "cameo" in this movie. She plays the sloth – Priscilla – in the DMV scene. It's 2-words, but it's epic.
8. Last, but not least —— Shakira as the gorgeous and stunning Gazelle!!
She plays a famous pop star and she's amazing! Her hit song, "Try Everything" will become your new favorite hit. It's inspirational. It's moving. It has a perfect dance beat. You'll be on your feet rocking and singing away!!
Head to the theaters on March 4th for ZOOTOPIA!
Facebook: https://www.facebook.com/DisneyZootopia
Twitter: https://twitter.com/DisneyZootopia (#Zootopia)
Instagram: https://www.instagram.com/disneyanimation/
Tumblr: http://disneyanimation.tumblr.com/
Disclosure: This was a Disney press trip. My travel was covered for this trip. All opinions are 100% my own.