I'm an ice cream girl through and through, so heading to Baskin-Robbins headquarters in Canton, MA on Tuesday was a dream come true. Not to mention, I was with my best friend, so it made it even sweeter! ☺
I'm going to be honest with you, I didn't know much about Baskin-Robbins other than the fact that I love their cakes and their Mint Chocolate Chip ice cream! It was incredible to get a true snapshot of the brand and to meet key people who have kept Baskin-Robbins an ice cream leader.
First off, they're part of the Dunkin brand, so we happened to be in the Dunkin Donuts headquarters, too. I have to say, it made the morning even better because we kicked off the day with D&D coffee and donuts! They even made my all-time favorite chocolate glazed with coconut!
Let me tell you a little about the brand…
Baskin-Robbins was founded in 1945 in Glendale, California by Burton Baskin and Irvine Robbins, ice cream enthusiasts and brothers-in-law, whose passion inspired what is now the world's largest chain of ice cream specialty shops. What was once a selection of 31 flavors—Baskin-Robbins "31®" stands for a different ice cream flavor for each day of the month—has grown to more than 1,200 in its flavor library. Today, Baskin-Robbins serves over 300 million guests each year worldwide. What I love is that the brand is still guided by the same principles and innovative thinking as its founders.
We had the opportunity to meet and chat with Weldon Spangler, Sr. Vice President of Baskin-Robbins. What I loved immediately about him was that you could see and hear the passion in his voice about Baskin-Robbins. This is a brand he grew up on in Texas. For him, there's been an emotional connection since childhood. That's priceless. He explained to us that he would go to BR when his baseball team when they won a game. As you can imagine, for Weldon, Baskin-Robbins has always brought him great memories.
That's how I've always viewed Baskin-Robbins, too. It's always brought me great memories. I've always loved their Mint Chocolate Chip. I'll never forget going to visit my cousin's in Maryland and always getting this tasty treat with my whole family. Even now, as I write this, I'm smiling.
Baskin-Robbins created a very fun Media Day for us on Tuesday. We truly got a fun hands on look at what goes into creating an ice cream, cake decorating and trying all the NEW incredible treats coming out. I'm not even kidding… we ate so much I didn't eat dinner Tuesday night!
The day was just amazing and so much fun!!
The cool part of the day was hearing about all innovations and new things happening for Baskin-Robbins in 2016+! Lots of things are coming! Are you ready for some exclusive reveals!!??
1. 1st Baskin-Robbins mobile app! For all my technology, loving friends… you're going to love this app! On the app will be: 1) Store Locator 2) Menus 3) Ingredients 4) Offers/Coupons 5) Ordering Capabilities 6) Payment via App 7) Digital Gift Cards
2. E-commerce Re-design! The site will have a redesign and be more visually appealing and fun for customers!
3. Home Delivery! Oh, yes… I said it – HOME DELIVERY!!!!!! I mean, I can't even tell you how much I love this one! Friday night? Ordering ice cream in!
4. Warm Cookie Platform will be coming!! We got to try their amazingly delish Warm Cookie Ice Cream Sandwiches and they were out of this world!!
5. Donut Ice Cream Sandwiches. Which we – for lack there of a better way to out it — LIFE CHANGING.
6. Polar Pizza! It's coming back!! It had a quick stint in the 80's/90's and people loved it! It's now coming back in full effect! It's a cookie/brownie base with BR ice cream on top, with added toppings.
7. New flavors!! One of which is Sour Patch Kids!! I mean, there's a new flavor introduced each month… it is just the best thing ever!! We got to try so many of them!!
What I love is that Baskin-Robbins really has always stayed true to their roots. The new flavor every month is one of the most important elements of Baskin-Robbins, people love it. Also – if you didn't know this already, make sure you note!! On the 31st of every month is Celebrate 31 – $1.31 for a scoop of ice cream!!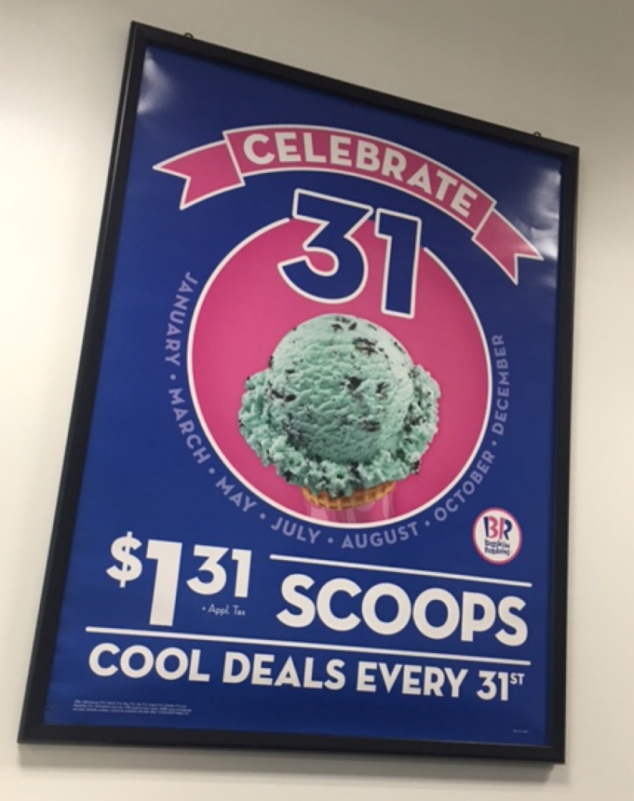 The day was just a ton of fun and (really) delicious!!
I learned so much and have a really great appreciation of Baskin-Robbins!!
But the best part?
It was seeing my children light up when I brought home the CAKE!!
Disclosure: This was a Media Trip. All travel was covered by Baskin-Robbins.