I'm not ashamed to admit that between the two of us, my sister Audrey was born with much more fashion sense. She has always been able to effortlessly throw an outfit together, mixing styles and trends and patterns, and look amazing. When I try, it just… doesn't have the same effect.
Luckily, I have her to help me when I'm feeling clueless about fashion. I also get a lot of her hand-me-downs (sometimes with tags still on them!), so it helps me at least look like I know what I'm doing.
Back in 2013 when I was pregnant with my son Brian, by the time I had to wear maternity clothes, Audrey had a ton to give to me because she had just delivered her daughter Victoria. Jackpot! I had an amazing maternity wardrobe at my fingertips and I only had to get a few pairs of jeans and tops to add to my collection.
Now that I'm pregnant with my second baby, a girl we're naming Eve Sharon, I still wear those maternity clothes that Audrey handed down to me, but I realized recently that my maternity wardrobe definitely needed some new pieces. Brian was a winter baby, and Eve will be a spring baby (due at the end of May), so I was lacking some nice spring-y dresses, pants and tops that could help me transition from third trimester to post-pregnancy.
So when Destination Maternity reached out to Audrey about partnering up for a special shopping trip for me, I literally leaped at the opportunity! We are lucky enough to have a Destination Maternity location in the awesome Garden City Center in Cranston, right around the corner from where I work, so it was super convenience to meet up with Audrey, Victoria and my mom for our shopping trip.
Destination Maternity has all of the latest maternity clothes styles so you can look and feel your best during your pregnancy. They have beautiful basics by Motherhood Maternity and A Pea in the Pod, as well as hundreds of styles by popular maternity clothes designers.
Kim, Kelly and Rita greeted us right when we walked in. We chatted a bit about my pregnancy and how I would describe my style so that they could help me find the clothes I would feel the most comfortable wearing, and that I would feel like "myself" in.
I tend to get a little stressed out when picking out clothes for myself, so when they offered to pick out some outfits that they thought would suit my style, I was completely on board. And they did an amazing job! They picked out some clothes that I instantly knew were my style – and some that I wouldn't necessarily have picked out myself, but when I tried them on, I loved them.
I usually dread trying on clothes, but I had SO MUCH FUN, partly because I was with some of my favorite ladies, partly because I actually feel more confident with my body when I'm pregnant, and partly because the clothing at Destination Maternity is just so gorgeous and flattering.
I also had the chance to get properly fitted for a bra while I was there, which was more exciting than I expected it to be. I had been wearing mostly sports bras because my regular bras just weren't fitting right anymore. When Kelly measured me and put me in the right size bra, I was amazed at how comfortable I could be in a bra. It was like a whole new world!
I've been getting a ton of use out of my new maternity wardrobe – it's perfect for work, for play, and even for my maternity photos, which Brian's nanny took this week (she is an amazing photographer!). I have received so many compliments on my Destination Maternity clothes. I love that they show off my beautiful baby bump while being totally comfortable and stylish. And I also love that I will be able to wear them after baby Eve arrives, too.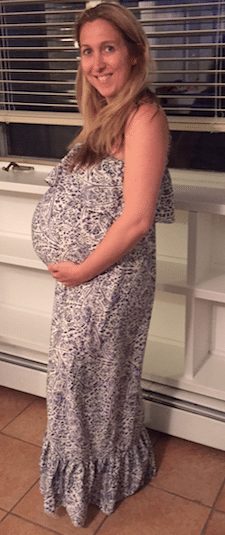 If you're looking for maternity clothes that are designed for fashion and function, that will make you feel confident and beautiful, head on over to Destination Maternity!
Disclosure: This is a sponsored post with Destination Maternity. All opinions are 100% my own.