Enjoying Blueberry Blossoms with kids, just for the fun and folklore of it!
The Blueberry Blossom – Before the Blueberry becomes a berry, it first must be a Blueberry Blossom.  Delicately bell-shaped, the Blueberry Blossom is primarily white, but can be pinkish or even tinted green…
The Blossom of the Blueberry is held in high esteem in the world of folklore.  In Native American tradition, the Blueberry Blossom, shaped as a 5-point star, is believed to tell the story of the Great Spirit's gift of star berries.  The Blueberry was revered for its sustenance value as well as its medicinal purposes, and the Great Spirit sent "star berries" to ease the children's hunger during a famine, the "star" always remaining on the berry itself…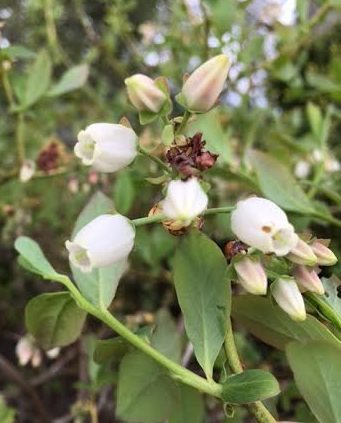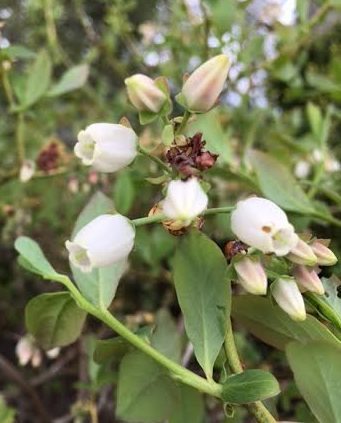 The Blueberry Blossoms tell us that the Blueberries are just around the corner.  Centuries of peoples from all over the world have gathered, consumed and used Blueberries for foods, medicines, dyes, flavorings, teas and juices, preserves and antioxidant properties. Botanists estimate that blueberries burst onto the scene more than 13,000 years ago!
Head outside with your kids today and discover the lovely bells of the blueberries.  Look for the Blueberry Blossom Stars.  Tell of the story of the Great Spirit recognizing the beauty and gift of the Blueberry Blossom.
Why not plant your own Blueberry Bush and watch the miracle of the Blueberry Blossoms transform into luscious Blueberries.  The most popular variety of Blueberry is Vaccinium corymbosum, known as the Highbush Blueberry. The wild Lowbush varieties are a favorite of those who like to pick their own Blueberries in the wild.  Heck, why not do both!
And share this delightful little Robert Frost verse while filling a pail with blueberries:
Blueberries ~

Blueberries as big as the end of your thumb,
Real sky-blue, and heavy, and ready to drum
In the cavernous pail of the first one to come!
And all ripe together, not some of them green
And some of them ripe! You ought to have seen!
Learning and Literacy begin in the simplest, most natural ways…