Invisalign: A Boomer's Journey, Part 2 ~
A few weeks ago, I wrote about my decades' old journey of coming to the decision, at age 63, to begin the process of teeth-straightening/alignment and ultimately choosing a wonderful orthodontist, Dr. Gregory Pezza, and Invisalign, a solution to straightening teeth using sets of custom made clear aligners that gradually move and straighten teeth.
Of course, beginning a new journey always comes with very important considerations and questions and I had done my research on process, cost and success rate…
And I had researched the how-to technology of creating images of my teeth for accurate treatment…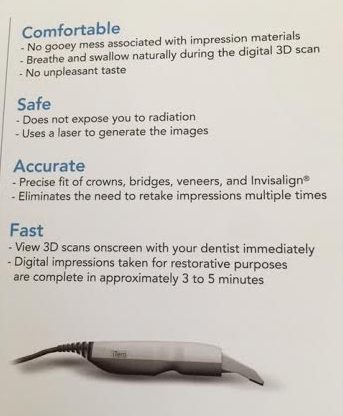 I will be honest here. I don't like pain and I had heard many stories of uncomfortable pre-braces dental impression sessions in the teeth-alignment process, including from my own children decades ago. I approached this "teeth images" process a bit tentatively, but settled into trusting Dr. Pezza and his informative, detail-oriented, kind and calm (I love these adjectives!) staff as each guided me through the information and the process while answering my many questions. During the approximate one hour of teeth imaging, there was not one moment of pain. It was, in a word, seamless.
But I still had 5 pressing queries while waiting for my first sets of custom created aligners to arrive: 1) what about pain while wearing aligners; 2) really, really – how about eating, brushing, flossing; 3) what about speaking/talking with aligners; 4) wearing for 22 hours/day; and 5) lipstick.
I'll begin with #5 ~ "Lipstick?" you ask? Ha! Yes! I am a lipstick gal and I really did wonder if the clear, removable aligners would be lipstick magnets. We all know those women who always have lipstick on their teeth and no-one tells them. Right? As a quick aside, like my 11th grade English teacher, who always had red lipstick on her teeth and we all saw it, knew it and the lipstick took on an unfortunate life of its own with high school kids' whispering observations. I would become an English teacher myself and don't even think the image of Miss *Lipstick didn't stick with me!
But back to query #1: Pain ~ I figured that I could handle some discomfort or maybe even some pain of new, fitted, invisible plastic things worn over my teeth…
I mean, these aligners must shift teeth into place, meaning that they must fit snuggly over teeth that must be moved. When I placed my first set of aligners (top and bottom) into place with the close assistance of a technician, I found it easier than I had thought I would. It took me a couple of tries to maneuver the removal of the aligners (due to the snugness), but with a little practice became, again, seamless.
What I did find was that unusual feeling of something over my teeth that wasn't, obviously, precisely my teeth, if you understand what I mean. I felt the bottom aligner against my tongue,  even a bit sharply. My technician gave me a very good tip on how to eliminate this — a common nail file to file any edge or edges that may cause discomfort. I've used this tip on each subsequent 3 bottom aligners to eliminate any tiny edge that has bothered me. Easily.
#2: Eating, Brushing, Flossing ~ I was given cases in which to keep my Invisalign aligners. I keep one in my pocketbook at all times for ease of storing my current set when out-and-about, maybe grabbing something to eat or having a snack. I pop my aligners out, store them safely, pop them back in. I often rinse my mouth and my aligners in warm water before popping them back in, but brush and floss as soon as I can. I find that my dental hygiene is far and away more profoundly better and effective than ever before in my life. I am very aware of keeping my teeth and my aligners perfectly safe, clean and maintained. It's become, again, a seamless system for me…
#3: Speaking/Talking with my aligners ~ Along with the pain remedy of filing my bottom aligner to fit perfectly, this filing tip also has the advantage of no change in my speech. Here's that word again – seamless!

#4: 22 Hours Daily ~ At first mention of this length of wear/day, I became that emoticon – you know the one…
22 hours? That's 2 hours less than 24, if anyone's counting. But it didn't take me long to understand that taking my aligners out to eat, brush, floss was just about all the time I needed to NOT wear them. I do a midnight count kind-of-thing with myself, figuring each hour of wear from then. I comfortably wear them while sleeping, working, running, cycling, showering, socializing, gardening, traveling, shopping. I wear them to my grandkids' activities (my grandkids think the aligners are kinda cool and validate the invisibility of them. If they were, in fact, visable, grandkids' instinctive action is to TELL you so!). Of course, there are times other than eating when I've removed my aligners (swimming, doctor/dental appointments), but overall, 20 – 22 hours has been insignificant. Yep. Seamless, with a little reminder written inside of those cases!
I've already covered #5, but believe me that I am confident in wearing my no lipstick magnet Invisalign aligners. I do not want to be that woman. Trust me!
So here I am, a few weeks since my Invisalign consultation at Pezza Orthodontics and 3 sets of trays later into my Invisalign orthodontic treatment. I've had one question, one question only, regarding a sharp edge on an "attachment" that necessitated a phone call to the Pezza office, resulting in an immediate, quick visit in which Dr. Pezza filed the edge in, well… 3 seconds or so. All was well.
These past few weeks of my Invisalign treatment have been so much easier than I had imagined it would be. I am diligent in following directions and I feel 100% confident with my orthodontic team, which I'm sure adds to my progress. I feel a sense of comfort in the information I've been given and in the organization of the process, including packaged and dated aligner trays ready for me to use several weeks in advance…
Coming late to orthodontic work has been (here's my favorite word again) seamless. My Invisalign journey is scheduled to take 18 months, and I'm all-in.
To me, it's a wonderful SMILE in-the-making, a gift at any age!
Stay tuned for Invisalign: A Boomer's Journey, Part 3!