Throughout the month of May, I'm excited to share some inspiration for easy and stylish (and on-trend) work attire. I'm always asked to share different kinds of looks, but the "what to wear to work" question has been coming more and more to my inbox!
Today it's all about double top knots!
We're seeing the top knot everywhere right now (and we're not just talking in your hair!).
When I was in high school (back in the 90's), I would knot my blouses almost every single day. I loved the look and really felt like it gave my clothing a trendy look (and I was obsessed with the movie Clueless and Cher did the top knot a lot!).
It's all about finding the perfect blouse with enough length to get a good knot.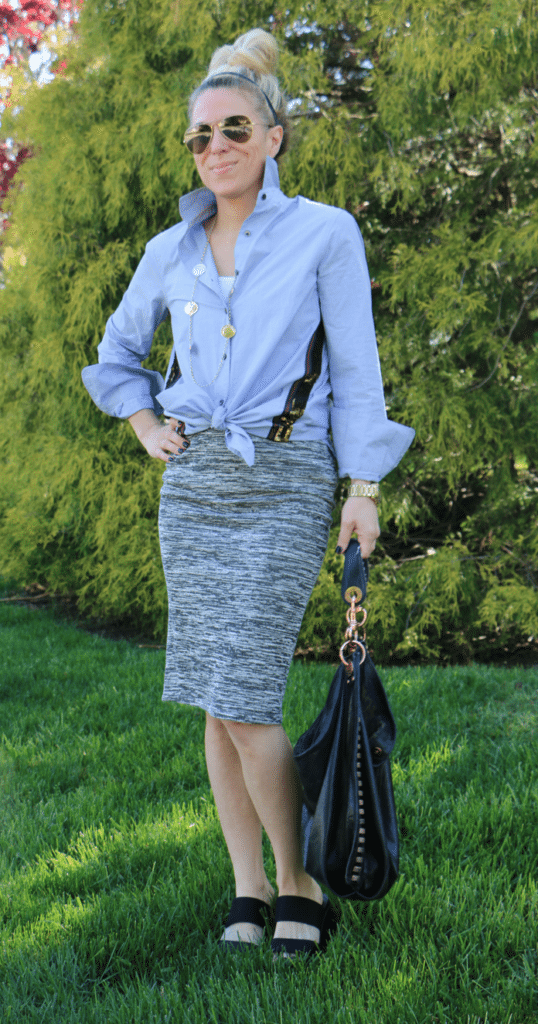 The most important thing is to make sure you have comfy and stylish shoes to rock to work! Crocs has some incredible new styles this spring and summer that give you a trendy look, but are OH-SO-COMFY!
Aren't these wedges fabulous!? These are the Crocs Leigh II 2-Strap Wedge in black. I'm obsessed with these! I'm 5 feet, so I love a good wedge, but it's hard to find one that's comfortable… these I can wear ALL DAY LONG and for work, that's something that women need. You're getting a stylish shoe, but with that added comfort – it's a win-win.
LEIGH II 2-Strap Wedge: The second generation of our Leigh collection gives you the same fit as the original with more style, more comfort. It starts with a feminine overall shape and two wide canvas straps. Very easy to slip on and go. The contoured Croslite™ foam footbed gives you a little more arch support — making these wedges comfortable enough to wear all day.
My fashion advice this spring/summer – stock your closet with some button down blouses and some cotton pencil skirts. Easy fashion go-to attire and can be worn all the time to work. Try the top knot with your blouse for a fun look! It's such a cute way to style a blouse! ♥
Work it girls!
Fashion Breakdown:
Pencil Skirt – American Eagle Outfitters