Believe it or not, I share an upstairs bathroom with 6 other people.
My husband.
My 4 sons.
And my daughter.
Yup… that's a lot of people!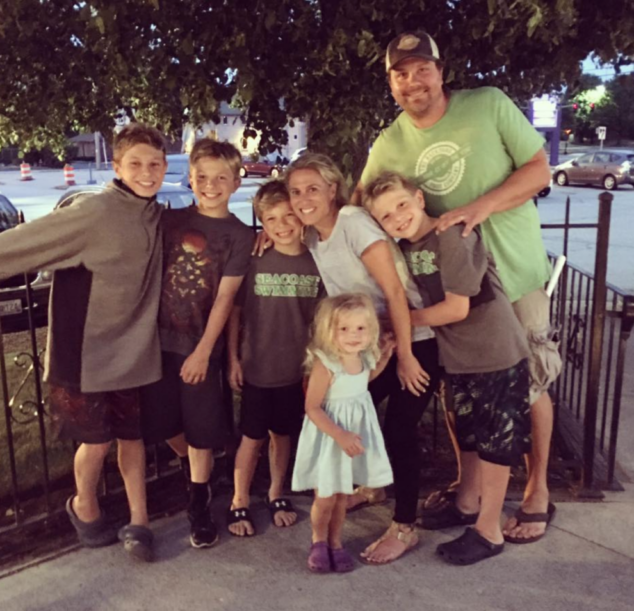 Our upstairs bathroom is big enough for 7 people to share, but it's also 2 girls and 5 boys all in the same space. To say that I try to make sure everything is fairly unisex is an understatement (although, I went bold this past weekend and bought a coral colored shower curtain and shower mat!).  We're actually in the process of renovating our master bath, but this process has been in motion for over a year (hoping to have it done by the spring!). It's not an easy fix and… yes, I'll still end up sharing a bathroom with my husband!
So basically what we have in the McClelland household is a total battle of the medicine cabinet!
Let's face it, the bathroom is one of the busiest yet confined spaces in the home. I have products that I use and my husband has products that he uses. And to go a step further now, my sons have products they use (gels and colognes) and even my 3 year old daughter has specific products that she uses (say hello to every bath product that has princesses on it)! This is a simple fact that we just can't get around. But, as most families know, when you co-habitate, it doesn't take long for the "jointed" space to become overrun with wet towels, razors, half-empty shampoo bottles, shaving cream, tweezers, perfumes and colognes and just overall crazy product clutter. In most households, prime bathroom storage is a hot commodity with couples battling for space in the coveted medicine cabinet. I know in our house this is a "hot" spot and it's where each of us wants to put all of our stuff. There's just not enough room! We have so much stuff that our products that don't fit in the medicine cabinet now find themselves displayed on the vanity in our bathroom. It's CRAZY how much stuff we have there! We're not alone, too – 1/2 of co-habitating Americans say they need more bathroom shelf space!  I found this stat funny (because I get it!!), 62% of co-habitating Americans would give up electronics for one month (such as Netflix, social media and their smartphones) to have an unlimited amount of bathroom shelf space.
I need this to change and change quickly! With back to school time here, I'm all about organizing and making my life easier. With that being said, I've got an easy solution for you and your family that I think will really help you out in the bathroom storage department.
What's the fix?
Replace "his" and "her" items in your medicine cabinet with a reliable and efficient unisex solution that takes up less space.
Oh, yes, the perfect way to make everyone happy and make everything seamless!
Looking for a good example?
LUBRIDERM® Daily Moisture Lotion is one simple, everyday solution for dry skin that is suitable for both him and her, and can help save on bathroom storage space.
How incredible does this space look?
LUBRIDERM is a tried & true product that effectively moisturizes skin for hours and is truly made for EVERYBODY, meaning the whole family can benefit because you won't have a heaping supply of different lotions for each person of the family. I mean, who has time for space and time for that kind of bathroom chaos? It inspired me to take matters into my own hands at home.
My mother always had LUBRIDERM in our home while I was young. Everyone in my family has naturally dry skin, especially on our hands. She would always keep it on hand (no pun intended!) for us. I love carrying on that tradition in my family. Since I love to moisturize my hands, arms and legs (and even feet!) before bed, I'm getting everything I need from LUBRIDERM and my family can benefit, too. Even now, with the season change, I can see the cracks already on my hands. My knuckles are always the first to get that dryness. LUBRIDERM® Daily Moisture Lotion is one simple solution to replenish and moisturize dry skin because it's fortified with Vitamin B5 and skin essential moisturizers. What I personally love is that it's non-greasy and it absorbs in seconds and is clinically shown to moisturizer for 24 hours. Honestly, I can see a difference in my hands overnight! It's like a magic potion.
The LUBRIDERM® Daily Moisture line includes four daily moisturizers designed to hydrate normal to dry skin:
Choose what best will fit the needs for you and your entire family!
And most important, you've solved the battle of the medicine closet for you and your family!
Disclosure: This is a sponsored post with LUBRIDERM. All opinions are 100% my own.