I first heard about Beauty and the Beast being filmed back at D23 in August of 2015. Beauty and the Beast is one of my favorite Disney classics, so I was thrilled to hear that they were taking the animation film that I know and love and making it into a live action film. Even better, I found out that Emma Watson was starring as Belle. I mean, could it get much better than that?
Well, yes… it could.
Fast forward to present day – March 17th, 2017 – the OPENING DAY of BEAUTY AND THE BEAST!!
I had the chance to see the movie on March 4th while I was in LA for the press junket and I fell in love with it. It was enchanting and beautiful and magical and extraordinary! I laughed. I cried. I was scared. I was surprised. I felt every range of emotion you can feel. I've seen the animated movie probably 50+ times in the course of my life, so I know the story… but to see it live action in this film. To see the characters, to see the emotion and the love and the passion, it was just incredible.
So why head out (right now) and see Beauty and the Beast?
9 Reasons to See Beauty and the Beast:
1) Emma Watson. Emma Watson. Emma Watson –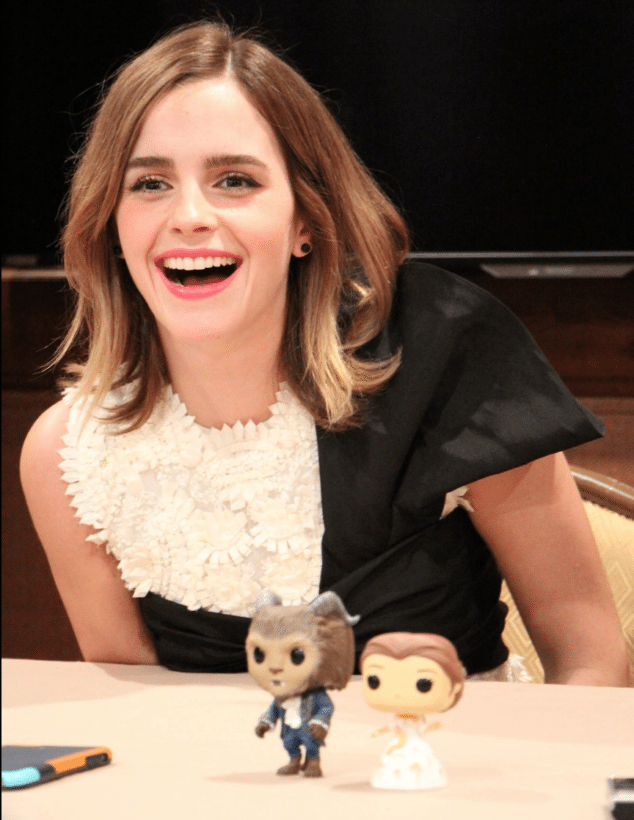 She IS Belle. She embodied this character so beautifully and truly made Belle come alive for me. I know my daughter will forever see her as Belle and will always think of Emma's portrayal as the actual Belle. As Emma said when we interviewed her, "I just felt like I was protecting and defending Belle's sort of original DNA and just making sure that we stay truthful and faithful to this very independent young woman." Emma was outstanding. She sang. She danced. She was truly the most perfect leading lady.
2) Dan Stevens, or I should say… "The Beast" –
Dan's role wasn't easy to play because he wasn't playing a traditional leading man role with the leading lady. As Dan told us, "I'm inside a giant muscle suit on stilts, so the Beast's body was me moving inside there. The facial capture was done separately, and every two weeks, I'd go into this booth, and ten thousand UV dots would be sprayed on my face, and twenty seven little cameras would capture everything I've been doing for the past two weeks just with my face. So it was my face driving that Beast's face and, and they turned that information digitally into the Beast's face and map it onto the body that I'd been working on the set."
The Beast in Beauty and the Beast must embody the ability to be feared/hated, yet loved. It's not an easy role to play and Dan was exceptional. His performance was just awesome and it's crazy to think that he and Emma had never sang or danced before professionally! They just rocked it so much and truly captivated my attention. Dan really did become that prince that you wanted to win the hand of his beloved.
3) Luke Evans as Gaston –
I mean, he's perfect. Handsome. Cocky. Arrogant. Evil. He played this part perfectly. This isn't an easy role to take on because you genuinely know that you are – indeed – the villain. You need to embrace this and run with it. He did. Luke isn't a small guy, so to watch him dance and sing in Beauty and the Beast is just incredible. It's funny, he played the role so well that you really do begin to just have this great hatred towards him! But I'll tell you what, he sure did entertain in this role!
4) Josh Gad. I mean, Josh Gad –
He's just hilarious. Even when we interviewed him, even when he was just talking regular, he's still funny. He brought so much life and passion to Le Fou, it was incredible. He really stole the show and for me, was a standout. He captivated and really created such a presence in this film that you want to watch just him over and over again!
5) The music – It was just OUTSTANDING! I mean, this soundtrack is going to be one for the record books! In addition to regular Beauty and the Beast classics like "Be Our Guest" and "Gaston," that we all know and love, the new Beauty and the Beast includes three brand new songs from Alan Menken: "Evermore," "Days in the Sun," and "How Does a Moment Last Forever." I've never been to a movie before where after each song is sung onscreen, the audience applauds! That's how incredible the music was in this film. I have to say, if I picked one that stole the show, it would be "Gaston!"
I have never laughed so hard! It was just magnificent!
6) Costumes – The costumes were spectacular! I would have loved to have visited wardrobe on this set. When you think of Belle, you automatically think of her iconic yellow gown. It's everything. Whenever I mention Belle to my 3 year old daughter, she thinks of Belle in her yellow gown.
It's just what fits with this movie. But every costume from Beast to Gaston to Plumette to Maurice to Le Fou… they are incredible. The detail and the thought that went into each one, it's just fascinating to me. I fell in love with the fashion in Beauty and the Beast – it really is a showcase!
7) The Lessons  – that you take from Beauty and the Beast are always a win for the audience! Beauty on the inside is more important than what's on the outside… and of course, my favorite – love conquers all. I love the messages and lessons within for my children. I think it's such a great way to teach them as they enjoy!
8) The perfect happily ever after – I'm a happily ever after girl. I love love. I love a good love story. Beauty and the Beast is so iconic because of it's special love story. Who would think that a beast would turn into a handsome prince? It's Disney magic and I just fell in love with this live action rendition of it. As a Beauty and the Beast fan, I – of course, was worried that the live action wouldn't have the same magical feel for me. But… and this is a big but, it was better to me! I really loved seeing the characters and watching them intently. It was just a magical and gorgeous movie!
9) Beauty and the Beast products inspired from the film! – As a mom to a little girl, I'm all over the products that have come from this film! I just bought Victoria a Disney Belle costume while at Disney World 3 weeks ago, and when she wears it – she's suddenly a magical princess! I love it! But that's not all! There are so many more incredible products inspired by this movie! We received an INCREDIBLE and generous gift bag from Disney with some of the spotlight items that I'm excited to share with you!
Twinings Tea: Twinings is delighted to offer this special edition design that celebrates Disney's Beauty and the Beast cinematic event. So, be our guest and enjoy these four great-tasting herbal blends to suit your every mood. Flavors: Camomile, Honey & Vanilla / Lemon & Ginger / Pure Peppermint / Orange & Cinnamon Spice

Kohl's Beauty and the Beast Collection: I chose 2 adorable things from their Collection: 1) Disney Princess 13-in. Toddler Belle Doll – Your wishes will come true with Toddler Princess Belle from Disney, approximately 13 inches tall: 2) Disney's Beauty and the Beast Castle Friends Collection by Hasbro – This Disney's Beauty and the Beast Castle Friends Collection by Hasbro include the most memorable characters from the live-action movie.

Morgan Taylor Nail Lacquer: Nail art inspired by Beauty And The Beast – Spring 2017

Journal: "Belle's passion for books is fully dramatized in this hardbound Journal with golden bindings, latches, and edging, a tassled cord bookmark, and illustrated, lined pages on which travels in both real and imaginary worlds can be authored."

Glass Compact Mirror: "See the beauty within reflected from this elegant glass compact mirror in golden filigree brushed metal case adorned by faceted gems. Inspired by Disney's live action film Beauty and the Beast."

Enchanted Rose Jewelry Box: "The Enchanted Rose Jewelry Box gives little ones an extra-special place to store their treasures. Experience the beauty and enchantment over and over again as the Enchanted Rose opens, closes and lights up as the iconic song, "Beauty and the Beast" is played. A collectible gold "feather" ring is also included for you."

Enchanting Melodies Belle Doll: "Enjoy the enchanting moments with the Disney Beauty and the Beast Enchanting Melodies Belle Doll. Dressed in her movie inspired iconic gold ball gown, the Belle doll sings the "Something There" song from Disney's live-action movie Beauty and the Beast. With one press of Belle's stomach, she will sing of her budding love for the Beast in this classic song. Kids will love playing out moments from the movie or imagining their own fairy tales with this doll."

Reusable Tote Bag: "Be our guest and relive the beloved fairy tale with this reusable tote. Made from 80% recycled materials, it features images from Disney's live action retelling of Beauty and the Beast."

"Belle's Library" book: "Contains quotes from Belle's favorite books, as well as her thoughts and musings. Shows you exactly what's on Belle's reading list! Includes drawings and a forward by Disney screenwriter."

"Beauty and the Beast" storybook: "The classic fairy tale Beauty and the Beast, as retold by Cynthia Rylant."

Funko POP Celebration Belle:
From Beauty & The Beast, Celebration Belle, as a stylized POP vinyl from Funko!
Stylized collectable stands 3 ¾ inches tall, perfect for any Beauty & The Beast fan!
Collect and display all Beauty & The Beast POP! Vinyl's!

Funko POP The Beast:
From Beauty & The Beast, Beast, as a stylized POP vinyl from Funko!
Stylized collectable stands 3 ¾ inches tall, perfect for any Beauty & The Beast fan!
Collect and display all Beauty & The Beast POP! Vinyl's!

Funko POP Mrs. Potts & Chip:
From Beauty & The Beast, Mrs. Potts & Chip, as a stylized POP vinyl from Funko!
Stylized collectable stands 3 ¾ inches tall, perfect for any Beauty & The Beast fan!
Collect and display all Beauty & The Beast POP! Vinyl's!

Truthfully, these are just 8 reasons… and there are so many more! Every character in this film deserves recognition. Every detail in this film deserves being highlighted. I was just enchanted by Beauty and the Beast and I can't say enough good things! I've waited so long to see it and now that I have, I just can't wait to see it again TONIGHT!!
Make sure you go see this film. You will fall in love.
Disclosure: Disney Press Trip. All travel expenses covered.