Casually chic. It's my favorite kind of style. I'm all about finding style that is easy, casual – but CHIC! When I'm working "on the road" I love to be chic, but also stay casual because I'm usually traveling. As you know, I'm in NYC a ton for work. It's my favorite City and everyone here is ALWAYS fabulous looking on the fashion front. I drove in last week, so I wanted to stay in pants – but also add a little color to make my look appear SPRING (even though there is still snow on the ground!)
This top from Free People is one of my fave! I've been eyeing it FOREVER and finally got it while it was on sale at Nordstrom Rack. I was shocked to see that it finally went down because it was one of those tops that I thought would stay full price forever! It's the most COMFORTABLE top ever (and I even scored a black one, too!).
I paired it with my classic spring white jeans. These babies you will see a ton this season. I wait ALL YEAR to take out my white jeans. They are my favorite for the spring! Honestly – for all the ladies – white jeans need to be a STAPLE for the spring months ahead!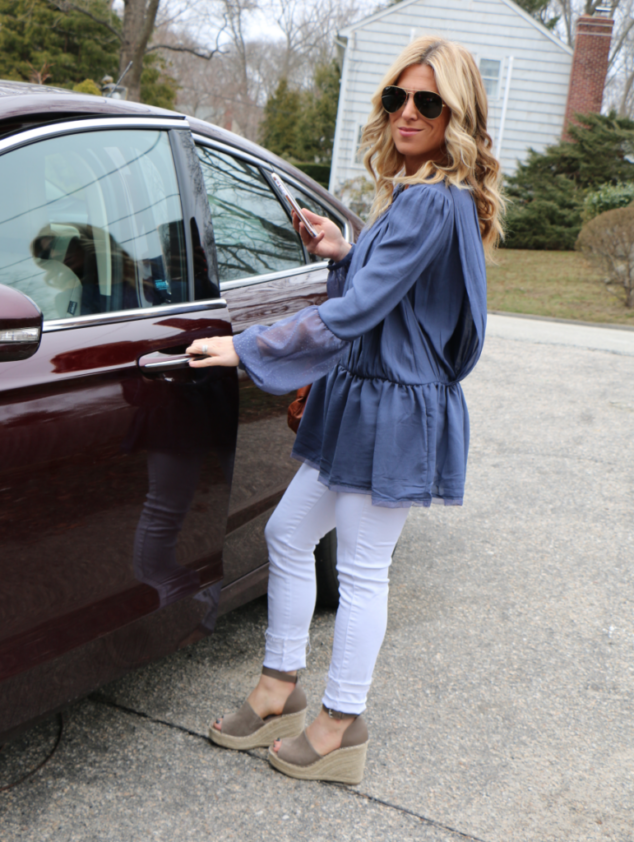 And these wedges! OK… these were at Nordstrom (different brand) for $200+! I wanted them but COULD NOT justify paying the price. I found them at DSW for $49!! YES!! $49!!
I just love wearing easy pieces that work for work. I love dressing up, but there's something really fun and fashion-easy about wearing casually chic clothing for a meeting! I'm OBSESSED with casual chic! I really, really am and love seeing what I can put together!
SHOP MY LOOK: