It's Day #3 of our 50 Dresses for Spring series! Today is ALL ABOUT THE DENIM!! I'm OBSESSED with denim… you can tell just by looking at my other fashion photos! If there's a day in my life that doesn't require me to dress up, I'm usually in jeans. I love that I can still get my denim love into this spring dress series, too!
It's funny, the second I saw this dress in TJMaxx, I knew I needed it. It was $19.99 and just adorable! I grabbed my size (prayed it would fit) and headed right to the cashier. I didn't even stop to try it on! I'm a sucker for a fabulous denim, especially with a little ruffle!
Since it's not always about dressing up a dress for the spring, I thought it would be fun to show a dressed down version. There's no fashion rule that says you must wear a dress for "fancy" occasions, have some fun and wear one "just because!" Even though this dress is a one-shoulder option with a ruffle, it's still very easy to dress down and really wear anywhere!
Since I wasn't having the best hair day when I took these photos, grabbing a baseball hat was my next best option! I love wearing a pop of color with denim, so I thought it would be fun to grab my red Vineyard Vines hat. Even though it's not a true accessory, it's still fun to experiment with a cute hat! This look could easily be worn to an occasion at school, a day out with the kids or a day by the beach! Just think about swapping out my fave wedges for some flip flops!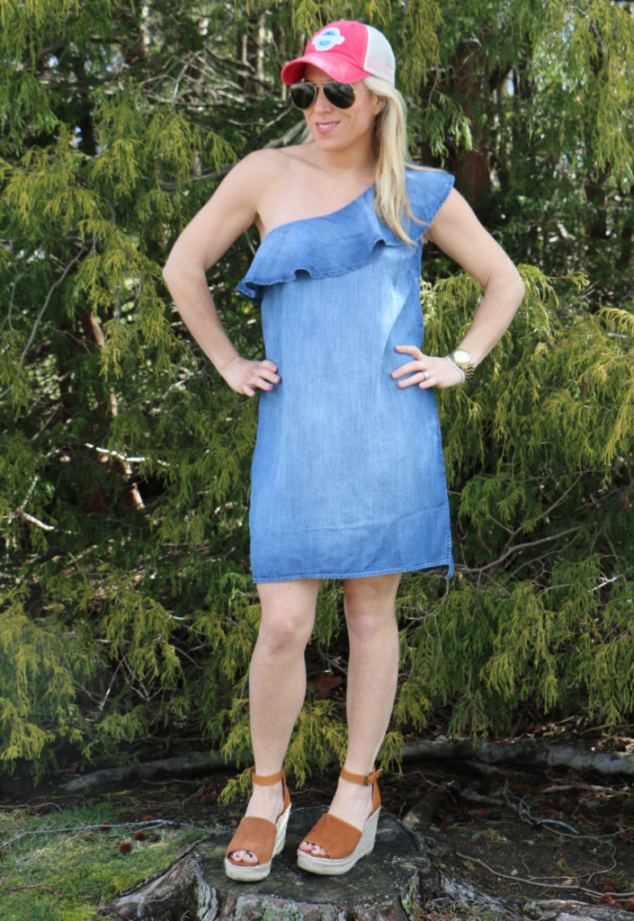 Spring is such a fun time of year to play with when it comes to fashion! You can layer and mix and match! You can wear different options in shoes (you can still get away with those booties right now!). You can really just let loose and have some fabulous spring fun!
Make sure you check out Vera's style today over on her blog! And continue to check in throughout the month as we feature a new spring dress Monday through Friday! Happy Spring EVERYONE! Don't forget – 50 Dresses for Spring!