Ready for Day #3 of my family's spring break adventure in Greater Williamsburg?
If you missed my last 2 blog recap posts sharing Day #1 and Day #2, we took our family to visit Greater Williamsburg for spring break the week of April 17th. It was a phenomenal trip, one that definitely created memories and fun for the kids. I'm proud to say that since we've arrived home, my oldest brother and his family have booked a trip to Greater Williamsburg for Memorial Day weekend. I was so happy to hear that our adventures inspired a trip! We absolutely had the time of our lives exploring and discovering and just looking and seeking some fun adventures. We're such a busy family at home, so being away and really being able to enjoy each other and embrace some cool destinations together, it was priceless for us.
As you can see from my past blog posts and videos, there was no shortage of fun! We were so surprised to see how much was offered for families in Greater Williamsburg. I get nervous booking trips with our family sometimes because their ages are so spread out right now, our oldest being 12, our youngest being 3. I want to make sure there's something for everyone to do, not just the oldest and not just the youngest (and for Mom and Dad, too!). It was refreshing to see that there was fun to be had for everyone!
Are you ready for Day #3?
I am! It's actually a little bittersweet to write this post because I know it's the last in our Greater Williamsburg series, but I hopefully I'll have some more travel posts for you soon!
We started off the morning with breakfast at Old Chickahominy House.
It is a fascinating and beautiful place – one that you know must hold lots of history within its walls. Old Chickahominy House was full of special and unique antiques (3 story antique store attached to the restaurant), which was very cool to me. My mother is a big antique collector, so I kept thinking how much she would love it there. And the food? Oh, mama mia! It was INCREDIBLE! Pure southern food at its finest.
The boys ordered the biggest breakfast plates and literally ate everything! One thing that my sons thought was super cool was that they have Melinda, their gift shop cat and mascot. They searched high and low, but weren't able to find her. If you're a cat lover, you will love this place extra more!
From breakfast, we headed directly to Jamestown Settlement.
From the second we pulled into the parking lot, I was excited. I love places where I know the kids will be educated through fun experiences. At Jamestown Settlement, you relive the experience of America's first permanent English colony, which is something my oldest son just finished learning about this year in school.
What can you expect to see and learn about at Jamestown Settlement?
Near the site of the original colony, Jamestown Settlement tells the story of 17th-century Virginia; from the arrival of English colonists in Jamestown in 1607 to the cultural encounters and events that planted the seeds of a new nation. The world of Jamestown, America's first permanent English colony, comes to life through film, gallery exhibits and outdoor living history.
Expansive gallery exhibits and an introductory film describe the cultures of the Powhatan Indians, Europeans and Africans who converged in 17th-century Virginia, and trace Jamestown's beginnings in England and the first century of the Virginia colony.
Climb aboard re-creations of the three ships that sailed from England to Virginia in 1607, and explore life-size re-creations of the colonists' fort and a Powhatan village. In the outdoor areas, costumed historical interpreters describe and demonstrate daily life in early 17th century Jamestown.
We took it ALL in, every single piece of it.
It was a gorgeous day for us to visit and we also had the perk of being there with a couple of school field trip groups. As we were walking around exploring the different aspects and areas, we were also able to listen to the tour guides explaining certain pieces of history to the school kids.
It was fascinating to see my kids perk up and discover new information and facts. There's something so special about learning through experiences rather than just by book.
One of our favorite things was to check out and tour the re-created three ships that sailed from England to Virginia.
Seeing the small spaces on the ship and realizing just how long the trip was, not to mention how nervous people were about coming to this "new and mysterious" place… it was eye opening for my kids.
It was interesting to hear that it took 4 ½ months for the voyage! That's incredible because the conditions were so very difficult. It was truly such a fun experience for all of us, not just the kids.
Then we went over to check out the Powhatan Village.
It was very busy and bustling when we first arrived, so we side-tracked back to it because the boys were really interested in checking out everything about it! The Powhatan Village at Jamestown Settlement is a re-created village featuring reed-covered houses, crops and a ceremonial circle of carved wooden posts.
The kids walked around, watching and discovering how food was prepared, how they processed animal hides and all about the different kinds of trades – pottery making, tool making, gardening and even how children of former generations played games!
We just had a really wonderful time learning and experiencing and discovering! I highly recommend checking out Jamestown Settlement. You could spend a full day there walking around and exploring as it's that kind of incredible place to learn all about American history.
If you want to experience even more about the place where America began, be sure to make time to go down the road to Historic Jamestowne. Unfortunately we didn't have time in our itinerary to check it out, but it is a National Park site and the archaeological sites are still active, which is just fascinating to me. Essentially Historic Jamestowne is literally where the English settlers landed and the Jamestown Fort was built, but it wasn't re-discovered until the 1990s (how crazy cool is that!?) and there are still ongoing digs there uncovering and finding artifacts. Jamestown Settlement, which we toured, is newer, built before Historic Jamestowne was discovered and what we saw is a re-created version of what life was like there at that time. I'm telling you, just a wonderful place to tour, explore and visit!
After Jamestown Settlement, we were starving! We dined at a local hot spot, Jamestown Pie Company.
If you're a pizza lover, this is a must-stop destination for your next visit. The cool thing about Jamestown Pie Company is that you order inside and then grab a picnic table out front. There's no indoor seating, so it's first come, first served on the tables. We happened to catch it at the perfect time and were able to snag a picnic table for our large family! The pizza was incredible! GIGANTIC! We ordered so much, but were able to take some back to the hotel for late night eating. We went ahead and ordered a Cheese Pizza, but also a Greek Pizza, too (feta/olives and banana peppers!).
Alex ordered a Steak & Cheese, which he said was the best he ever had, which is a big deal for him to say! Yummy lunch for everyone!
From lunch we went off to explore the James City County Marina.
Now I've said this before and I'll say this again, we're BIG water lovers. When I saw that we were going to have the opportunity to canoe, I knew the kids were going to be excited! The boys are all competitive swimmers and we own a boat, but we've never canoed before. We're talking a brand new experience for all of us.
Hands down. Absolutely, 100% HANDS DOWN, my favorite activity of the week in Greater Williamsburg. The team at James City County Marina walked us through the safety issues of canoeing and helped us get situated in the water, but then it was all us! Off we went… me with Alex, William and Victoria and Matt with Ben and Henry.
I've never laughed so hard in my life! We were terrible!! We wanted to go forward and we'd go backwards. We wanted to go sideways and we'd rotate in circles. It was hilarious, but we just kept going. It was the most fun ever because we all had to depend upon each other, but we were all clueless!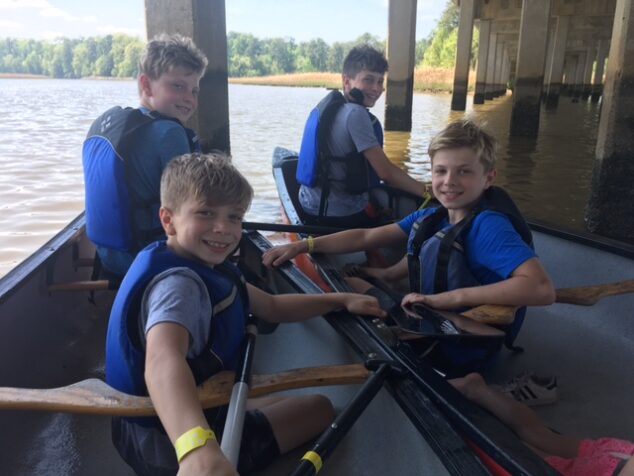 My husband was the beacon of light and helped us get to where we needed to go! But we literally spent 2 hours canoeing around the marina and just enjoying and soaking in every single second!
After the canoes, we headed back to the Great Wolf Lodge for some pool time fun!
As you know, Great Wolf Lodge is a gigantic indoor waterpark resort, so my kids definitely wanted to make sure they had some time on the slides. It was funny, the second we walked into the waterpark, they took off! I stayed with Victoria while she splashed and played and swam in the kiddie area!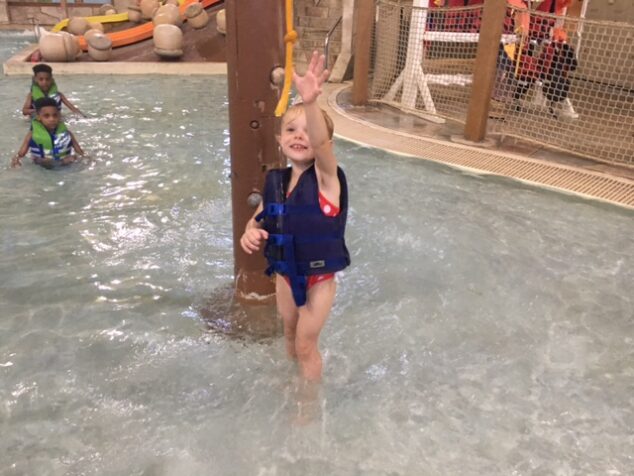 Why did I love Great Wolf Lodge in Williamsburg?
Family time is precious; spend it at the best indoor water park resort in VA. You'll create unforgettable memories zipping down River Canyon Run water slide, taking a turn on the jaw-dropping Howlin' Tornado, splashing in the zero-depth wave pool, or simply relaxing on the lazy river. With over 79,000 square feet of water park action; there are tons of pools, rides, and water slides for everyone from toddlers to teens (and mom and dad) to enjoy during your family vacation in Williamsburg.
The boys were in waterpark heaven!
After some fun time hitting the slides, we all got dressed and headed out to dinner and for some nighttime entertainment!
We dined at Anna's Brick Oven, which was AMAZING! I'm a HUGE lover of Italian food, so this hit the jackpot for me. It's funny, as we were leaving the hotel, a fellow guest asked where we were heading and we told them to Anna's Brick Oven and they had just gone the previous night! They RAVED about it, so I felt like we were in good hands! This is a true family restaurant and our waiter told us that, "Anna can be credited as being the first to bring authentic Italian food to Williamsburg!" Yum Yum Yum!!
After dinner we jetted off to GO-KARTS PLUS.
Let me just state the obvious here, my sons were THRILLED to be here. The second my husband parked, they were out of the car! I had to laugh because I reminded them that they couldn't get anywhere without tickets, so they needed to wait for me! This is such a golden spot to head during the evening for some family fun!
GO-KARTS PLUS is Williamsburg's Premier Family Entertainment Center and has been building family memories for over 25 years. With 8 acres of rides and games, GO-KARTS PLUS has something for everyone!
(Can you spot 3 of my sons!!??)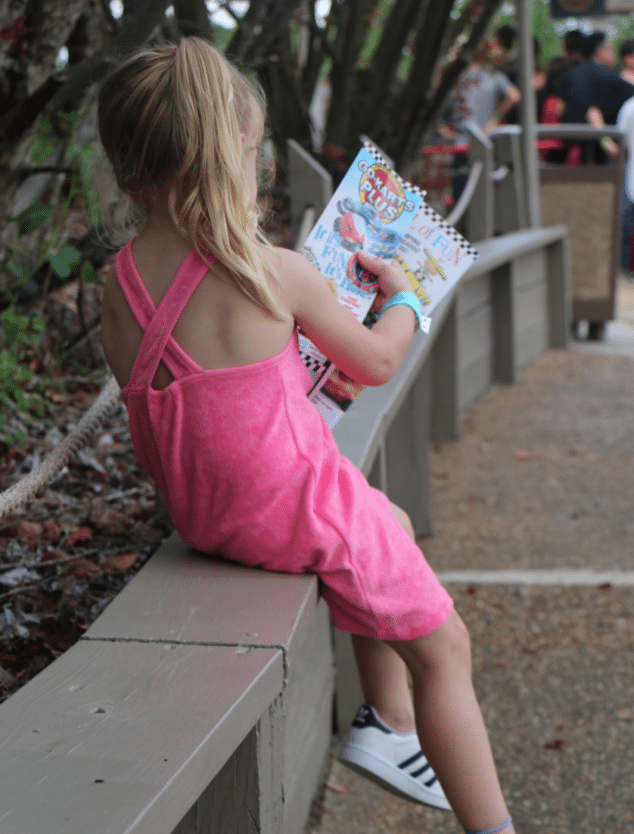 We went on rides.
We went on go-karts.
We played mini golf.
We played on the playground.
We played at the arcade.
We actually closed the place that night! We were literally the last people to leave! GO-KARTS PLUS is the kind of family entertainment place that I would go to a few times while visiting Williamsburg!
And so, that was our incredible family trip to Greater Williamsburg.
As you can tell, it's a place where you can enjoy your family, learn new things, explore new places and just have FUN! We will go again and again and again. I think it's such a fabulous destination for the spring and summer because you're able to do so much! I would love to head back this July or August and explore some additional places, too. I was truly taken with the kind people, the beautiful scenery and the extraordinary history.
Thank you to Greater Williamsburg for giving us the trip of a lifetime!
Disclosure: This was a sponsorship with Greater Williamsburg. All opinions are 100% my own.