This post is in partnership with Universal Pictures.
GIVEAWAY: Despicable Me!
Calling all my Despicable Me FANS! Come and get it!
I've got an AWESOME GIVEAWAY for you that you're going to LOVE!
To celebrate Despicable Me 3 coming out on June 30th (Yes, FRIDAY!!!!!), I thought it would be fun to do something special on the blog! My kids are GIGANTIC fans of the Minions, so when we heard there was a movie #3… they were over the moon!
Illumination, who brought moviegoers Despicable Me and the biggest animated hits of 2013 and 2015, Despicable Me 2 and Minions, continues the story of Gru, Lucy, their adorable daughters—Margo, Edith and Agnes—and the Minions in Despicable Me 3. 
After he is fired from the Anti-Villain League for failing to take down the latest bad guy to threaten humanity, Gru finds himself in the midst of a major identity crisis.  But when a mysterious stranger shows up to inform Gru that he has a long-lost twin brother—a brother who desperately wishes to follow in his twin's despicable footsteps—one former super-villain will rediscover just how good it feels to be bad.
Looks amazing, right?
Well… wait till you see the SOUNDTRACK! The music MAKES these movies even better!
Pharrell Williams has written and produced songs and themes for the entire Despicable Me series. Despicable Me 2 featured the Academy Award®-nominated and Grammy Award-winning global smash hit "Happy." The song inspired a worldwide movement of happiness, with its original music video spawning thousands of self-made videos from fans in dozens of countries. "Happy" has topped countless charts around the globe, with 14 million units sold. It has achieved seven-time-platinum certification in the U.S., making the song the best-selling and most successful single of 2014.
Despicable Me 3 Tracklisting:
1. Yellow Light – Pharrell Williams
2. Hug Me – Pharrell Williams feat. Trey Parker
3. Bad – Michael Jackson
4. Take On Me – a-ha
5. Papa Mama Loca Pipa – The Minions
6. There's Something Special – Pharrell Williams
7. Tiki Babeloo – The Minions
8. Freedom – Pharrell Williams
9. Doowit – Pharrell Williams
10. 99 Luftballoons – Nena
11. Into The Groove – Madonna
12. Chuck Berry – Pharrell Williams
13. Fun, Fun, Fun – Pharrell Williams
14. Despicable Me – Pharrell Williams
15. Despicable Me 3 Score Suite – Heitor Pereira
16. Malatikalano Polatina – The Minions
We will be JAMMING to this movie, too!!!
To CELEBRATE… I'm GIVING AWAY:
One (1) winner receives:
$50 Visa gift card to see Despicable Me 3 in theaters June 30
Two (2) Colgate® Minions™ Talking Battery Powered Toothbrushes
Two (2) Mineez Despicable Me Surprise Packs
Official Motion Picture Soundtrack
Open to US mailing addresses only
Prizing and samples courtesy of Universal Pictures, Colgate and Moose Toys
Colgate® Minions™ Talking Battery Powered Toothbrushes
Retail Price: $9.99
The Colgate® Minions™ Talking Battery Powered Toothbrush features voice instructions to help teach your child how to correctly brush their teeth so they can become the coach of family brush time. The small oscillating head has extra soft bristles that clean teeth and gently sweep away plaque. With the loveable Minions congratulating your child after two minutes of brushing, learning the right way to brush teeth has never been so fun!
Follow Colgate® online on Twitter and Facebook.
Moose Toys Mineez Despicable Me Surprise Pack
Ages 5+ Retail Price: $2.99
Kids will love to search for the Mineez Despicable Me characters and collect them all while they're small! They can get a little taste of Mineez Despicable Me with this Blind Box Pack. Kids can pop open the capsule to find 1 hidden Mineez inside. There are over 75 to collect. They better make sure to look out for the Limited Edition Golden Minions. Mineez- Big Fun Made Mini!
Available at most major retailers and on MooseToys.com. Follow Mineez World YouTube channel for updates and more. #MineezWorld  #MineezDM3
Adorable, right!!???
ENJOY SOME COLORING PAGES, too! Click here for FREE download of Despicable Me 3 activity pages!!!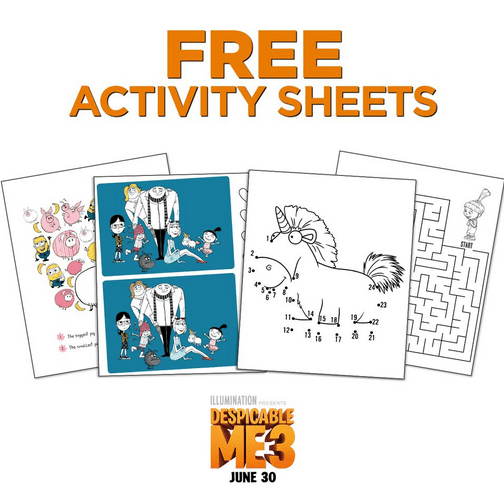 Say "Aloha" to the Minions. Despicable Me 3 hits theaters June 30th. unvrs.al/DM3-Tix
DESPICABLE ME 3 – In Theaters June 30
Official Website | Facebook | Twitter | Instagram | GruTube | #DespicableMe3