Disclosure: This is a sponsored post with Dynacraft. All opinions are 100% my own.
The summer is OFFICIALLY here!
Outdoor pools are ready for swimming!
It's that magical time of year and I LOVE it!
When it comes to the summer, we're all about being outside. The winters are so long in New England, so when the summer season rolls around we're outdoors loving life! There's nothing like waking up and seeing the sun and enjoying the gorgeousness of the day OUTSIDE.
There's lots of things that we like to do in the summer… swimming, walks around the neighborhood, lemonade stands, basketball, tennis, park fun, picnics and bike rides! We love to ride bikes! It's one of those beautiful family activities that all of my sons can do together now! When I was a kid every weekend we went on a family bike ride. It's part of my childhood memories and I just love it. I was one of 4 kids, so we would all bike in a row… Dad first, the 4 kids and mom as the caboose!
History is repeating itself because I love being in the back, making sure that everyone is OK!
My son William grew a TON this year, 4 inches to be exact. He's now taller than me and needs a "big guy" bike. He know longer can use one of the kid bikes, he's over 5 feet tall and really needs a bike that can hold him and support him well. 
I partnered with Dynacraft this summer to check out some of their awesome products. If you remember last summer we had some Dynacraft fun with Victoria, too! All I can say is… Disney Carriage! She still rides that around the neighborhood, it's ADORABLE! She's QUEEN Victoria according to our neighbors!
It's a mountain bike, so it can handle terrain from bike trails to street riding to even the woods! I'm obsessed with this bike because it's the PERFECT bike for him to ride!
What do we love about it (because even I can ride it, too!)?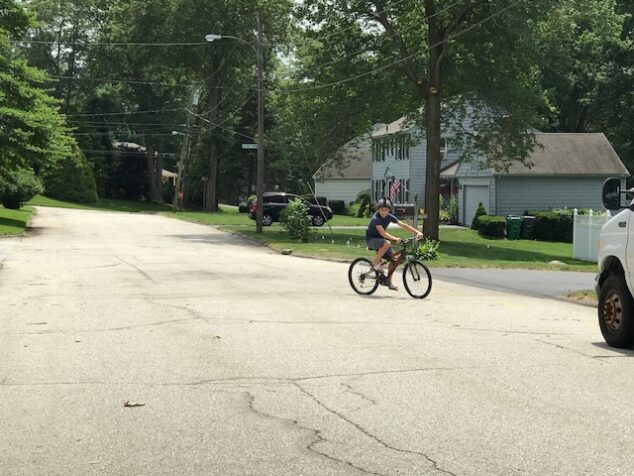 With dual suspensions and 21 speeds, the bright orange accent color is the only thing that will be seen as men zoom through their adventures on the 24″ Dynacraft Gauntlet mountain bike. The gray colored frame is a perfect representation of the strong and sturdy steel that crafts this bike. The star design in the Gauntlet name on the front of the bicycle's down tube emphasizes the edge and detail it takes to ride.
It's recommended for kids that are aged 13+, so you know your teen will get a solid ride. I love it because William has gotten to the age where he loves to go off and meet friends on his bike. He rides to school, to the playground, to swim practice and just loves to ride. It's great to see him meeting up with friends because that's what I did when I was his age. It makes me realize that EVEN with this technology world, there are still activities that stand the test of time (and technology!). Not to mention, nothing makes me happier than heading out on a ride with the kids. It's such a fun time to be together and enjoy some family time! I hope someday they look back and smile at these awesome memories!
Thank you Dynacraft for creating products that will bring families together and bring some incredible memories!