School is almost here… I can't believe it!! I have LOVED keeping my kids active this summer with learning with Lands' End #LoveLearning campaign! It's been so much fun for them!! Lands' End wants to see kids develop their knowledge in a range of fields – from STEM hotspots to literature, fine arts, and simply having fun! Every Thursday head over to LandsEnd.com/LoveLearning for fun, informative and interactive ways to help your kids explore and learn!!
Are you ready for Lands' End LOVE LEARNING fun for the week?? We're almost at the end… so make sure you're checking everything out!!!
Lands' End Love Learning Book of the Week
Let's kick it off with the Bright Book of the Week –> What Pet Should I Get? by the one and only Dr. Suess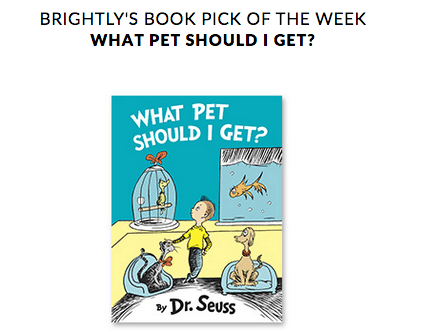 If you haven't read this one… What happens when a brother and sister visit a pet store to pick a pet? Naturally, they can't choose just one! With his signature rhymes and delightful language, Dr. Seuss shows kids that making a decision isn't always easy, but it can be done and it can be fun!
With 5 kids, I adore this book because I can only imagine how difficult the decision would be for us to make!
As you're reading… ask these questions to your kids:
1) Kay and her brother have a hard time making up their mind on which pet to get. What are some things we can do to help us make decisions?
2) What are some qualities you would want in a pet? What wouldn't you want?
3) What pet do you think the kids picked? What pet would you have chosen?
I've become such a HUGE fan of Brightly this summer!! Brightly is a website that helps make it a little easier, and a lot more fun, for parents to raise kids who love to read. The resource from Penguin Random House shares book recommendations from all publishers for every age and stage, reading tips, author essays, seasonal suggestions, and more.
Ready for this week's experiment???
Lands' End Love Learning Experiment of the Week
As you know, this summer, Lands' End is excited to partner with America's Favorite Science Teacher and frequent Ellen Show guest Steve Spangler through the #LoveLearning campaign to feature weekly DIY science experiments that families can do at home.
Experiment: Bubbling Lava Lamp
Watch America's Science Teacher, Steve Spangler, make a lava lamp out of simple items like water, vegetable oil, food coloring and a flash light. Groovy, dude!
And … Lands' End Limited Edition Graphic Tee of the Week: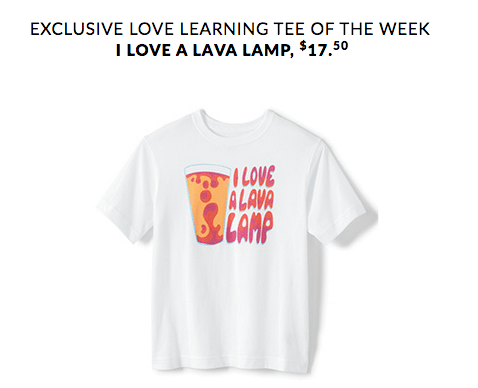 Groovy…. right???
Works perfect with this week's experiment!!
Disclosure: Partnership with Lands' End. All opinions are 100% my own.