School is almost here… I can't believe it!! I have LOVED keeping my kids active this summer with learning with Lands' End #LoveLearning campaign! It's been so much fun for them!! Lands' End wants to see kids develop their knowledge in a range of fields – from STEM hotspots to literature, fine arts, and simply having fun! Every Thursday head over to LandsEnd.com/LoveLearning for fun, informative and interactive ways to help your kids explore and learn!!
Are you ready for Lands' End LOVE LEARNING fun for the week?? It's WEEK 6!!
Only 3 weeks left!!
Lands' End Love Learning Book of the Week
Let's kick it off with the Bright Book of the Week –> We're All Wonders by R.J. Palacio!! This is one of my son Henry's FAVE BOOKS!! He loves reading it to his sister, which is adorable!!
What's is about?
Auggie and his trusty sidekick Daisy eat ice cream, play ball, and go on adventures—just like any other kid. But he isn't always seen that way. Auggie is different. Everyone is different, really. People just have to change the way they look at the world to see that is what makes us all wonders.
As always, I love how Lands' End includes these questions for parents to engage:
1) Take a look at the pictures of Auggie's classmates. Describe each student. How are they all different? What might they have in common?
2) Follow the bird throughout the story. Explain why the bird is in flight at the end of the book when Auggie says, "We're all wonders."
3) Look at the last illustration. Why is Auggie's eye a globe? How does this explain the way he sees? Explain how the book ends with hope.
I really, really have become such a HUGE fan of Brightly this summer!! Brightly is a website that helps make it a little easier, and a lot more fun, for parents to raise kids who love to read. The resource from Penguin Random House shares book recommendations from all publishers for every age and stage, reading tips, author essays, seasonal suggestions, and more.
Ready for the experiment of the week??
Lands' End Love Learning Experiment of the Week
As you know, this summer, Lands' End is excited to partner with America's Favorite Science Teacher and frequent Ellen Show guest Steve Spangler through the #LoveLearning campaign to feature weekly DIY science experiments that families can do at home.
Experiment: Color Changing Carnations
Watch America's Science Teacher, Steve Spangler, make a stark white flower bright pink just by slicing the stem and adding a couple key ingredients. Time will tell!
And … Lands' End Limited Edition Graphic Tee of the Week: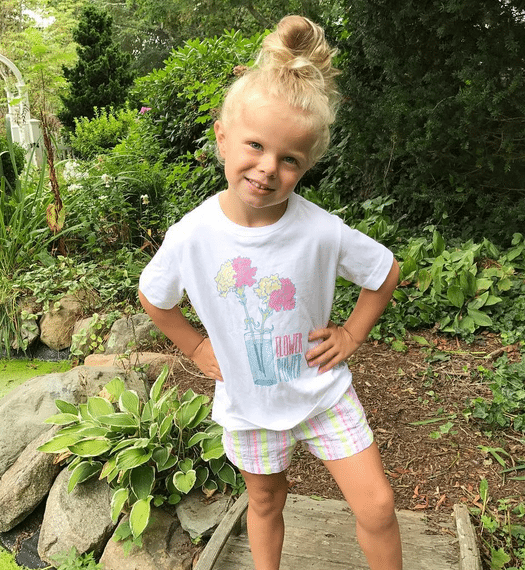 FLOWER POWER!!
Works perfect with this week's experiment!!
Disclosure: Partnership with Lands' End. All opinions are 100% my own.