He's OFFICIALLY a TEENAGER!
I can't believe it.
He's 13 years old.
I remember him being born just like it was yesterday. I pushed and pushed and pushed for hours. I was getting so nervous that it was taking so long and I could see the look on the nurses around me thinking the same thing. I remember the doctor saying to me, "It's 1:48PM… if he's not out by 1:55PM we're prepping you for an emergency c-section." At 1:51PM OUT HE CAME! My William. My beautiful William.
As every mother knows, that 1st baby… that 1st baby is your first chance at everything. I was 26 years old when I first became a mom, young and scared and excited all at the same time. William never left my arms for the 1st few weeks! Whenever someone wanted to hold him, I would watch them like a hawk (besides Matt, of course!)… just making sure he was OK. I worried about everything and truthfully, I haven't stopped for the last 13 years! William's my trailblazer, everything starts with him and I'm cautious about everything because well, he's my 1st.
But 13 years old. I just can't believe it. William is a special kid. He's funny. He's smart. He's witty. He's caring. He's serious. He's carefree. He's determined. He's motivated. He's a hustler, just like me. He works hard and plays hard. He wants good things for himself and I love that about him. I've seen him grow into a young man over the last year and it's tough to see, but something I'm happy about too. He's now MY size, well… a little taller… which is funny to witness, too. He's honestly just a great kid who I know will do great things in his life.
I just can't believe my "baby" is 13 years old.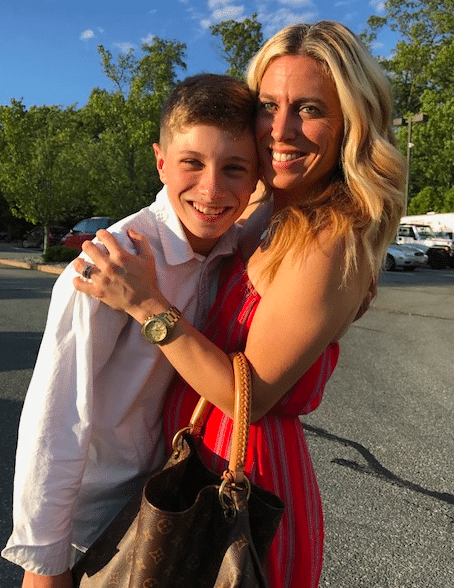 And as is tradition in our family, I always make the kids a birthday video. I mom failed YEARS ago with baby books. I just stopped when Ben was born because I couldn't keep up with 3 babies at the same time! So I started making videos, chronicling the last full year. They've become the 1st thing the kids ask for in the morning on their birthday. I always pick a song and put videos and photos to it… !
This year was a tough one to make because it's a BIG milestone birthday, but I had some fun!
(And he loved it!)
Happy 13th Birthday William. I love you CRAZY.