Meatball casserole is my new favorite dish for our family because it helps bring us together. Eating dinner together every night is something I cherish truly to the core. Many memories from my childhood revolve around conversations at the dinner table, all of us together – sharing, laughing and enjoying. I knew it a very young age that I wanted the SAME thing for my own family someday. And (fast forward 30 something years) I've stuck to the promise to myself for my own family.
Meatball Casserole
There's something special about coming together around the table with your family. There's no technology (at least at our house). There's no outside distractions of friends. There's no catching up on homework. It's pretty plain and simple, it's about being together. I love looking around my table and seeing my 4 sons, my daughter, and my husband. I love looking around the table and seeing everyone engaging and talking and being part of a family. I love hearing about everyone's day and being part of my kids' worlds outside of our home. To me – these are the memories I will cherish and remember as my kids get older. It's the simple moments around the table.
My New Favorite Cookbook for Family Meals
Now for me in particular, I'm all about making sure my family has healthy meals. Ask ANYONE who knows me and I'm not known for being that much of a good cook! LOL! It's something I've tried to get better at throughout the years, but I'm just not someone who can come up with recipes on a whim or even on my own with all the time in the world! I need help. I've ALWAYS needed help in the kitchen. It's tough because I'm passionate about feeding my family delicious and healthy meals, but I just have always relied on cookbooks giving me wonderful and delicious recipes to try at home.
I was thrilled to hear that the Trim Healthy Mamas have a new cookbook out – Trim Healthy Table – with recipes for the whole family including my favorite – Meatball casserole!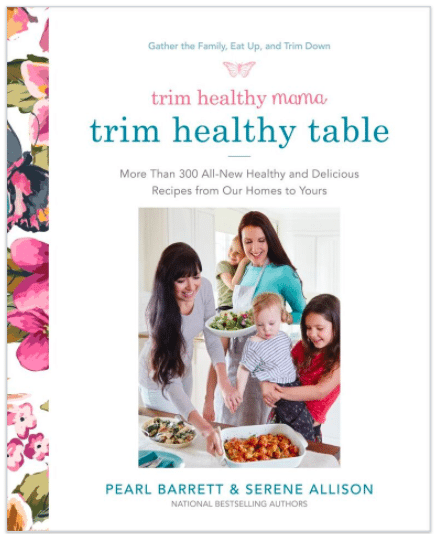 Family photo from cover art, credit: Lauren Volo
This is EXACTLY what I need for the McClelland house. Trim Healthy Table bursts with over 300 family-friendly, delicious and trimming recipes, along with practical advice on how to healthfully nourish your family without going insane and chaining yourself to the kitchen. I have to say, I need easy, doable and delicious in the kitchen… if I can accomplish those 3 things, it's a win-win-win for me! Bestselling authors and sisters Serene Allison and Pearl Barrett have 18 children between them and their two families have been thriving on the Trim Healthy Mama plan for years.
Trim Healthy Table contains all their best tips, tricks and encouragement for families, whether large or small. Serene and Pearl shamelessly share cunning ways to get picky eaters gobbling down veggies and other healthy foods they usually detest (thank you in advance!!!). You learn how to painlessly use whole, unprocessed foods, including blood-sugar friendly carbs, fats, proteins, fruits and vegetables to create meals even the fussiest kids (and husbands) will love. You'll also learn how one basic meal can make a whole family happy even with different nutritional needs.
Their quick and easy recipes include lots of one-pot dishes such as skillet meals, slow cooker meals, electric pressure cooker meals, casserole, and soups. With the recipes you can wake up to hearty breakfasts, prepare bars for on-the-go or try a creamy, quick-to-make smoothie, even Indulge yourself with the many trimming desserts…cake for breakfast is celebrated! And (what I love in particular), if you're simply looking for single serve 5 – 10-minute meals, the "Hangry Meal" chapter has you covered.
My New Favorite Recipe – Meatball Casserole
I thought it would be fun to give a recipe a whirl for the week! We're now back into our school and sports routine, so it's all about easy and healthy meals! My kids LOVE meatballs, so I knew they'd want to try Trim Healthy Table's MEATBALL CASSEROLE!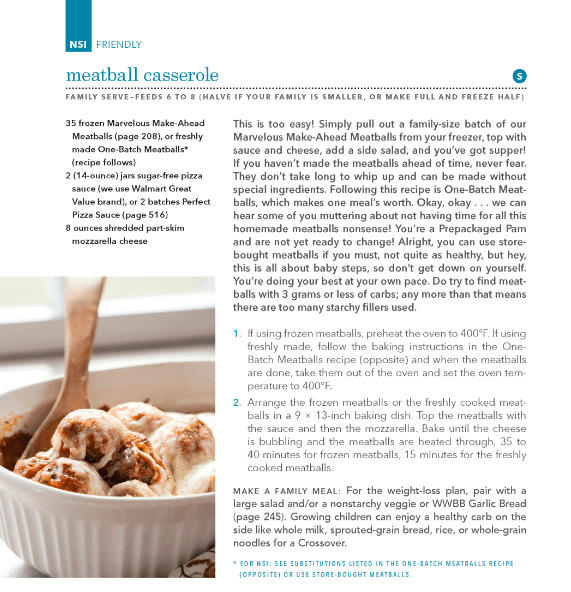 Reprinted from Trim Healthy Mama; Trim Healthy Table. Copyright ©2017 by Pearl P. Barrett and Serene C. Allison. Published by Harmony Books, an imprint of the Crown Publishing Group, a division of Penguin Random House LLC.
I have to say, this meatball casserole was one of the easiest meals to make and it EASILY fed my 5 kids, along with me and my husband! I just added a pound of pasta on the side and yummy veggies all sliced up for the kids!
Check out how easy it was to put together… all you need are meatballs (and you can make it easy on yourself and get frozen), sauce and mozzarella cheese! These sisters have this down and I love that they know what it's like to make dinner for a large family!
Meatball Casserole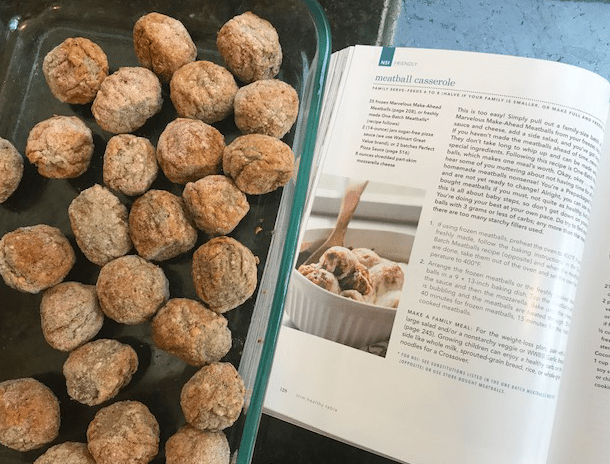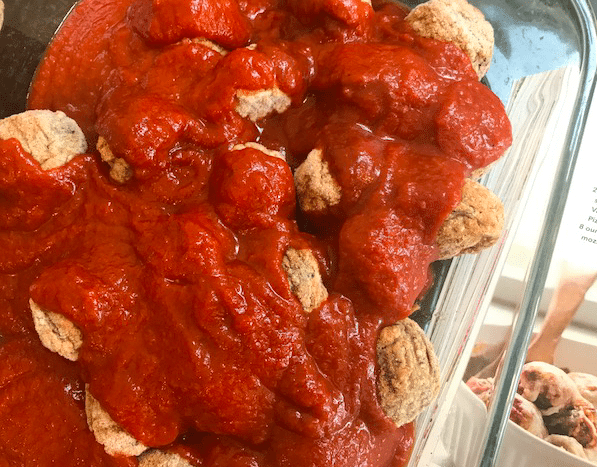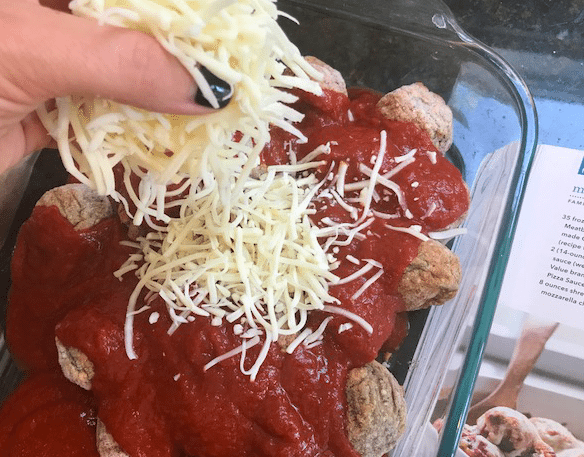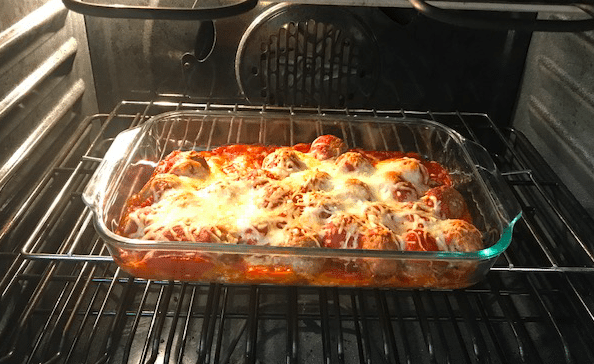 Are you ready for the final reveal!!??
How AMAZING does this meatball casserole look???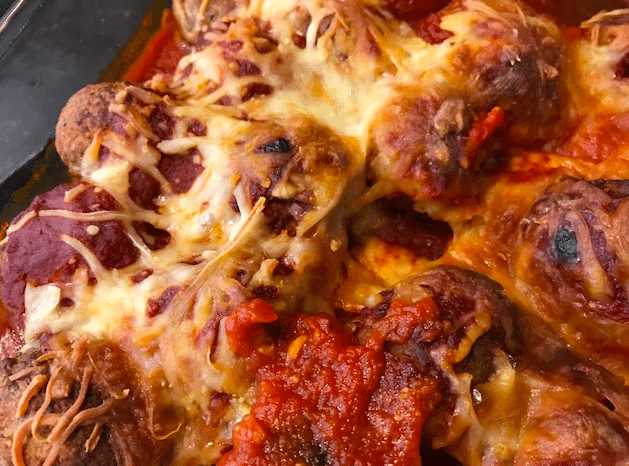 The real passed test is seeing all my kids devour the food! There's nothing like a good meal for your family, it really makes my heart smile. Thank you to the Trim Healthy Mamas for making dinnertime that much easier for me! It's appreciated!
Looking for this AMAZING COOKBOOK??
I have a GIVEAWAY FOR YOU!!
One (1) winner receives a copy of Trim Healthy Mama's Trim Healthy Table
Open to US residents only
Prizing provided by Harmony Books
How can you enter?
Tell me why you'd love to have a copy of this book!!!!
For more information on Trim Healthy Mama and Trim Healthy Table, check out the following links:
Visit TrimHealthyMama.com
Follow the Trim Healthy Mamas on Facebook, Pinterest, and Twitter
Check out their Podcast and YouTube channel for more Trim Healthy content!
Hashtag #TrimHealthyTable