HALLOWEEN IS ALMOST HERE!!!!
My kids cannot wait! They have changed costume ideas about a dozen times! My kids have already planned their routes for the night! It's truly a magical night for them!
But here's the thing with me…
I'm sick of the mounds of Halloween candy lingering around for months.
I'm tired of all the sugar meltdowns my kids have.
I've wished for the piles of candy to magically disappear over night.
(And now it can… thanks to Halloween Holly!)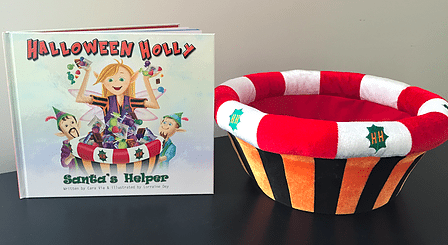 Halloween Holly is a unique little elf who collects children's extra Halloween candy & brings it back to the North Pole where it magically helps energize Santa's elves as they make the toys for Christmas.
Each book is packaged together with one of Halloween Holly's Special Candy Bowls where kids leave their extra candy for her to collect each and every year.
How adorable is that?
I love this tradition because it gets your children excited for Christmas and it gets them in the fun mindset! I love that it ties right to the elves and makes sense for a child to process! My daughter (who is 4 years old) doesn't fully understand the North Pole, but she understands the concept of elves and that they make toys! I love that she thinks she's HELPING the elves by sending them her candy!
Works like a charm!
Bring this beautiful story and magical candy bowl into your house and start this as your Halloween Family Tradition!