Family vacations are a must, a definite, a necessity.
Why?
It's simple… you're together.
This past weekend I was keynoting in Hershey, PA at the Boost Your Influence Summit. As soon as I was asked to speak, I told my husband that I wanted everyone to tag along with me to! As much as my kids hate road trips, I LOVE them. I LOVE looking into the backseat and seeing 5 little heads. There's something comforting in that for me. I just love seeing their faces… even though they're tuned into their devices!
Being with everyone this weekend made my heart soar. We've been so busy since school started that we haven't really just been able to spend time with each other without any outside distractions. One thing about our new town is that the kids have joined more activities – football, soccer, cross country and a new swim team. It's been great seeing them LOVE everything, but it's also been a little bit of an adjustment because we're ALWAYS on the go! I also love this new town because the kids have been doing way more stuff with friends – fishing, bike rides, meet-ups, basketball games, etc! As their mom, it's awesome to see them so excited about this "new" life.
Let me get back to this weekend.
Family vacations – to me – aren't about flying to exotic places and paying tons of money. Family vacations – to me – is just time away from home. Period. Now don't get me wrong – Hersheypark is an AWESOME backdrop to have for family vacations, but it's more than just visiting a park. It's being in a hotel room with each other. It's eating breakfast, lunch and dinner together. It's waiting for each other to be ready to go. It's laughing at silly jokes we have as a family. It's making fun of me because I won't leave until my hair is "perfect!" It's telling everyone to put their dirty laundry in the hotel laundry bag. It's lining up 5 toothbrushes in a row in the bathroom.
It's being together. That's the secret. That's the necessity.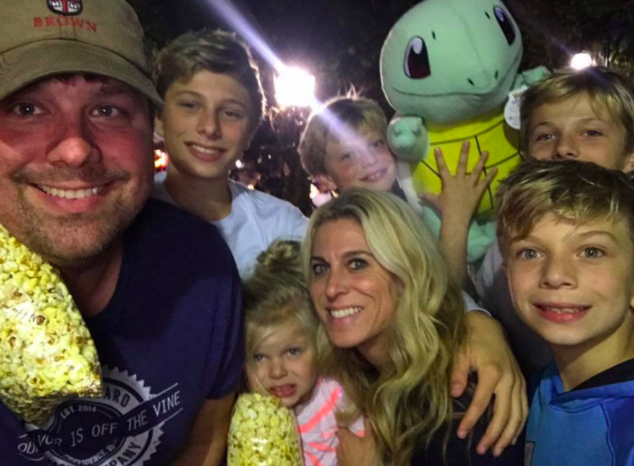 With 5 kids – 1 of them officially being a TEENAGER – I feel like my time is limited in terms of how many vacations they'll be excited about going on as a family. It's knowing that in 3 years, he'll be driving! It's knowing that in 6 short years my oldest will be off to college! It's looking at these 5 faces and still seeing babies, but knowing they're not babies anymore. It's walking around with 4 handsome boys now and seeing girls turn their heads… which is new for me. It's watching them hold their little sister's hand and get excited for her when she goes on a ride. It's the moments and knowing that time doesn't stand still, regardless of how hard you wish and try for it to happen… it doesn't.
As we were driving home yesterday I looked at my 4 sons all sleeping in the back and I remembered when they were toddlers. That's right… they were ALL toddlers/babies together. Henry was 1, Ben was 2, Alex was 3 and William was 4! I would sit in the back with them and help them eat and make them bottles and sippy cups. And sing with them and read them books. That was when they would ALL come with me into the bathroom, not their Dad. I would change them quickly – like an assembly line… and I could do it in a flash, much faster than my husband! Wink wink! Those days are gone.
Each stage has brought me more and more joy, but the one truth I have seen and felt throughout parenthood is the need and importance for family vacations. One night vacations, camping vacations, staycations… and yes, even those awesome exotic vacations… they all matter, that all count, they're ALL important. I can't stress it enough. It's time together – away from the world – just letting you live in your own universe with the people who matter the most. It's a memory maker.
I had the best time this weekend, even though it was fast and furious.
I loved having my sons thank me for the trip away.
And what they didn't know was my favorite part was just watching them together. Watching them laugh and joke with each other. Watching them be kind to each other. Those are the memories I will bottle up in my head always.
XO,
Audrey