2017.
We're hours away from saying good-bye!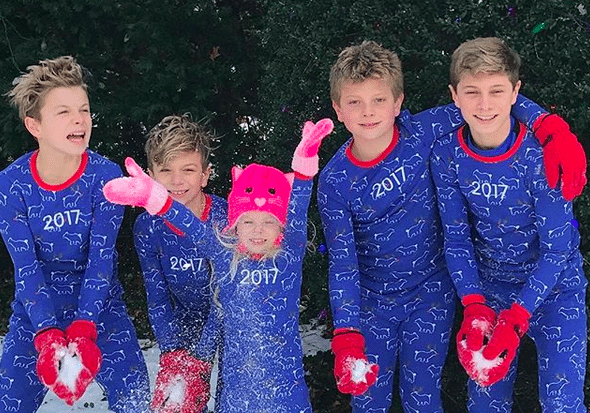 Hours away from opening up a new beginning with new chapters and pages and a perfect blank slate…
Exactly 365 days ago, if you had told me we would be living in a new town I would have called you crazy. Crazy with a capital "C!" It was always a dream, but just something that I thought would eventually happen. I have always believed that everything happens in life for a reason. Certain people come into your life for a reason. Certain experiences happen for a reason. Certain avenues and places and crossroads are put in your life for a reason. I believe it's just the way the universe works… there's a path, you just need to hear the "right" signs and follow your heart and your gut.
Moving was the BIG thing for our family this year. We opted to move to another town in Rhode Island, the same town I grew up in. And I can say without hesitation that it has been the best move we ever, ever (ever) made for our family. Even the boys have thanked repeatedly, which is crazy to hear from them! You hope and pray that a decision like moving will be a good one because it's not something to be taken lightly. I was terrified that my kids would have to start a new school and meet new kids and have a new neighborhood… but kids are resilient. I learned this firsthand this year. Kids can adapt like fish to water. I was thrilled to see that each of my sons found their own "niche" and "group" of friends in our town. They love their schools and their teachers. They are doing cool assignments and projects that they love. And Victoria? Well… she's found the best little tribe of girlfriends in the world! Not to mention, I love all their moms, too! So it's been ideal situation for the girls in the McClelland family.
We even made the decision to switch swim teams this past summer. We wanted to do something for our kids and our family as a whole that we have never done… make things simple. The pool is (literally) a mile from our house. The boys can bike to practice! You know we're a big swimming family, so this decision was not an easy one to make – especially when you love the team that you've been on for the last couple of years. But sometimes in life you need to make things simple and seamless for yourself. My husband and I work full-time and I travel a ton for work. With 5 kids it's not easy to get them to everything! It's actually super, duper hard and crazy and you feel like you're burning the candle at both ends. I was DONE with that kind of life for my kids. I was DONE with homework in the car and dinner on the go. I wanted to just see how it would be to have things easy for us. And it's been amazing. We have the gift of time with our family, which we have never had before. It's always opened us up to allowing the kids to try new sports and activities. Basketball… Flag Football… Cross Country… Track… Baseball… all things they wanted to try and be "all in" on, but just never could fit into our 5 kid schedule before.
On the work front I've learned a few things this year. I've learned that I've loved to surround myself with smart, savvy women who hustle and have a passion for what they do in life! I love being around women who are cheerleader for other women. I love being around women who want the best for all and share and give advice. Vera and I created Permission to Hustle this year to embrace the beauty of HUSTLERS! To let people know that you're not alone in loving what you do and needing to work. There's a fine line between needing to work and wanting to work, and I love that we have been able to make that difference a beautiful and important thing. I want to work, but I need to work. It's been amazing to have this outlet of women (and some men) to feel not alone. I'm a driven person. I'm determined. I'm devoted to what I do and what I love. Permission to Hustle has been a destination that I'm proud of growing with Vera. And I hope that we have more and more hustlers join on in for the inspiration and motivation to keep going after your dreams and your goals. We stand together.
If you follow me on social and read my blog… you see that I've been working like a bee throughout the last year. I wanted to brig more personal pieces to Mom Generations this past year. I wanted to continue to create a beautiful digital scrapbook for my kids. I love that I have this content for them.
The toughest part of 2017 was losing my grandmother. If you follow me, you know how important and special my grandmother was to me. She was my everything. My biggest supporter. She would always say to me, "You're not tired of all that work, right?" She would always worry! I adored her to the core and I will forever miss her smile and her laugh and her eyes and her continued love and support. I know I have gained an angel and that gives me peace, but there's still a void that will forever be empty in my heart.
And… as life goes, it's time for a New Year.
A new beginning.
A new start.
A new round of dreams and goals.
A new change to make 365 days count to the core.
2018 is a year that I have big goals for myself.
I'm setting the bar very high and branching out into some new and exciting things.
I pray for you ALL a beautiful, healthy, happy year.
May life bring you all that you desire and deserve.
2018, here we GO!