I'm a jeans girl. I'm thrilled to share with you my 8 Rules for Finding the Perfect Jeans! I'm excited to be able to share with you How to Find the Perfect Jeans. It's not always easy, but it is possible. You might need to try a few times until you find that ace pair, but I promise you – it IS possible!
How to Find the Perfect Jeans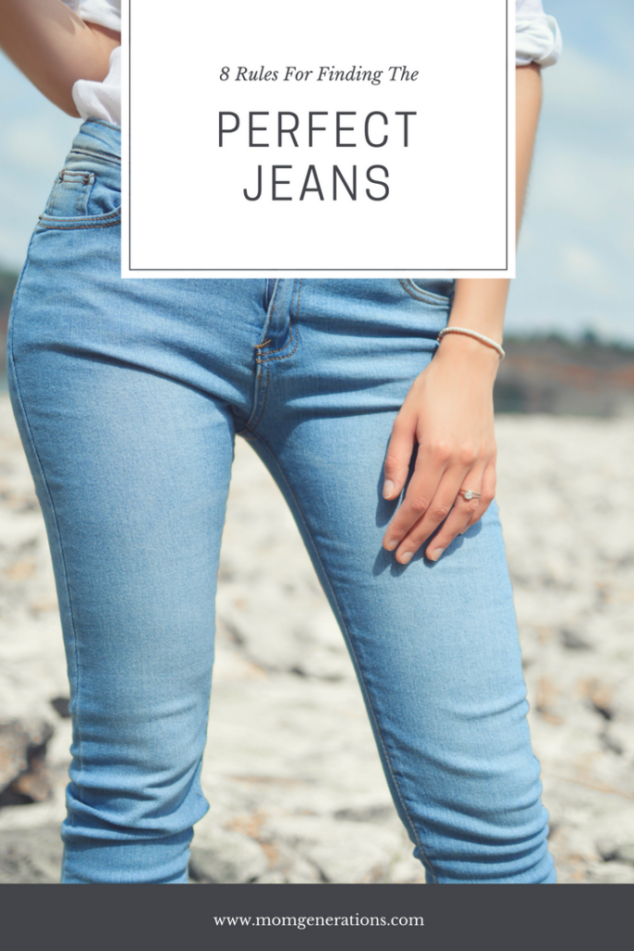 Looking for the PERFECT PAIR OF JEANS? That's right ladies! I'm here to help you out and get you going! Let's face it – we ALL needs jeans!!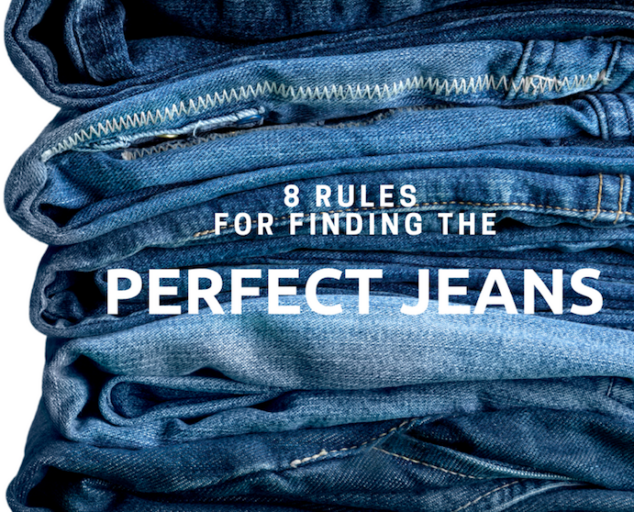 How to Find the Perfect Jeans? Here are some of my top tips!
It's par for the course for most women! We just want to find the best looking jeans for ourselves that fit like a glove! The cool thing with jeans is that there are so many different shapes and styles nowadays! When my mom was my age, there were basically a few options – dark wash, medium wash or light wash jeans. Now? Oh, mama mia… there are 100's of options – high waist, medium rise, low rise, jeggings, skinny, bootcut, ankle cut, destroyed denim, deconstructed denim and don't even get me started on how many rinses and washes and colors and fabrics are available! It's literally a jeans world and we're living in it!
But here's the big question —–> How to Find the Perfect Jeans with so many out there?
There are 3 things I always look for when I'm buying myself a pair of jeans:
Fit
Comfort
Style
If I can hit all 3 of these, I'm buying the jeans (here's my one caveat – they can't be over $500!).
There are some Rules when it comes to Buying and Finding the Perfect Jeans. I've outlined 8 of them to help you out on your next Shopping Trip for Jeans!
Rule #1: NEVER BUY ONLINE AND EXPECT PERFECTION! As much as online shopping is the best thing in the entire world because I can buy from my bed, it's not always ideal when you're buying clothing – never mind jeans! I'm just going to say it, when it comes to jeans you need to try them on! Unless you know your exact shape and style and know that you're buying a pair of jeans that you love… my 1st rule is to GO TO THE STORE and try them on! Of course – if you don't mind returning items – buy a bunch of jeans online and the return whatever doesn't fit!
Rule #2: ASK YOUR FRIENDS! This is something I do all the time! If I see a friend wearing jeans that are just out of this world and I need to try them out… I ask her where she bought them! I can't tell you how many "new" brands I've tried just by doing this simple rule. Ask and you shall receive! This will at least send you in the right direction of a style you like.
Rule #3: IGNORE THE TRENDS! Trends are not created equal for every shape and every body! Find what jeans fit YOU best! I look ridiculous in high-waisted jeans. I think it's a cute trend, but it just doesn't work for me at all! I needed to look for jeans that would fit my 5 foot frame the best!
Rule #4: INVEST IN YOUR JEANS! OK, I would never ever pay over $500 for jeans… but if I found a pair that I couldn't live without that are a little bit more on the pricy side, I would buy them because it's a good fashion investment. The beautiful thing about jeans is that you can wear them year after year after year. Jeans aren't something you wear 3 times and get rid of, you wear them over and over. Don't be afraid to invest a little extra $ in your jeans. I bought a pair of jeans that were $200 last year and I have to say… I LOVE them! Way more than I usually would pay, but it was worth it because I'm (literally) worn them about 200 times!
Rule #5: ONCE YOU HIT THE JACKPOT, BUY AGAIN! I found a pair of jeans at Old Navy last year that fit me like a glove. They're the Rockstar style… light gray… slight rip in the knee. I am obsessed with them and you've probably seen me wear them about 100 times on my blog and on my social channels! LOL! I am kicking myself that I didn't buy another pair after I got them and feel in love with them! Not to mention – they were like $34! No joke… and with all the sales that Old Navy has, I don't know why I didn't invest in another pair! If you find a pair you love… buy another!!
Rule #6: KNOW YOUR MEASUREMENTS! As much as we all *think* we know our measurements, make sure you really do! I was trying to buy a size 2 up till last year when I finally just waved the white flag and admitted that I went up a size or 2! I was squeezing into jeans that just didn't fit me because they weren't the right size. I also am 5 feet, so I've always needed to be aware of inseams on my jeans. If you want a pair to fit you like a glove, make sure you are getting the right sizes all around.
Rule #7: FIND A GOOD TAILOR! If you need to make some tweaks to jeans… make sure you find a GREAT tailor when it comes to jeans! Not everyone can tailor jeans and make them look correct. It's something I've learned the hard way. I had a tailor hem my jeans with yellow yarn… which doesn't sound bad as I type it… but the rest of the jean was threaded in a golden color, so my hem stuck out like a neon sign!
Rule #8: MAKE SURE YOU KNOW YOUR STYLE! What do I mean by this? If you wear jeans with flats or heels… think about that as you buy them. I love to wear heels with my jeans, so I won't always buy the "ankle" length because the jeans them look silly with heels. I like the hem to hang a little longer down when I wear heels with them. So make sure you're thinking about what you're wearing with the jeans. Even when it comes to tops and blazers. You want to make sure you are flattering your body… so don't buy low rise jeans if you constantly wear cropped tops – unless you want that style!
SEE HOW TO BUY A PAIR OF JEANS WITHOUT TRYING THEM ON!! This is the best Jean Hack and/or Fashion Hack you'll ever know!!