Fashion Hack: Buy Jeans Without Trying Them On
Is that even possible? Yes. You can definitely buy jeans without trying them on. It works. It's a fashion game changer. And it's amazing if you're out shopping with kids and you really want those jeans. I learned this Fashion Hack years ago when I was working for Donna Karan. I couldn't believe that nobody had passed along this fashion sage advice to me before… it was GENIUS.
So how is this possible – to buy jeans without trying them on?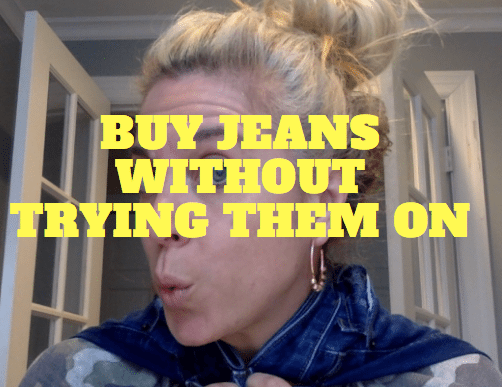 The waistband on the jeans/pants/skirts is roughly the same circumference as your neck. Viola! That's the fashion magic. Have some fun with this hack and try it out! I have been using it for 14+ years and I love it. It saves me so much time when I'm shopping with the kids OR (most recently) I was shopping and I could tell someone had tried them on right before me. EW! So I just tried the waistband test and it worked like magic!
Where can you find some GREAT JEANS right now for SPRING?
Old Navy
GAP
American Eagle
ZARA
BJ's Wholesale Club
Kohl's
Truly though, this fashion hack is a homerun! If you're out shopping with your kids it's not easy to try things on. I remember when my 4 sons were toddlers, even just going shopping was too much, never mind actually trying clothing on! Also – if you're someone like me who loves thrifting, this is a great tip, too!!!