4 1/2 Year Hemangioma Update for Victoria
Hemangioma updates on the blog for Victoria are something that are important for me to continue to do because I hope they will help other people out there. I'll never forget finding out Victoria had a hemangioma when she was a few days old. I couldn't believe that this small little pink mark was something the doctors kept telling me about. It looked so small and inconsequential. They kept telling me, "Make sure you watch this closely." When the said the word "HEMANGIOMA" I got more frightened because it really meant this it was something. I was filled with fear and questions and uncertainty because I truly just didn't know much about them. I immediately turned to the internet and started doing a ton of research on my own. This probably wasn't the best thing for me to do because the research made it a little more scary for me. I just wanted to know what they were and what we as a family were in for with Victoria's. I'll be honest with you, I think I read every horror story imaginable and really made myself sick. The ONLY thing that helped me was other stories from moms and dads out there on the internet. They shared their personal stories about the hemangiomas on their own children… and those stories were my anchors… I felt more peaceful reading about experiences and journeys… it wasn't too medical for me, and it made it much more digestible for me and understand.
I vowed at that moment to do the same on my blog. I wanted to chronicle Victoria's progress for another mom or dad out there looking for answers, help and reassurance.
If you're not familiar with hemangiomas… they are defined as a benign tumor of blood vessels, often forming a red birthmark. As with hemangiomas, they grow aggressively during the 1st 12 months of a child's life. I wasn't prepared for how quickly they grow, but they do… they grow fast. Victoria's went from being a little pink mark on her head to a large red spot in the matter of 2 months. It started to puff out when she was around 4-5 months old. Here are some images below: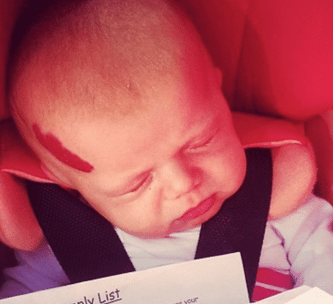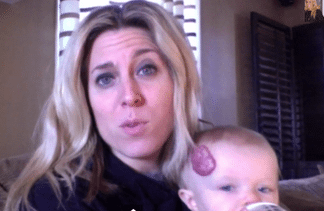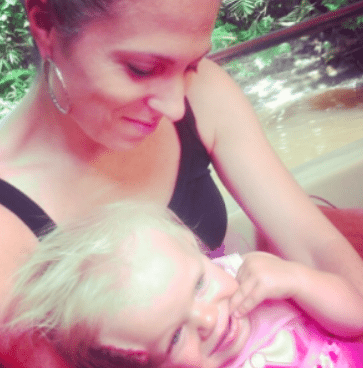 The scariest part for us with Victoria was when her hemangioma started to develop ulcers when she was about 6 months old. It would bleed and that scared me to the bone because when the bleed, they BLEED. She was a trooper and the team at Boston Children's Hospital were the best! That's where we decided to treat her. Full disclosure – we opted not to do any of the medication for Victoria or any surgery. With Dr. Greene at Boston Children's – we developed a plan and decided to see how things progressed. Every family needs to make their own decision when it comes to a treatment plan, this is what we decided to do… see and wait.
Every 6 months I like to do a video with Victoria (READ OUR OTHER BLOG POSTS HERE). I actually love looking back and seeing how far we've come. Obviously she knows she has a birthmark there, it's part of who she is… so we always talked about it with her!
Here's some advice that I've discovered on my own throughout the last 4 1/2 years:
1. Trust your gut when it comes to doctors. We changed dermatologists 2x because I just didn't have a good feeling about them for her. Find someone you feel comfortable with for your child.
2. Reach out and find other moms and dads going through this, this helped me immensely!
3. Don't keep things inside, if you're scared… talk to someone.
4. Stay off the internet if you're reading something scary. Don't do that to yourself. Ask your doctor if you're scared about something.
5. Everything is going to be OK.
Always reach out to me if you need to – Audrey 523 @ mac.com