Easy and Simple DIY Beauty Fixes for Moms
I'm beginning to see the what it's like to have a little more free beauty time for myself in the morning. BEGINNING… not 100% fully there yet, but beginning. I will say – gone are the days of 4 little boys hanging off my legs while I'm trying to get myself beautified in the morning. And I can't believe I'm saying this, but it's very bittersweet to see it end. I'll never forget looking at myself one morning in the mirror – I was holding my son Henry, my Benjamin was wrapped around my leg, my William was on the ground in the bathroom with my son Alex dumping all my curlers and bobby pins out on the ground (and I didn't stop them!). I remember thinking in that moment… this is real life. This is MY life. As crazy as it was, it was my normal. I needed to be fast and ready in the morning quick and the thought of going to a spa for the day or weekend was laughable.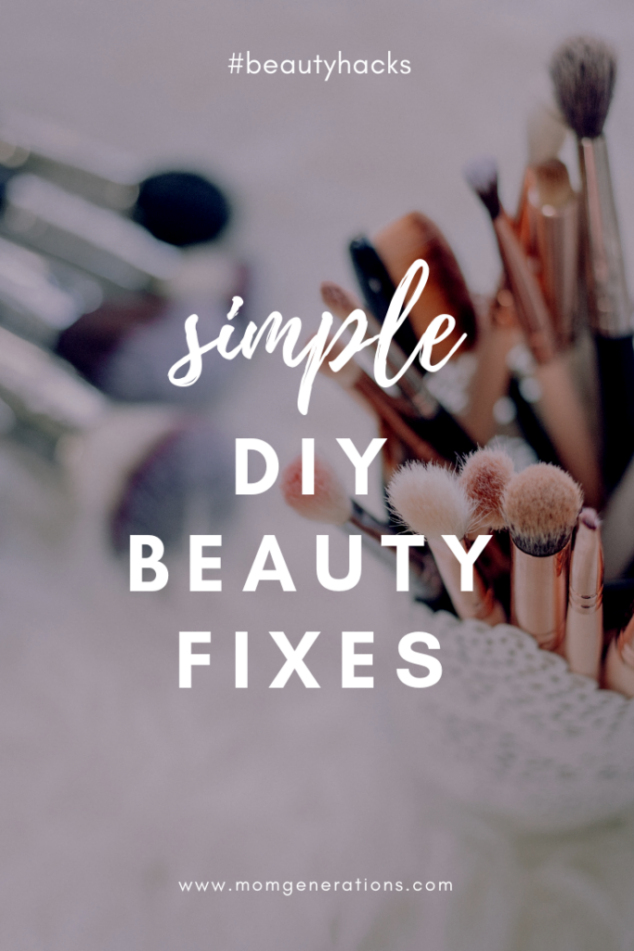 Easy and Simple DIY Beauty Fixes
Fats forward about 10 years.
I still laugh about trying to plan a spa day because it's just not something that's doable right now. With 5 kids who are into sports and activities and fully immersed in school life, my life is wrapped up in their lives… which is fine, but it doesn't mean I wouldn't love or appreciate a little one-on-one spa time!
So what's the next best thing to a spa? DIY Beauty Fixes at home.
It's the easiest. It's the simplest. And it's the best.
Easy and Simple DIY Beauty Fixes:
I have 12 DIY Beauty Fixes – Easy and Simple DIY Beauty Fixes – below that I have either been told by my mom, friends and bloggers… OR that I found online because I needed a beauty fix for myself!
Enjoy these tips! I hope you BEAUTIFY yourself at home with a yummy glass of wine!
Easy and Simple DIY Beauty Fixes:
1) Have tired or puffy eyes in the morning?
Here's an easy fix – Grab your eye cream and chill it overnight right in your fridge. It will work perfectly to wake up your tired eyes in the morning!
2) Do you have really dry skin?
This is like having a little bit of luxury right at home! Take about 1/2 cup of your favorite lotion, pop it in a bowl and microwave for 15 seconds. Oh my goodness, it's so soothing going on your hands, legs and arms. It's just warm enough to give you a lap of luxury!
3) Do you have VERY dry hair?
I saw this on Pinterest during the summer and have done this twice. It is AMAZING! The simplest way to benefit from using olive oil on your hair is by simply heating up about a quarter cup of olive oil (make very sure that it is not too hot!) and combing it through your hair from root to tip. You can wrap your head up in plastic wrap, and then cover it with a hot towel. Leave this for at least ten minutes before rinsing out your hair.
4) Do you have tons of calluses on the bottom of your feet?
Let Epsom Salt be your new best friend! Grab a bowl big enough to fit both your feet in it or a bucket. Fill with warm water and add about a handful of Epsom Salt. Soak your feet for about 20 minutes. Dry them off when done. This will help tremendously!
5) Want extra smooth legs for shaving?
My grandmother taught me this one. She used Baby Oil instead of shaving cream! Makes your legs ultra, ultra smooth!
6) Don't have time for a facial?
Easy, peasy! Use yogurt, honey or avocado for an all-natural face mask.
7) Want EXTRA soft feet?
My grandmother swears by Vaseline (petroleum jelly). Lather on your feet and pop some socks on overnight. When you wake up, your feet will be soft as ca be!
8) Have really frizzy hair?
My mom taught me this one! Grab a dryer sheet and just smooth right over your hair. Viola!
9) Puffy, swollen eyes?
OK, if you have sometime in the morning, grab some cucumber slices and place them on your eyes. Let them really set in and allow your eyes to pampered. This is something my Grandmother STILL does!
10) Want your teeth whitened?
OK, one more baby I found on Pinterest. Want white teeth naturally? Mix lemon juice and baking soda to whiten your teeth.
11) Want to get rid of those pimples?
My grandmother taught my mom this and my mom taught me this! Take toothpaste and dab on overnight! Easy fix!
12) Rough skin on your elbows and knees?
Cut a lemon in 1/2 and literally squeeze on your elbows and knees. Very easy to do and FUN! Not to mention, it smells fabulous!