It's funny the things we save…
Barry and I try to be minimalists. We really, really do.
We clean and sort and donate, always feeling very good about our efforts.
But each of us has a sense of the history of things, things that belonged to people we cherish.
Ay, there's the rub! as Shakespeare tells us. There always are "the things" that give us pause.

Take a seemingly random clothes hanger, for example. This particular one belonged to my late mother-in-law, Flo…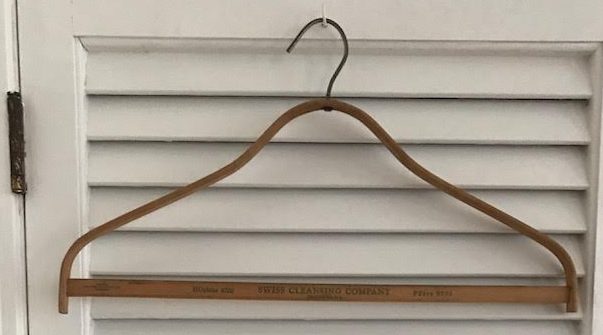 Barry and I discovered it in her closet several years ago, under the shoulders of a favorite coat, as we were cleaning her apartment after she died.
Flo had spent years working at dry cleaning/laundry facilities, always working hard to help supplement her husband's income and for getting extra little things for her 3 boys.
That wooden clothes hanger with its shoulder-holding strength and its phone numbers from long ago (for those who recognize the Letters/Numbers format – how cool it this?!), it represents so much more than a wooden clothes-hanger to Barry and me. It IS another generation, a generation that our grandchildren, Flo's great-grandchildren, will never know but for the little things that represent the work, the hard work, the dreams for our children, the Love that this little thing embodies.
Barry and I have this little coat closet tucked under the front staircase in our little old home, a closet big and handy enough to hold a few coats/jackets/rainwear. It seems the perfect place to hang the vintage wooden clothes hanger that has such meaning to us, to our family, and ultimately to our home…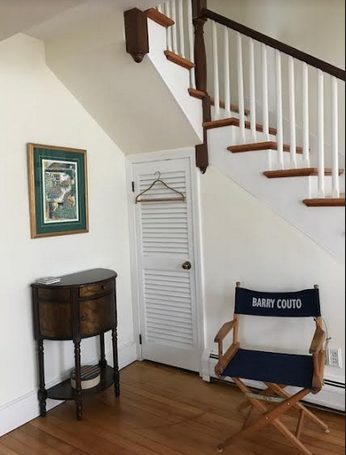 And, from a utilitarian point of view, it designates a closet, a place for family and for visitors to hang their coats while spending time with us. Hang your coat in the front room closet, the door with the clothes hanger!
Ah, things!
Especially things with stories.
It IS funny the things we save.