25 Things You Didn't Know About Monopoly. Are you ready!? I'm excited to share with you that TODAY is World Monopoly Day!
How cool is that?
Monopoly was always one of my favorite games as a kid! I would sit and play for hours with my sister and my 2 brothers… we all wanted to walk away with the BIG MONEY! It was just a fun game that captured our attention and really brought us in. Not to mention, it was a game that we played over and over and over again throughout the years! It really does bring back a ton of wonderful memories for me.
Fast forward to present day and now I have kids that love to play Monopoly together! And! The best part? I can play with them, too! My 4 sons are Monopoly lovers! Sometimes they decide to pair up and play "2 on 2" and other times it's everyone for themselves! Either way – it's just a bunch of fun and a wonderful way to put down the video games and just have some good old fashion game time!
Right now my 4 guys are obsessed with the Monopoly Jr. Electronic Banking Game.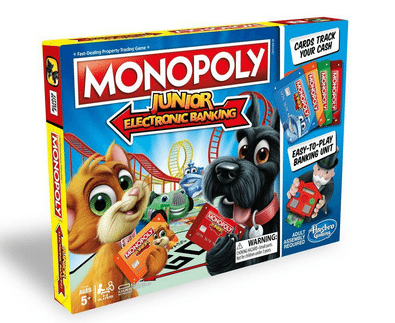 The Monopoly Junior Electronic Banking game presents a modern banking experience for kids in which Monopoly money is replaced by an electronic banking unit and Monopoly game bank cards. Players can use the cards to buy property, pay rent, and collect money when they pass Go. The game comes with 4 favorite tokens: Little Hazel, Little Scottie, Toy Car, and Toy Boat. Players move their tokens around the board, buying the properties they love such as the ice cream parlor, the toy store, and the skate park. It's so much fun for kids to make transactions using bank cards and placing ""sold"" signs on their very own properties. The player with the most money wins the game.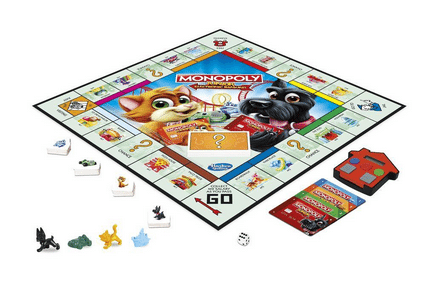 It is a ton of fun! Definitely worth checking out today!!
In honor of today, I thought it would be fun to share with you 25 Facts About Monopoly that you Didn't Know!! I have to be honest, the only fact I knew was where the game was based! Take a shot at reading the facts below and share how much you knew about the game! It's been a game we've all known throughout our lives, take a look!
25 Things You Didn't Know About Monopoly:
The MONOPOLY brand's official birthday is March 19, 1935 when Parker Brothers acquired the rights for the game from Charles Darrow.
The MONOPOLY game is currently published in over 47 languages and sold in over 114 countries.
Charles Darrow of Philadelphia, PA first developed the MONOPOLY game in 1933.
The MONOPOLY game is based on Atlantic City, N.J., U.S.A
The original game was made from materials from Darrow's own home. A piece of oilcloth covered the board and the cards were handwritten.
The original houses and hotels were made from wooden molding scraps.
The original MONOPOLY die-cast tokens were inspired by Darrow's nieces who recommended metal charms from charm bracelets be used.
The original game included 10 metal tokens including iron, purse, lantern, racecar, thimble, shoe, top hat, battleship, cannon and a rocking horse.
Darrow attempted to sell the MONOPOLY game to Parker Brothers, but was initially rejected for "52 fundamental errors" that included the game's length, theme and complexity.
Darrow first manufactured and sold the MONOPOLY game in local Philadelphia department stores.
Following the local success of the MONOPOLY game, Parker Brothers reconsidered their initial rejection and negotiated the rights to market the game.
Parkers Brothers in the U.S.A. and Waddington's in the U.K. began manufacturing and selling the MONOPOLY game in 1935.
Within a year of the MONOPOLY game's release in the U.S., 35,000 copies of the game were being made each week.
The original MONOPOLY game sold for about $2.
The current standard MONOPOLY game includes eight tokens: battleship, top hat, Scottie dog, racecar, cat, T-Rex, rubber ducky, and penguin.
The three most-landed-on properties in the standard MONOPOLY game are Illinois Avenue, "GO" and B&O Railroad.
The total amount of money in a standard MONOPOLY game is $20,580.
The MONOPOLY game is sold in over 100,000 retail stores.
On record, the longest game of MONOPOLY ever played lasted 70 straight days.
Under The Boardwalk: The MONOPOLY Story, a documentary about the MONOPOLY game, debuted in 2010 and won an Emmy® award.
In a recent study of approximately 2,000 people, nearly 50 percent of respondents reported some form of cheating during MONOPOLY gameplay, including stealing money from the bank, moving a token across multiple spaces, making up fake rules, and more.
This year, Hasbro launched a way to solve the game's cheating and questionable behavior once and for all with the introduction of MONOPOLY CheatBot, an adaptation of Facebook Messenger.
In the fall of 2018, to give fans what they've been craving all along, the MONOPOLY brand is introducing the MONOPOLY CHEATERS EDITION game, where players will be encouraged to bend the rules and "cheat to win."
The Official MONOPOLY brand Facebook page has over 10.7 million Facebook fans.
MONOPOLY Facebook fans hail from over 40 different countries.