Laundry Safety with my Mom Friends. One of my favorite things to do is share what I love and what I use on a daily basis on my blog. It's actually how MomGenerations.com originally started over 10 years ago, I shared products and services that I loved every single day. It was so much fun to dish and explain why I really gravitated towards certain products for my family.
As MomGenerations.com has grown and evolved, there's one thing that has remained the same. If there's a product I love and that I'm loyal to, I share it with my readers. What you see is what you get… and I love being able to open up my life online with my readers.
I've blogged about my love of Tide for years and years and years! I knew as soon as I had my 4th son that laundry was going to be something I did quite frequently every single day of my life as these little boys grew! Never did I dream that a little girl would be part of the mix someday, too! Tide has just been the constant fixture in my life. When I have laundry to do, I do it with Tide. It's that simple. When I started to work with Tide in the form of a partnership I became fascinated by the passion and the love and the hard work behind the scenes when it came to developing the best product and continuously bringing in new innovations… and most importantly to the safety issues that Tide makes sure are in place for their products. This really impressed me to the core to see all that goes into making sure Tide gives their customer the best and the safest products as can be.
A few weeks ago I had a Tide Mom Playdate at my house for 5 of my friends that all have toddlers and babies at home. It's a fun perspective for me because Victoria is my youngest, but for my friends, these little ones are their first babies. As I'm slowly exiting the baby world, these moms are fully in it. I love being able to share some of my "seasoned" mom advice with women I adore. These ladies know me in "real life"… so it was really fun being able to invite my friends over for a branded event at my house. My friends don't blog, so for them, it was really fun and interesting to see and hear about a brand that they know and use, too. I knew that these moms would be interested because we all have younger kids and laundry safety is something that's top of mind for us.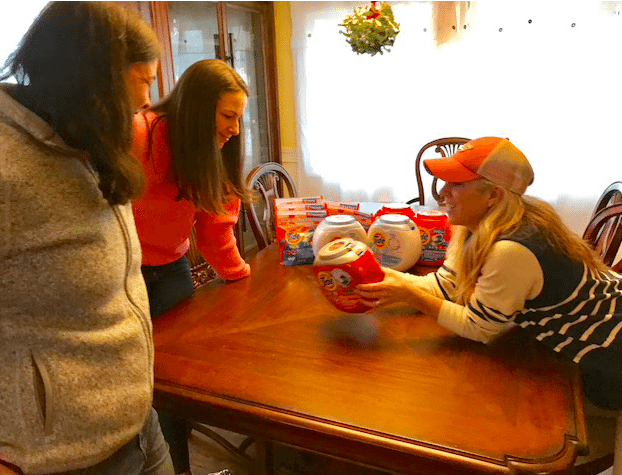 It was wonderful to hear that we all make sure our detergent is stored properly – out of sight, out of reach, and in its original packaging. My friends – thankfully – knew to keep their laundry detergent high up, but we also discussed the importance of passing this information on to their friends, caretakers and parents, too. It's something that isn't always top of mind, but needs to be and I loved sharing this very important safety tip with them. I showed my mom friends the shelving unit we have above our washing machine and how we keep it high up so nobody can get to it that's not over 5 feet!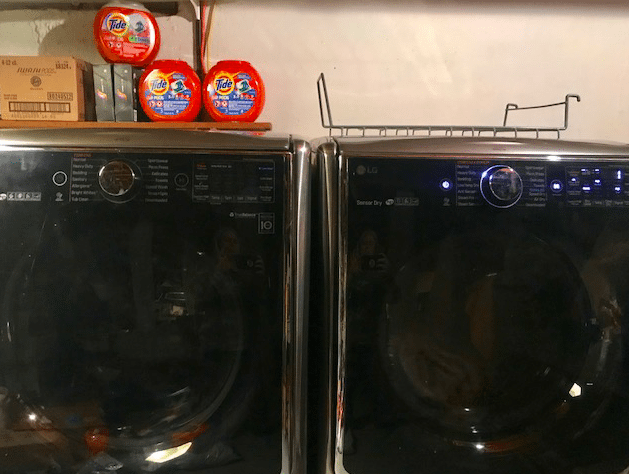 I loved hearing everyone share their laundry/detergent storage systems, too. Some of my friends have shelving like me or cabinets behind their washing machines. Laundry safety should be taken as seriously as any other home safety measures and should be a part of your regular safety routine… it was nice seeing my friends take it seriously, too.
I was then happy to be able to show my friends up close and personal what Tide has done to ensure the safety of their products. With the Tide PODS, I was able to show them that they are packaged with child-resistant closures, which provide a stronger layer of protection. Since all of us have babies and toddlers, I could tell my friends appreciate this safety measure from Tide. Also, even better – to open the Child-Guard™ tub, you have to squeeze both sides of the lid and twist at the same time to open the packaging. It's not easy and that's exactly what you want! The Child-Guard™ tub is one of the steps in P&G's ongoing safety efforts that have led to a 39% reduction in the rate of accidents related to P&G's liquid laundry pacs.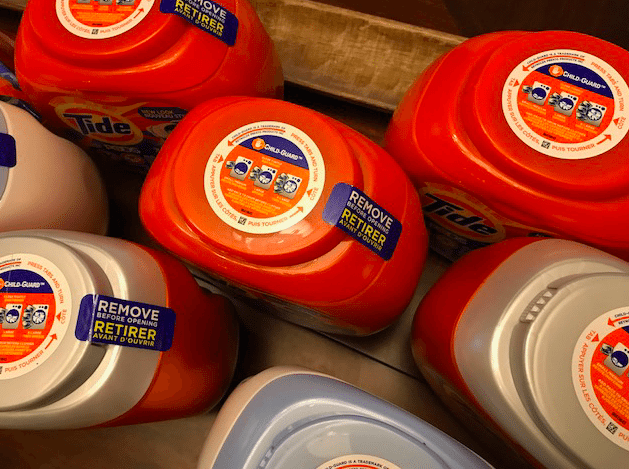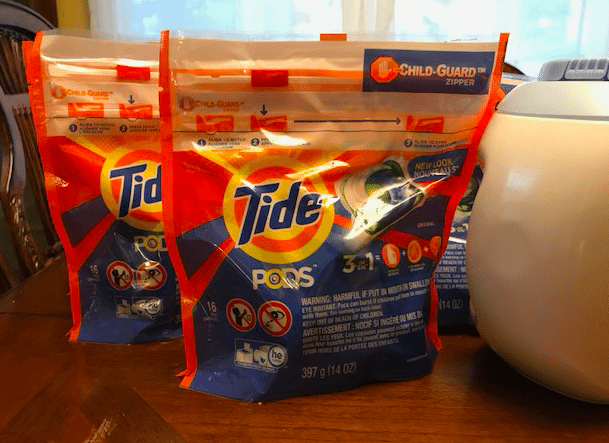 For me personally – I loved being able to share this with my friends because I know this matters and this is important. I love and appreciate everything that Tide does to ensure the safety for families. Our kids are our everything, so this is such a MAJOR thing for a brand to do. Laundry isn't something we all love to do, but it's something we have to do. Thank you to Tide for doing what you do. And thank you to Tide for making moms feel safe and protected with your products. I loved showcasing how much I love Tide to my good mom friends!
Disclosure: This is a sponsored partnership with P&G Fabric Care.