What I Learned from Oprah Winfrey, Reese Witherspoon and Mindy Kaling
Meeting Oprah Winfrey has been on my bucket list for over 25 years. I used to watch Oprah at 4PM (ET) every single day – Monday through Friday – when I was in high school and college. She lit my soul. She ignited passion within me. She believed in me and she didn't even know me. That was always the power of Oprah to me. When I first heard that we would get to meet Oprah on our A Wrinkle in Time press trip I was floored, excited and thrilled! She for me is just everything.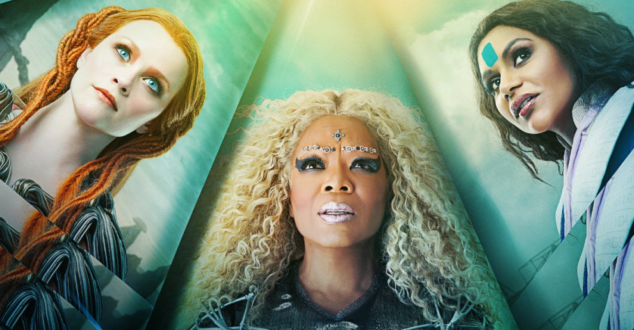 Photo Credit: Disney
The second she walked into our interview space you could feel her energy. Her energy is contagious. Her energy is full of passion and spark and togetherness and love and acceptance. We all stood immediately and gave her a standing ovation. We couldn't help it. We literally all just sprang to our feet and you could tell Oprah was touched.
But what fed my soul immediately was when she mentioned us all being bloggers and said, "Isn't the blogging world fantastic? Look at this new world we're living in where everybody gets a voice and has power and authority to speak and have what you say mean something, it's incredible really."
In just seconds of being with us, Oprah identified and acknowledged what we all do and it was amazing.
After Oprah sat down, in came Mindy and then Reese. To see all 3 of these ladies together was incredible. I actually had to pinch myself in the moment. Reese. Oprah. Mindy. WHAT!!?? It was just absolutely CRAZY to be in the moment and get to interview these ladies.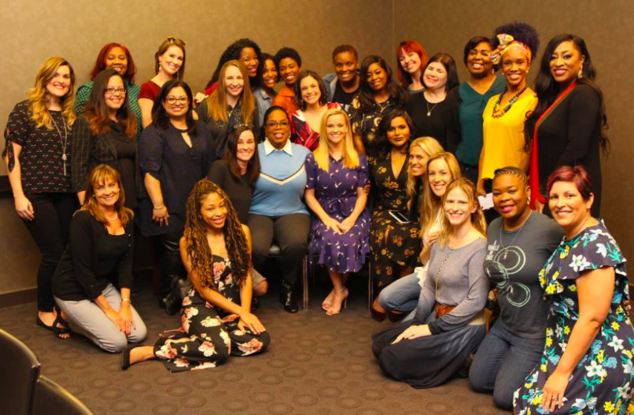 The first question asked was one that I had been thinking about in my head ever since I was invited to the event. My children don't know who Oprah is… or Reese or Mindy. These 3 women, especially Oprah have had such a presence in my life that it's almost crazy to think that my kids will never know Oprah like I know her. So we wanted to know from all 3 of the ladies, "How do you hope this movie and your roles inspire this next generation of girls?"
The best moment was when Oprah said to quickly, "I raised you all!"
Because she did and she has. We have grown up in the world of Oprah. We've witnessed her power and her reach. We've witnessed the incredible things that she has done with her platform. We have watched her change and help millions of people. She has – most definitely – helped raise ALL of us.
But getting back to the original question… Reese answered first and I just LOVED her answer, "A part of what I loved about making the movie, that I think is also in the movie and you really feel is the power when women are together, and talking, and not the only woman in a movie or the only woman in a board room or the only woman who's a manager at her company. And I think the power of that to young women to say, 'We're not against each other.' When we get together, we create abundance and really that's been a driving part of my career, the more I collaborate with women, the more we create for each other. So I think that's a that's a concept that we need to put into our little girls' brains."
This quote from Reese gave me goosebumps because it's everything I believe and stand for. It's something I work hard at every single day as a woman. I absolutely LOVED hearing Reese say this because it's important for everyone to hear this, learn from this and accept this as something that's necessary.
I hope you're enjoying What I Learned from Oprah Winfrey, Reese Witherspoon and Mindy Kaling!
Oprah's answer was just incredible, too. Which while she was saying this, I said to myself – she JUST said out loud, "WHAT I KNOW FOR SURE!!!" That's her tagline!!
"Well you know, what I do know for sure is that everybody's goal is whether they can articulate it as such or not is to live a life that matters and a life that has meaning. And I think that my hand prints, my heart prints, all over the Oprah show for all those years is a is a magnificent purpose to to to have lived. But I also knew when we were doing this film that there would be young girls who would come along and they would see me and they would say, "What do you mean she had a talk show?' and that the imprint, the heart print that you eventually will leave in this world will come from what is said in this movie. And so for your generation that I helped to raise there will be generations to come that will be raised on this story."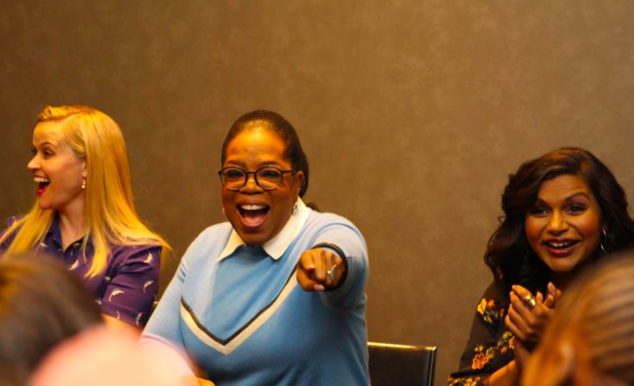 After watching A Wrinkle in Time, you really feel connected to the dialogue. There are some amazing quotes within this movie that you'll want to remember and embrace ad really breath in. We wanted to know from the ladies what pieces really resonated with them. They all had such amazing lines, we really wanted to hone in on that made them have those ah-ha moments.
Reese shared, "I know my favorite was when Storm looks up and she's talking to her little brother who's been possessed by darkness and she says 'I deserve to be loved.' I lost it. I was like, we all deserve to be loved, and we all deserve to tell our stories and be the the center, the lead of our own movie, the captain of our ship. And we do not see that enough, we don't see ourselves enough and I think a movie like this with a company like Disney getting behind it says so much to to young people."
AMEN to that!!
Mindy then added, "There are so many quotations in the movie, but one of them really in a quick part is when Storm has fallen down and she's she's feeling hurt, she doesn't want to stand up. And I say, 'the wound is where the light enters,' which is so profound.
And then Oprah shared right after Mindy, "That's why that one resonated so deeply with me because I've often said that the wounds help you create wisdom for yourself. 'The wound is where the light enters,' when I heard that it resonated deeply with me because I feel that is really true, that everything that happens to you, that wounds you, that is crisis… is the open door for more light to actually come in. My favorite is when Mrs. Which says to Storm, 'Do you know how many millions and millions of events had to occur as they did in order for you to be exactly the way you are?' And I actually think that about my own life as a African American who came from slaves and that story that journey. And I think about it for the life of everyone I meet. Everybody on the planet, I just think of what it took to get you here."
I had tears in my eyes hearing Oprah share this because that was my favorite line in the movie. That really captured my heart and my soul because I always have thought that about my own kids. How many events and happenings had to take place in the universe before them for them to be mine right now. It's always been so incredible to me.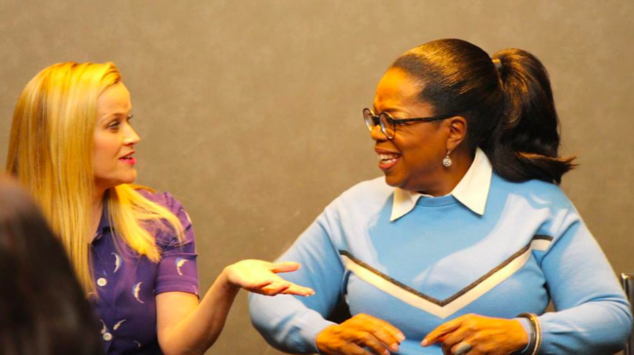 And then the interview took a fun turn when one of us asked about the chemistry between the 3 of them and them working together… how was it??
They all started giggling immediately!!
Oprah laughed and said, "They're like in the cultural buzz. I mean I actually called Gail and I said, 'Oh my God… Reese and Mindy talk all the time. You need to get to this trailer, you would love being here, because they know everything about everybody.' I go they are walking People Magazines, they know everything that is happening with everybody all the time!"
OMG! I loved hearing that because it made me realize that these are just girls hanging out with each other! I loved how they keep up with the Hollywood buzz and they ARE PART of the Hollywood Buzz!
Mindy then said, "How many people do you know in this world who live in the United States who were personal friends with the late Nelson Mandela, not too many. So I went and asked her questions, she might want her serenity, but I can't give it to her. [WE ALL LAUGHED] I'm just going to ask you questions and then we're going to pull you into our stupid conversations about nail polish. That's just what's going to happen."
It was the real, real deal and I loved it!! But then Oprah went on, which was hilarious!!
Oprah shared a funny story about Reese. "Literally one day there was this J.Lo thing and I heard [Reese] you say, 'God I really do love her, she's my girl crush, I love her. I just love, her but I don't know if she loves me the way I love her."
And it was GREAT because I feel like it made Reese so much more relatable to us. She's just a funny, down-to-earth girl who is funny and sweet and cute! It was just terrific!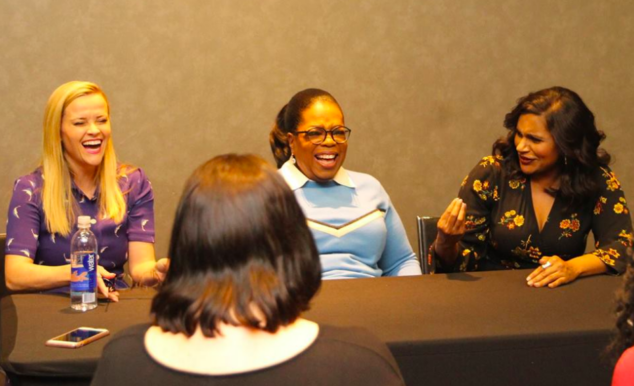 I was so happy towards the end of our interview when someone asked, "This is a book written by a woman, directed, a movie directed by a woman starring women, what do you see as the future of projects bringing women to the forefront, do you see that as a trend that's going to continue in the film industry and in powerful positions in general?
Oprah answered immediately, "Oh yes… in the Golden Globes speech I was saying a new day is on the horizon, it's actually here and we are living it, this is it, we're experiencing it, you're seeing it up there on the screen."
And these women are big pieces in making that change happen!
WOW!
What an interview with these ladies. Gracious with their time. Sweet as can be. Open and honest.
My favorite part was after our interview and group photo. Oprah shook everyone's hand and thanked us. When she came up to me, it was as if I was the only person that existed in that moment for her. You can see that her gift is to listen and take people in. She holds your glance and you feel her warmth and her energy. You feel her thank you.
It was just the best moment.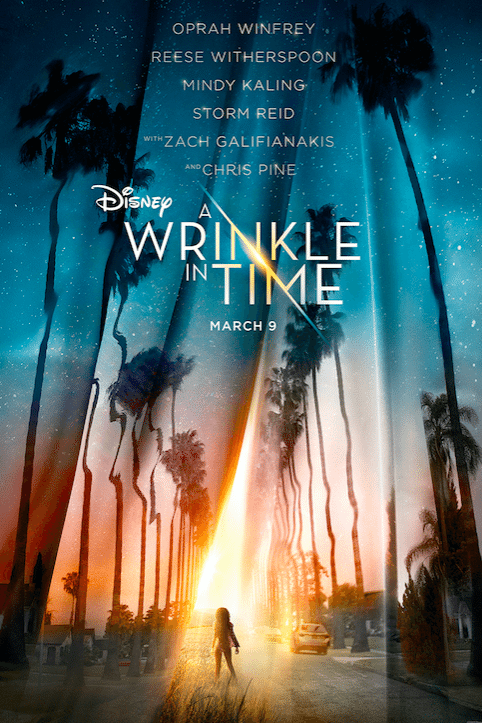 Thank you to Disney and Marshall for making this magic happen for all of us. It was quite incredible!
Make sure you check out the movie A Wrinkle in Time!! It opens this FRIDAY, March 9th in theaters nationwide!!
You will fall in love with the magic!! Bring that magic of a kid again into your life!!
Website and Mobile site: disney.com/wrinkleintime
Like us on Facebook: https://www.facebook.com/WrinkleInTimeMovie/
Follow us on Twitter: https://twitter.com/WrinkleinTime
Instagram: https://www.instagram.com/wrinkleintime/
Hashtag: #WrinkleinTime
Disclosure: This was a Disney press trip. All travel expenses were covered.