Storm Reid is Incredible for Girls to Look up To, this is my HUGE takeaway.
Storm Reid is a beautiful force in A Wrinkle in Time playing the lead role of Meg Murry. As someone who fell in love with this book when I was about 12 years old, I have often wondered what it would be like to see this incredible story on the big screen. Meg is the character in A Wrinkle in Time that you feel like is your best friend, too. I remember reading the book years and years ago and just identifying with things Meg was going through in her life and in school. You get Meg. You understand Meg. You feel for Meg. And you just really want the best for Meg. When I heard that Storm Reid would be portraying Meg, a favorite character of mine from my childhood, I couldn't wait to see Meg (literally) come alive on screen. I can say without hesitation that Storm Reid was exceptional as Meg Murry.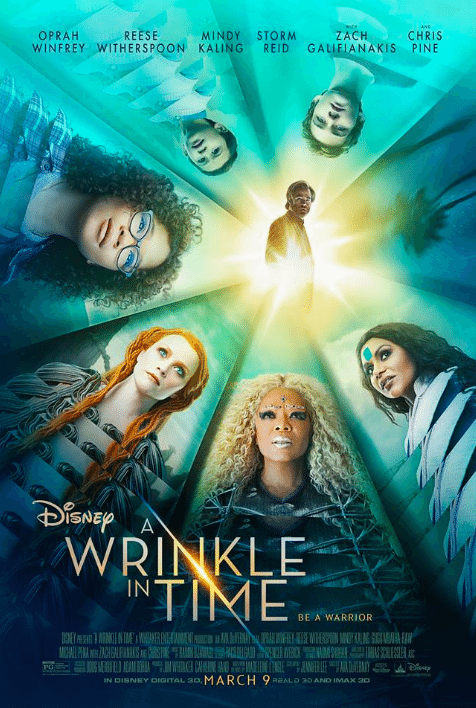 When I found out we were going to have the opportunity to interview Storm Reid, I was SO excited! I couldn't wait to hear about her take on Meg and how she felt portraying this iconic character. What I didn't expect was really just being captured with Storm herself. At just 14 years old, she just dazzled me. She walked into our room full of bloggers and was sweet, kind, witty and wonderfully open with us. I realized very quickly while we were interviewing Storm that she is an incredible role model for young girls everywhere!
The first question we asked Storm was "How does it feel being this next generation heroine, multicultural and an inspiration to little girls who look like you?"
Storm smiled big when she answered this question, which filled my heart.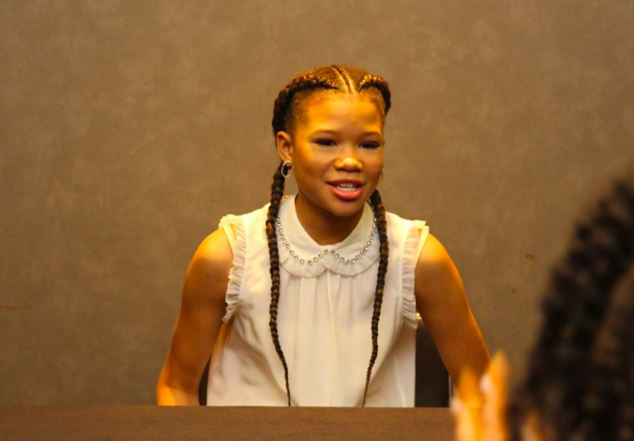 Photo Credit: Louise Bishop
"It means everything to me and it's very empowering for me still as a young, little girl being able to represent the little girls that look like me and being able to give them hope, and know that they can have any opportunity they want to have… and they can do anything no matter their big hair or their big nose, as people say, or their glasses or their skin tone. They can do anything. So, for me to be able to be that for them and be an inspiration and to uplift them and empower them in a time like this where everybody's so divided and it's so dark. It means a lot."
This answer is from a 14 year old girl. I was so blown away by her honesty that my eyes filled up with tears as she said this during the interview. It was a powerful moment and we could all feel it. I loved seeing that Storm acknowledges just how important this role is in so many ways. It was beautiful to see her embrace this and want to honor this, too.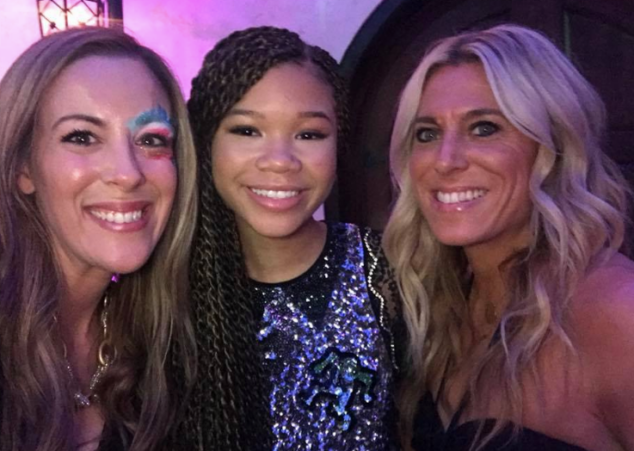 We were ALL dying to know what it was like to work with Oprah Winfrey, Reese Witherspoon and Mindy Kaling. I mean, it's OPRAH. She does so many scenes with Oprah in the movie. Not to mention, here she is with these 3 female powerhouses holding her own. It was very impressive! We needed to ask how it was working with them and Storm was so cute and gracious with her answer.
"Yes. Yes, they're all so great and I just learned from each and every one of them constant graciousness because they are just so amazing and so empowering. And they're these A-List stars, but they don't act like it. And they are so grounded and so humble. And I just love them."
I have to admit, that was fantastic to hear. She could've said anything, but Storm honed in on their graciousness and their humility. That was really cool to hear from her because you could see how much she truly meant it.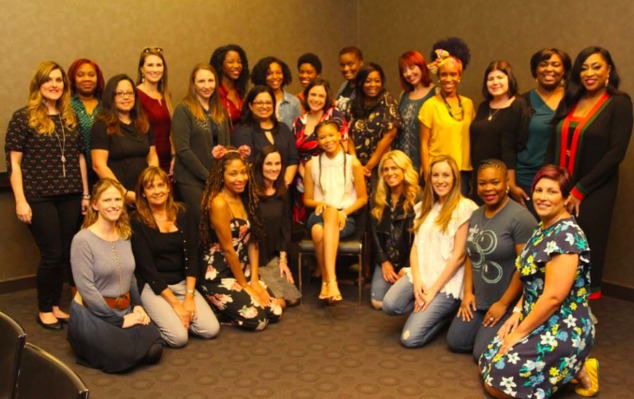 Photo Credit: Louise Bishop
But then it was something she said about Oprah that really got me. "And then Miss Oprah told me don't waste energy on things you can't change in life when you can be using that energy on something positive in your life. So, they're just all so great and I'm glad that I have them in my corner to pour into me and just be around me, 'cause they're amazing women."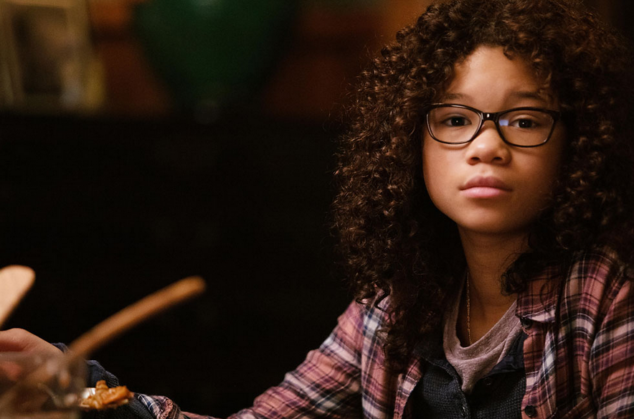 Photo Credit: Disney
I loved that about the energy, I actually wrote that down while we were in the room interviewing Storm because I wanted to make sure I always remembered those words from Oprah.
A Wrinkle in Time is all about the messages. It teaches. It inspires. And it motivates. It was really wonderful hearing Storm share what she felt were the important takeaways from the movie. I know that girls everywhere will see this and really walk away with a deeper message, so it was incredible to hear Storm explain it herself.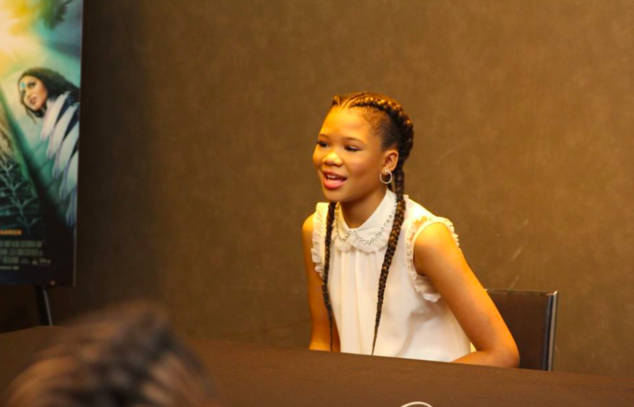 Photo Credit: Louise Bishop
Storm shared that there's a "deeper message … young girls not to conform to what society wants you to be and what society thinks you should be or how you should look because you're perfect just the way you are. And you have Meg, who is doubtful about herself and doesn't love herself at the time. And you have this perfect version of her with this straight hair and this crop top and all these lil' trinkets and who is really pretty and is cute. But Meg chooses herself over this perfect Meg because she is realizing that she is enough and that she is worthy of being loved just the way she is. I feel it was really fun to film, but it had a deeper message and I'm glad that I was able to kind of connect with that as a young teenage girl trying not to follow trends and trying to be unique and be myself. And also I feel like that will transcend to our audience, especially our young girls."
As a mom to 5 kids, I loved hearing Storm share this because that's all you want for your kids – boys included – to be unique and be perfectly who they are. I love this movie for that message for kids everywhere.
And Storm even went on to share with us that she learned something while filming, too. "I did learn that I am enough. And, of course, my mom taught me that and instilled that in me and I'm pretty confident. But just being Meg and experiencing that and going through that journey with her where she doesn't feel that way about herself and she has to embrace the light from within to become that, it really helped me do the same and really reassure that I was enough and that I am worthy of being loved, and I do have faults and challenges, but that can't stop me. I feel like that was the biggest lesson I learned and I say that me and Meg grew up together, 'cause — or grew together, because Meg is growing through the journey and then I was her, and I was growing as Storm, as a person, as a teenager."
I'm telling you – this young woman is exceptional. To know all this about yourself at 14 years old and to be wise enough to absorb this is just incredible to me. This is a special girl!
I am now a GIGANTIC Storm Reid fan! She really captured me and I loved everything she shared about herself and about playing Meg Murry.
Make sure you see the movie this FRIDAY, MARCH 9th!! It will be in theaters nationwide!!
Website and Mobile site: disney.com/wrinkleintime
Like on Facebook: https://www.facebook.com/WrinkleInTimeMovie/
Follow on Twitter: https://twitter.com/WrinkleinTime
Instagram: https://www.instagram.com/wrinkleintime/
Hashtag: #WrinkleinTime
Disclosure: This was a Disney press trip. All travel expenses were covered.