Have you ever created a personal Bucket List? Have you ever thought of some really cool Bucket List Ideas? I'm all about creating them whenever I can because I think it's a way to dig deep and really take stock as to what's going on in your life at the moment and where it's going. It's a great check in and it's a great way to see the potential in your life. It's also just a really fun think to do! I've always enjoyed making them and you can really come up with some fun and creative ideas!
Bucket List Ideas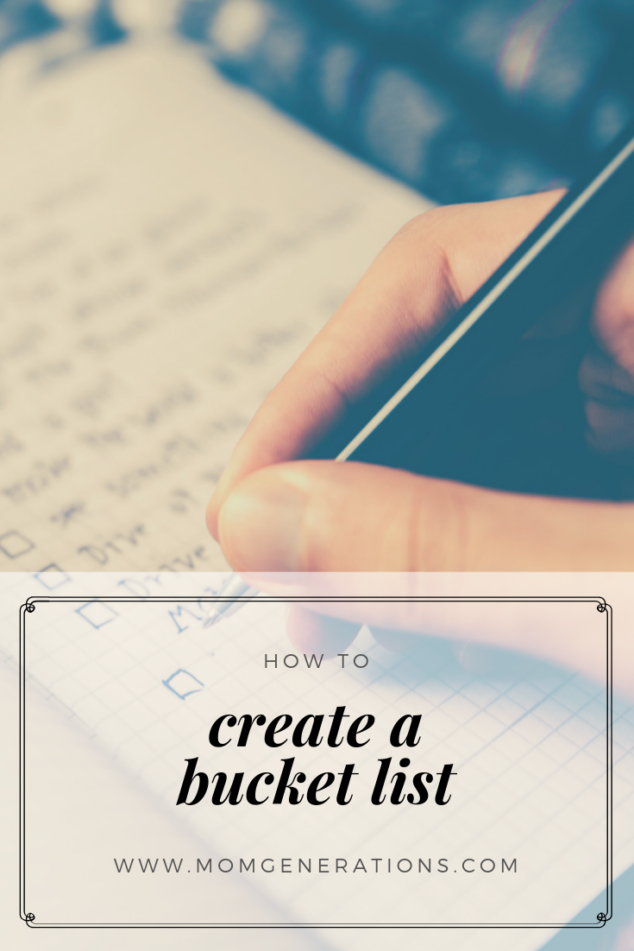 A Bucket List is a number of experiences or achievements that a person hopes to have or accomplish during their lifetime. I've kept a running Bucket List going in my head for years, but only recently actually put my ideas and thoughts to paper. In all honesty – when something is on paper for me, it's more tangible and more (dare I say it) REAL. I love being able to take the time to really think something out and enjoy the moment of putting items down on a Bucket List that would really be WOWZA moments for me. I also keep it proudly displayed in my office so I can look at it every single day, it's something that drives me and motivates me to always keep moving!
How can you create your own Bucket List? How can you come up with some really great Bucket List Ideas? Simple and Easy. Follow along as I bring you through some of the ways to create a wonderful and meaningful bucket list.
Where do you start with your Bucket List Ideas?
1) Grab a piece of paper and find a quiet place to sit down
2) Start thinking about all the things you would love to do in this lifetime. Do you want to travel to Paris? Do you want to climb a mountain? Do you want to learn to swim? Do you want to take a train cross-country? Do you want to visit your best friend you haven't seen in years? Do you want to learn another language? Really think about things that you would love to accomplish in your lifetime. Make them things that are tangible, not crazy outlandish.
3) As you think of these experiences or milestones, jot them down. It doesn't matter if you want 100 of them or 5 of them! As you think of something that you heart really desires to do, jot it down. The beauty of a Bucket List and coming up with Bucket List Ideas is that it's completely personal to YOU. You are the driving force, so it's really up to you – everything. It's all you, you're the driving force in creating this master and masterful list.
4) Once you've written down everything you can think of for your Bucket List, keep the list in a "safe" place. Make sure it's somewhere that you can get to and also a place where you will be able to revisit it often. The thing about a Bucket List is that it's items you want to accomplish in your lifetime. Don't tuck it away somewhere where you can't find it. Really own it. Really want it.
5) As you start accomplishing items in your list, cross them off! It's a beautiful and powerful moment to cross something off your Bucket List.
I recently just checked a BIG one off of my own personal Bucket List. Years ago I jotted down that I wanted to speak to a group of students at my alma mater someday. I attended Brown University and graduated in 2000, I absolutely LOVED Brown and it did wonders for me. It really gave me the wings to go out into the world and fly! I support Brown in every single way I possibly can… not to mention, I met my husband there, so it has an extra special meaning for me. Being asked to come back and speak to a group of students was so much fun and really special for me.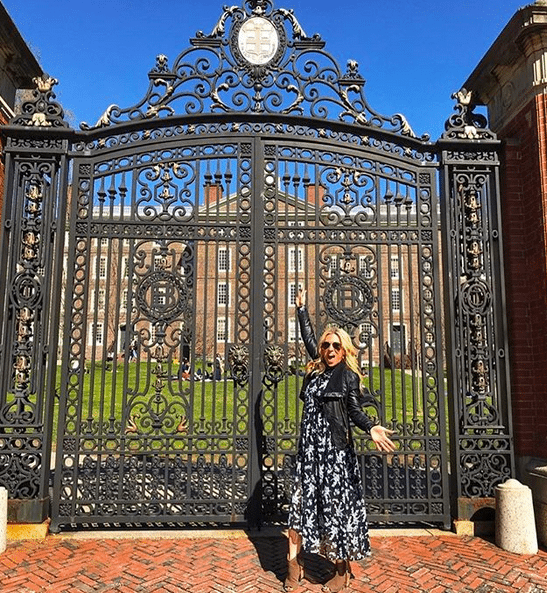 I spoke on a panel about the fashion industry and working as an influencer in today's current online world. I started my career as a personal assistant to Donna Karan back in 2000, so it was fun retelling the story as to how I "broke into" the fashion industry with zero experience behind me! I didn't have a clue how to go about getting a job in the fashion industry, so I drove to New York City took the yellow pages from a friend of mine and sent my resume out to every fashion house in there. I literally just randomly sent out over 50 resumes, it was the craziest thing because I didn't have a contact ANYWHERE! Fortunately for me – Donna Karan got in touch with me and the rest is history!
My life has always revolved around my family and my passion in life for going after my dreams, so being able to head back to the Brown University community and share my story was a dream come true. MAJOR BUCKET LIST ITEM CHECKED OFF MY LIST! I was pleased as can be to check this off my master Bucket List! This was a really big accomplishment for me. You see? When you put Bucket List Ideas out there into the universe, you never ever know what will happen and where they will go!!
Take the time to think BIG! This is something I would never do, but if one thing on your list is to try Sky Diving… check it out and go do it! I think it's safe to say that you can put anything and everything down!
Think within yourself and really allow yourself the time to think and ponder about what it is you want to put down. I'm a big lover of personal quiet time, so do that. Give yourself the time to stop and think. Also – maybe you want to start saying NO to things in your life that you just don't want to do because they don't bring you joy! That's always something you can add to your list, too!
PIN THIS IMAGE!!