Can you find the Best Beach Bag for the Summer UNDER $40? YES! Yes, you can. We are beach and pool people throughout the summer months. Literally from now (May) through Labor Day weekend we will be poolside and beachfront. And take it from me, there will be NO in between. I've always loved summer the best. The days are longer. The sun is (almost) always shining. Windows can be left open. Water hair doesn't need to be dried. It's just the best time of year!
Best Beach Bag for the Summer UNDER $40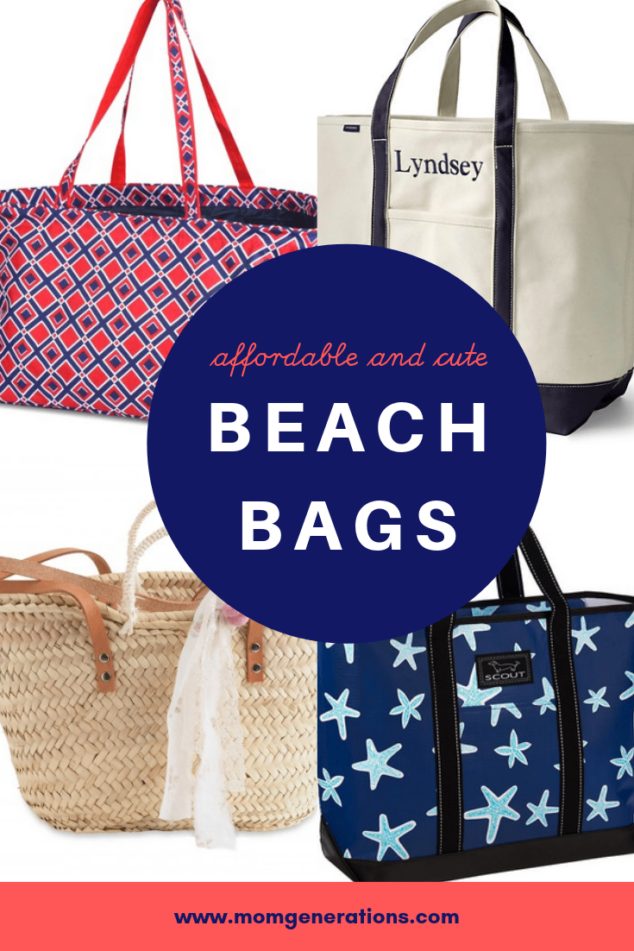 With 5 kids, as you can imagine – whenever we head to the beach or to the pool, we have tons of things to bring!  There's towels. There's bathing suits. There's sunblock. There's water bottles and snacks. There's googles. There's toys (for Sis). There's extra clothing – you know – just in case! My beach bags are always filled to them brim. When it comes to finding the best beach bag for the summer, I'm always on the lookout for 4 BIG things:
Size (I need something big with the 5 kids)
Durability (I need something to hold up for the summer)
Style (Yes, I love a good bag!)
Price (I don't want to pay through the roof for a beach bag)
If I can find the Best Beach Bag for the summer that checks all of these boxes, I'm a happy girl! As much as my husband thinks it's so cute that I put so much time and energy looking for the "perfect" summer beach bag, it IS worth it when I find the right one. I started looking for beach bags for the summer earlier in May. I figured I'd start early and order myself my top picks! I've waited too long before and have completely struck out when it came to ordering the exact one that I wanted. I didn't want that to happen again this year! I thought it would also be good to cap out my price for a beach bag for the summer. I didn't want to spend a ton of money, so I have myself the challenge of not going over $40. That's right… I didn't even look at bags if they were over $30. I'll tell you what, I was so happy to see SO MANY options available for the price that I wanted.
Are you ready for my top picks for the Best Beach Bag for the Summer for $40 or LESS?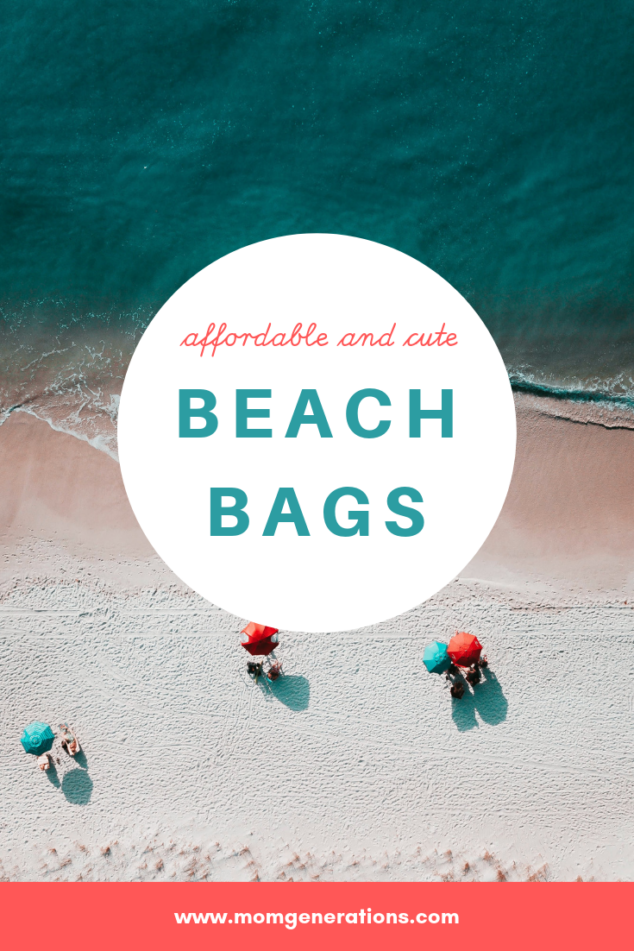 #1 – Lands' End Extra Large Natural Open Top Canvas Tote Bag – OK… this is right on $40, but let me tell you this – this is the BETS TOTE ON THE PLANET! I'm obsessed with the XL Canvas Totes from Lands' End. I actually have 5 of them that I use throughout my house! I use 3 for beach bags, but I use 2 of them for toys bags for Victoria! They are the BEST quality you can get! I have had Lands' End totes for years and years and years.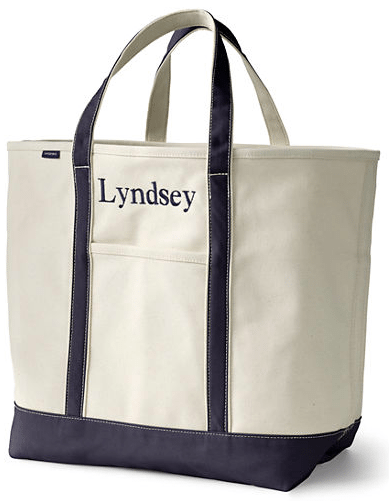 Our iconic Canvas Tote withstands the test of time because of the details we build into its genius design. Rugged 24-oz. cotton canvas makes it endlessly durable while the bottom and handles are reinforced so it can support a heavy load, making it perfect as a beach bag, to carry your laptop – whatever you require. A water-resistant base and trim protect it (and your things) from dampness, so don't worry about setting it down on a sidewalk after the rain. Pockets inside keep your smaller items easy to find and secure. Neatly-stitched seams give it a clean look. To begin building your best tote, choose from the available options and we'll refine them for you as you go. 
They come in a variety of different colors, so head over to Lands' End and check them all out! If you're curious about other sizes, check this out – there's a size for everyone!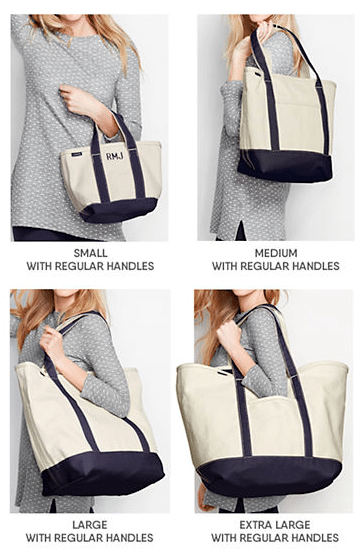 #2 – SCOUT Beach Bum Beach Bag – I have to say – a good 50% of the people at my pool club have a SCOUT bag. They are phenomenal for poolside and beachfront because they're water resistant! You can't beat that! You don't have to worry about rushing over to move your bag if someone splashes! Not to mention the bold prints are always just GORGEOUS!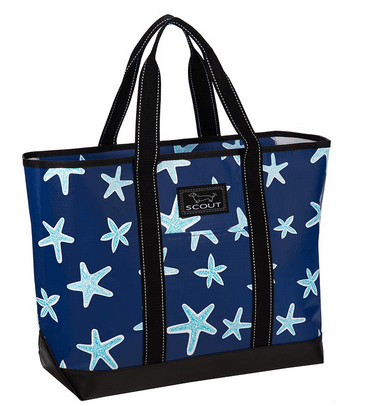 The Beach Bum is the Original Deano's "cool younger sister," with a slimmer profile and zipper closure. This sand- and water-resistant tote is perfect for days at the beach or pool. Zip it closed and carry all you like, then unpack and fold it flat when you 're not using it. This bag will have you feeling beachy keen.
Only $39! You will use this ALL summer long!
#3 – Saltwater Canvas Whale Beach Bag – You can't go wrong with finding a beach bag on SwimOutlet.com! As a swim mom, SwimOutlet.com is our mecca! It's where we buy most of our swim gear. When I started looking for some options for the summer, SwimOutlet.com was one of the first places I scoured! I found this great beach bag, filled with compartments and pockets for every need you have during the summer!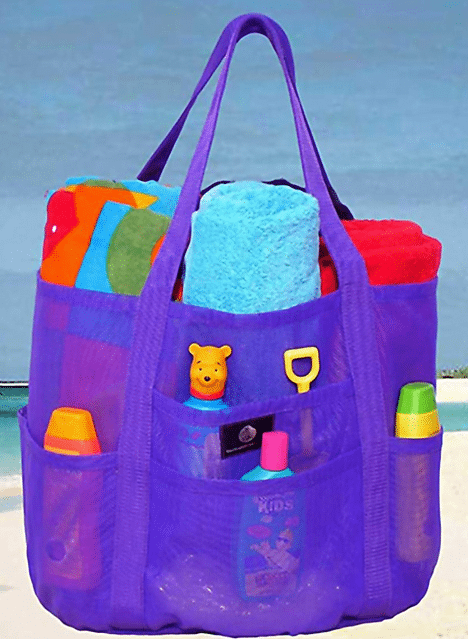 When you have a lot to carry, organize your beach gear in the Saltwater Canvas Whale Beach Bag. Constructed with a breathable mesh material, this functional tote allows for optimal air flow and faster drying.
Features & Benefits
Stands upright.
Squashes for easy storage.
Double Polypropylene straps.
Holds up to 6 beach towels.
15″ W x 15″ H.
8 outer pockets.
Inside snap hook for keys or sunglasses.
$35
#4 – Personalized Large Beach Bag Oversized Pool Tote from GiftsHappenHere.com – OK, you want size and fashion? You're got it here! I love a fabulous personalized bag! There's nothing like have your own"mark" on your bag. I absolutely adore the different style selections of these beach bags! They are just perfect and so much fun!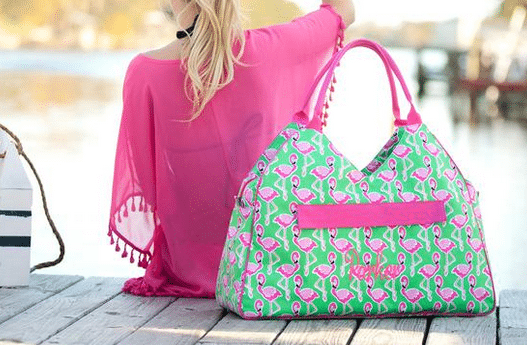 Monogrammed beach bag includes custom embroidery with name or monogram. Haul it all to the beach with the large bag! Holds a couple of towel and all of the essentials! Item Color/Pattern: Flamingo, Tide Pool, Make Waves, Beachy Keen Pink, Poolside Palm Mint, Summer Sorbet Pink, Beach Floral, Seashell
22″ L x 8″ W x 12″ H
Polyester
Inside Lining
Zipper Closure
Inside Zipper Pouch (7.5″ x 5.5″)
Outside Zipper Pocket (12.5″ x 10.5″)
$29.95
#5 – Fawn Shoppe Tocoto Vintage Straw Beach Bag – I'm always asked about the best Straw Bags! I'll tell you – there are tons of them out there, but there are only a few that fall under the $40 price range that are also good quality, too! This option from Fawn Shoppe is fabulous!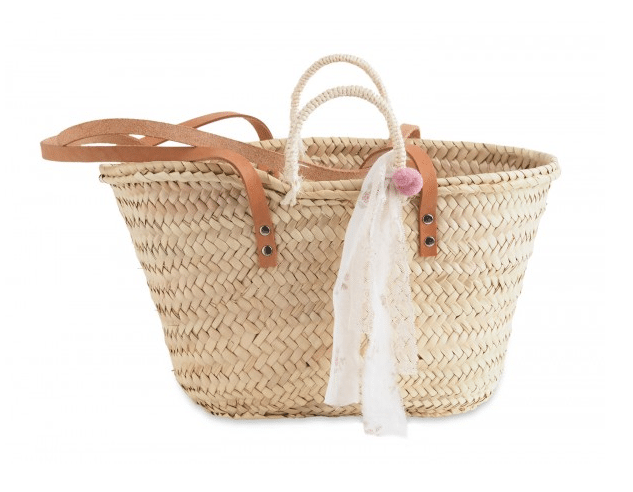 Straw tote bag with decorative white ribbon. Shoulder and grip handles. 100% Straw. Made in Spain. $34.
#6 – Overstock's Zodaca Times Square – Looking for a GIGANTIC beach bag for the summer? I've got one right here for you! I found this on Overstock and I fell in love! It's just the PERFECT BIG SIZE!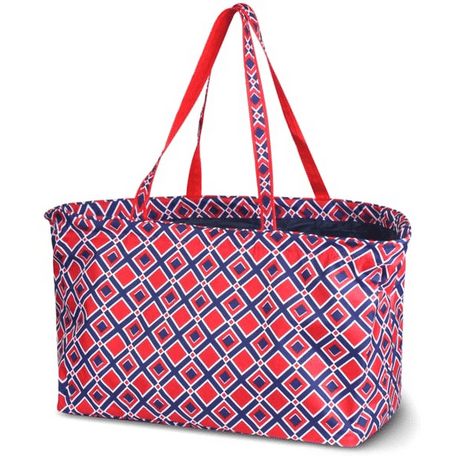 Product Description:
1 X Bag
Inside lining with 6 inside open pockets for convenient storage
Great for your laundry days or to do some grocery shopping
Zippered pocket inside to hold keys, cell phone or money
Magnetic clasp on the top to secure contains inside. Handles are long and durable for easy carrying
Very stylish patterns, that will make a statement
Spot clean, or wipe clean
Folds for easy storage
Material: Microfiber Fabric
Size: 21 inches long x 11 inches wide x 13.5 inches high
So there are my top options for you!! You honestly can't go wrong with any of them! I love that they are all so big and can fit so much stuff right inside!! I love it! While you're at it, here are some of the Best Beaches in Cape Cod! I mean – you really need the best summer beach bags!
Happy Summer everyone!
LOVE FOR YOU TO PIN THIS!!!