Are you ready for me to gush about Planet Fitness Gym. We are ready and we are amped up to go! We didn't need a specific day or holiday to get us moving towards our fitness goals, we just needed to finally go ahead and do it. We looked at our kids and knew we wanted to be healthy for them. We looked at ourselves and knew we wanted to be fit and healthy. We looked at each other and knew that we wanted to do this for each other, too. Thanks to Planet Fitness 24 Hours, we're FINALLY getting ourselves fit and healthy!
Planet Fitness Gym 24 Hours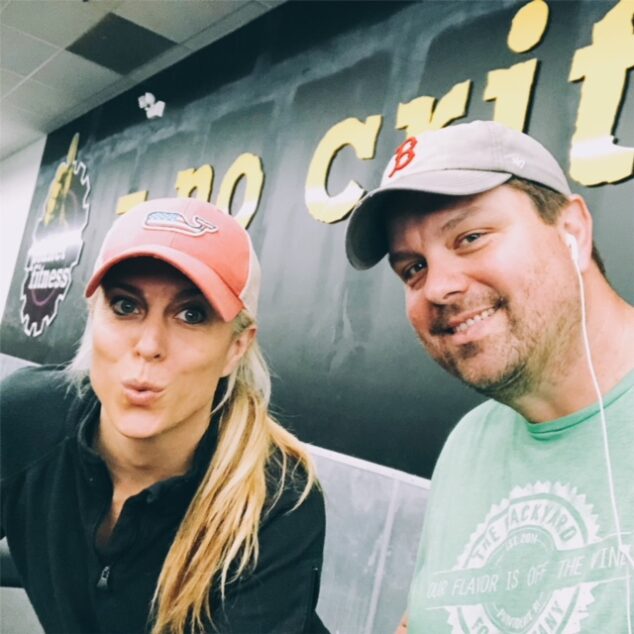 This guy is my world, so there's nobody else I'd rather be doing this with than him! We both have the same motivation and inspiration… so to have each other to be accountable to, it's just a perfect fit! We're getting healthy and committing to Planet Fitness Gym 24 Hours because it's just the ideal place for us to start our fitness journey. We signed up (someone hold me!) for a 10K later this summer, so we have a goal out there in the universe. We want to show our kids the importance of taking care of yourself and keeping yourself active and moving as you get (ahem) older. We have 5 kids and we both work full-time, so we've always used that as an "excuse" as to why it's so hard to find the time to workout. *The truth – you can always find the time and Planet Fitness is showing us how!
Planet Fitness Gym 24 Hours has incredible flexible hours (open 24/7!) that makes it easy to always find the time to get in, which is something I appreciate – whether it's super early, super late or midday. Planet Fitness is there for you and it's also a "Judgement Free Zone" which I need and I know my husband needs. We're not (by any means) in tip top shape, we're JUST getting going with our exercise and fitness routine, so I love that it's a non-intimidating, hassle-free, welcoming environment that makes everyone feel comfortable.
Planet Fitness Gym 24 Hours FLASH SALE is going on right now! Are you ready to take advantage of this amazing and awesome deal? Now is the time and you don't want to miss this at all!
I'm thrilled to share that Planet Fitness has a MAY FLASH SALE GOING ON RIGHT NOW (5/14 and 15)!!
For two days only, join the Judgement Free Zone® for just $1 down and $10 a month and enjoy: • Tons of Equipment
• Free Fitness Training with membership
• Clean environment
• Friendly Staff
HURRY – this deal will be gone in a flash!
If you're Rhode Island and Massachusetts based, here are the locations you can check out for Planet Fitness Gym 24 Hours:
Planet Fitness – Coventry
780 Washington St.
Coventry, RI 02816
Planet Fitness – Cranston
1810 Plainfield Pike
Cranston, RI 02921
Planet Fitness – Cumberland
1800 Mendon Road
Cumberland, RI 02864
Planet Fitness – Dartmouth
710 Dartmouth St.
Dartmouth, MA 02748
Planet Fitness – Fairhaven
24 Fairhaven Commons Way
Fairhaven, MA 02719
Planet Fitness – Fall River
657 Quarry St.
Fall River, MA 02723
Planet Fitness – Johnston
1493 Hartford Ave
Johnston, RI 02919
Planet Fitness – North Kingstown
40 Frenchtown Road
North Kingstown, RI 02852
Planet Fitness – Pawtucket
295 Armistice Blvd
Pawtucket, RI 02861
– and –
50 Ann Mary St.
Pawtucket, RI 02860
Planet Fitness – Providence
387 W Fountain St.
Providence, RI 02903
Planet Fitness – Seekonk
140 Taunton Ave
Seekonk, MA 02771
Planet Fitness – Smithfield
445 Putnam Pike
Smithfield, RI 02917
Planet Fitness – Somerset
887 Grand Army of the Republic Hwy
Somerset, MA 02725
Planet Fitness – Warwick
1222 Warwick Ave
Warwick, RI 02888
– and –
105 Pace Blvd
Warwick, RI 02886
Planet Fitness – Woonsocket
1500 Diamond Hill Road
Woonsocket, RI 02895
I will be sharing my journey with my husband over the next few months! We're thrilled to be sharing and thrilled to be finally MOVING forward with our fitness goals!
Come JOIN US at Planet Fitness 24 Hours and lets get our bodies ready for the summer!!!! I'm telling you – you live once and you want to make sure it's the best life possible. You want to make sure you're doing everything yu can to be the best version of you! You want to have your own happily ever after and your body, mind and soul has a lot to do with it, too!
Check out these clothing ideas for working out!
Also check out New Balance NEW shoes and clothing to amp your workouts up in style, too! It's the best way to keep yourself feeling motivated, too!
Disclosure: Sponsored partnership with Planet Fitness.