Family Haircut Time!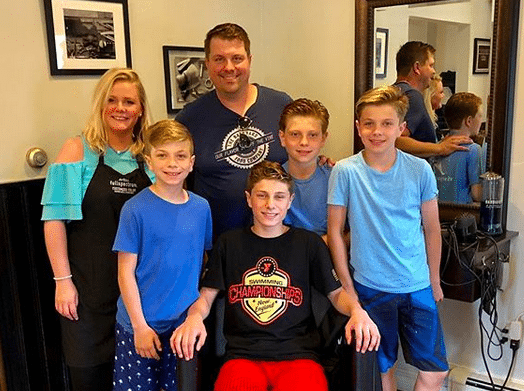 It's not easy wrangling 5 guys to the hairdresser. OK, let me put it this way – it's impossible. Whenever it's time for them to get a haircut or at least a "clean-up," I always hear grunting. None of my sons like to get their haircut, even my husband!
Honestly – this is usually what I get:
"I don't need a haircut." *Yet the hair is beyond their ears
"I'll get it next week." *We never do.
"Do you know how long it will take?" *I never have an answer for that one.
"Can I got last?" *Which usually means they want to avoid it.
"I like my hair long." *But your bangs cover your face. How can that be comfortable?
Tiffany's MEN in Barrington, RI pampered my guys on Saturday afternoon and it was pure heave for them. I've been looking for a place for my husband since we moved back this way and I finally found it! I knew my guys were in good hands when I read online…
Gentleman's grooming done right! The professional stylists and barbers here at Tiffany's Men's Salon give more than great men's haircuts, they also give great advice on men's style, trends and grooming products. Our men's salon is just down the street on Maple Avenue. We don't just offer "the basics" for men. Come in for a cut, a quick color rejuvenation, or a full service traditional shave. We'll give you that extra bit of confidence that comes with looking your best.
Their stylist Deanna was exceptional! She slayed the hair of these 5 guys in an hour and made them look so handsome! My sons were drooling over the shampoo treatment! They've never had anyone shampoo their hair before, so they've now tastes the finer things in life there!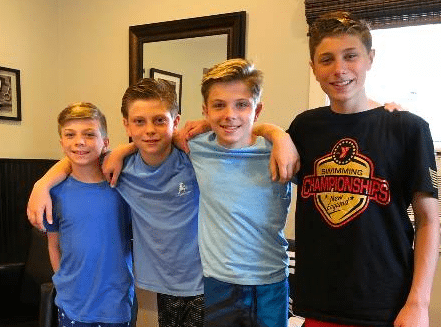 Take a look…
I'm telling you, if you're local – Check out Tiffany's MEN in Barrington, RI right on Maple! It's a great spot, nice and quiet and a perfect place to be pampered. This is a great Father's Day gift idea… as well as birthdays and for the other holidays, too!! My husband doesn't pamper himself enough and 30 minutes at the Men's Salon is just what he needs from time to time!!
Head on in and ask for Deanna!!
Tell her Audrey sent YOU!