Why All Moms Need the Headspace Meditation App
I'm someone who has tried to meditate here and there throughout my adult life. When I first moved to NYC and was working for Donna Karan, many people in my world there meditated and practiced yoga. I remember them telling me that meditation and yoga helped calm the crazy-fast-pace-life of NYC. But here's the thing – I was just this girl from Rhode Island, a New England girl who grew up in a town that shut down at 8PM every single night. I was used to the NYC hustle and bustle, so for me… it was this exciting new world to conquer. I wanted fast. I wanted hustle. I wanted the City-craze.
So… I never got into meditation and yoga with my colleagues. I actually couldn't fathom how they could "tune out" the world around them while they did both of these practices, but they did.
When I became a mom for the first time in 2004 I started to feel stressed and overwhelmed. I loved being a mom, but I was worried about everything! I was worried about William sleeping enough. I was worried about William eating enough. I was worried about William being out in the sun. I mean, you name it… I worried about it. Poor William, I kept thinking that if I could wrap him in bubble wrap, I would've! I was very honest with my doctor about how nervous I was about everything (because I also was pregnant again 3 months after William was born!) and she suggested I try meditation and/or yoga. She recommended a class for pregnant women in NYC and I jumped the opportunity because I figured if it could help me feel more grounded and less stressed, I would do i every single day!
First time I went to yoga – the instructor had to correct everything I did, which kept stopping the class! I was so embarrassed. I was MORE stressed just being there!
Then I tried meditation and I couldn't stop worrying that I was doing it wrong. I mean, I literally kept thinking about everything that I needed to do and check and be at… I couldn't get myself to be still and to just be in the moment with my own personal thoughts.
I gave up.
Fast forward 13 years and here I am. I'm a busy mom of 5. I work full-time. I have a bunch of things to balance in my personal and professional life and there are times I just want to toss everything into the air and run to the beach! LOL! The beach is my happy place. The beach is where I breathe easy and feel fully at peace. The beach is my serene destination. This past Christmas I read in a book that before you get out of bed in the morning you should take a minute or two to just lay there and breathe in and out. Listen to your inner voices and just think about things you're grateful for and appreciate in your life. The point is to start your day off with good thoughts and just be in YOUR thoughts before you turn the news on or log into your laptop. I started doing this and really loved this small, but beneficial morning ritual. It made me think what meditation would truly be like if I brought it into my life again. And then… as what happens in the universe, I got an email to attend an event in NYC for the app Headspace.
Headspace Meditation app is a guided meditation app which anyone can use and benefit from in their life. It caters to any kind of person – if you have 3 minutes or an hour, there's a guided meditation for you. If you need something to help you de-stress or need something to keep you happy, there's something for you. I was so impressed and really ready to just give it a GO!
I tried it and I loved it. Now – let me say this one more time – I'm someone who never, ever thought this could work for me… and I couldn't believe how quickly and how easily I adapted to it. I couldn't believe how good it made me feel. Listening to the Headspace Meditation app was incredible right away for me, especially hearing Andy Puddicome's voice on the app. He's one of the co-founder's and he's terrific! His story is phenomenal as to how he started Headspace. But I'm telling you, it really changed me and I want to share this with you, too!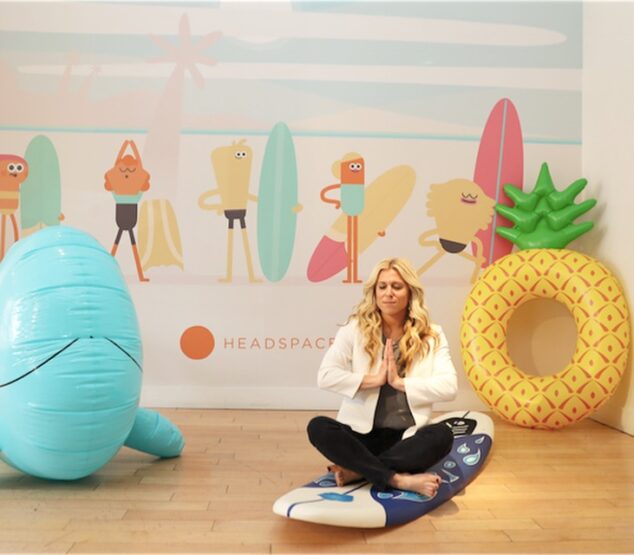 Why Every Mom Should Try Headspace Meditation App:
You deserve an minute or 2 or 3 to just be with your thoughts.
You own it to yourself to give yourself the time to be in your own. We all work so hard, it's essential to make sure you're doing someone for YOU, too.
It's easy to do. You can even do it while you're in the shower. You don't have to be sitting with your legs crossed in a sacred space. You can do it anywhere.
You can even do a Mindful Run because Andy has a partnership with Nike, too.
You can also change your meditation up, which I think it great for everyone. We don't always feel the same way on the same days, so never be afraid to mix things up.
Once you do it consistently, you will start to see how GOOD you feel. You will want to do this all the time.
You will want your family to do it, too. There are meditations for kids, too  which I just love.
Giving yourself the permission to do this for yourself will unlock so much creativity for you.
I've seen myself become more productive because I'm seeing how easy it is to fit stuff in when you want and need to do so.
You will find yourself more tuned into things around you.
Please try this. Try it for 3 weeks and tell me how you feel. Please report back!
PIN: