You're going to love this easy and quick veggie pizza recipe! It's a hit year-round for our family! My mother in law makes this for every family occasion and it's my absolute favorite! It's not only delightful to look at, it's delightful to eat! It's always such a fresh and light pizza to hand on hand whether it's being served as an appetizer or a main dish! This is a total win and you're going to love it. Not to mention – it's the easiest to make, too!
Veggie Pizza Recipe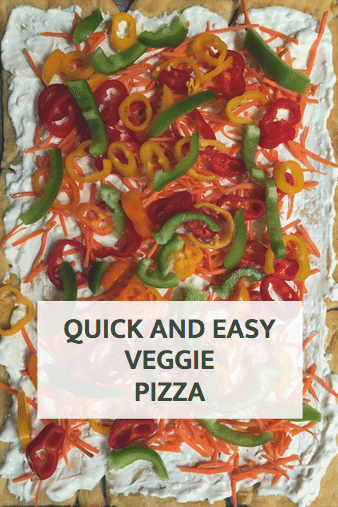 Veggie Pizza Recipe Ingredients:
*I want you to know that with this recipe, you can add in whatever you want! If you're not a lover of peppers – take them out! If you're a lover of onions – add them right on in! It's important to note that I added fresh veggies that I love for me and my family – you get to choose what you want for yours! This is the easiest because it's all up to you what you want to add right on top!
WHAT YOU NEED:
Two Packages Crescent Rolls
One package of Cream Cheese
1/3 Cup Mayonnaise
1/2 TBSP Fresh Dill Weed chopped
Fresh Vegetables shredded, sliced or diced
Step by Step of Veggie Pizza Recipe
HOW YOU GET GOING WITH THE CRUST:
Crust:
Unroll crescent rolls and line a baking sheet. Prepare according to package instructions but start watching five minutes before recommended time. Remove when golden brown and let cool.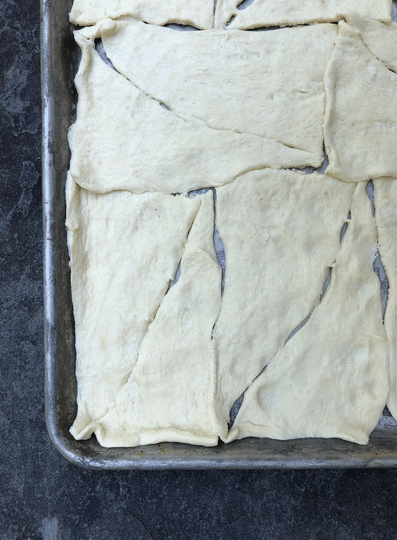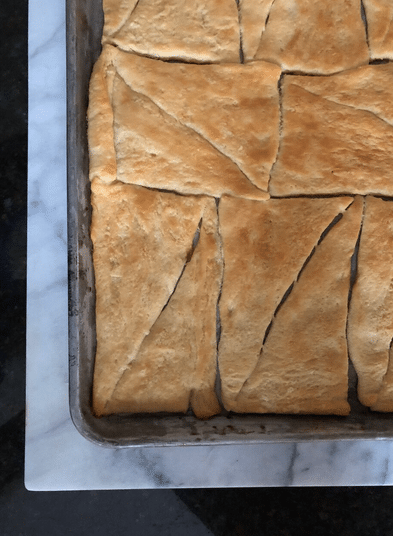 MAKING THE SAUCE THAT BRINGS IT ALL TOGETHER:
Sauce for the Veggie pizza Recipe:
Combine and stir the cream cheese and mayonnaise (or sour cream) . You may need to add more mayonnaise to get a spreadable consistency. Better to add too little than too much. Avoid making it too soupy.
ASSEMBLE TIME, BABY:
This is the easy part – believe me, your kids could do this on their own without you!
Spread sauce on cool crescent crust and sprinkle chopped dill evenly. You can use dried dill weed as well.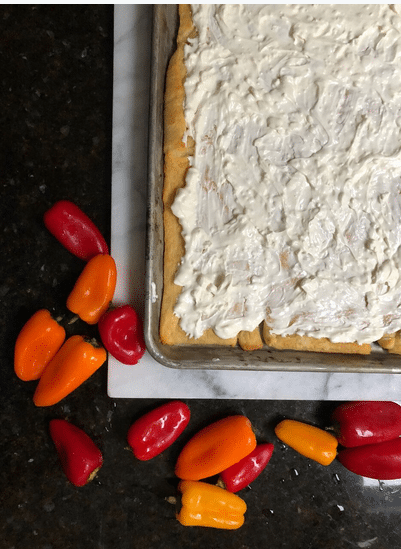 Add vegetables. I used shredded carrots, chopped sweet red, orange, yellow and green pepper. How yummy does this look? My husband loves to chop everything up super small, but I prefer bigger chops. I feel like it's easier to eat and I also think it just looks better that way! It's totally up to you how you want to do it!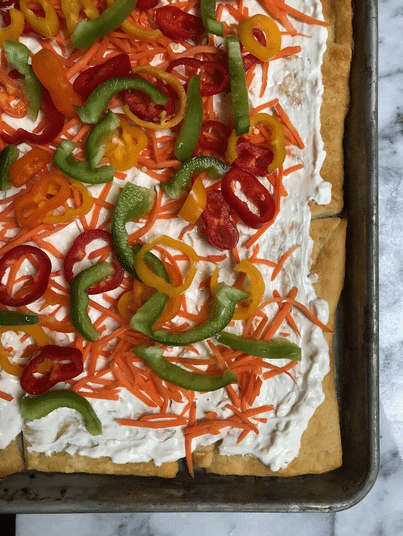 The final presentation is beautiful! I mean – look at this veggie pizza! You just want to take a big bite right out of it!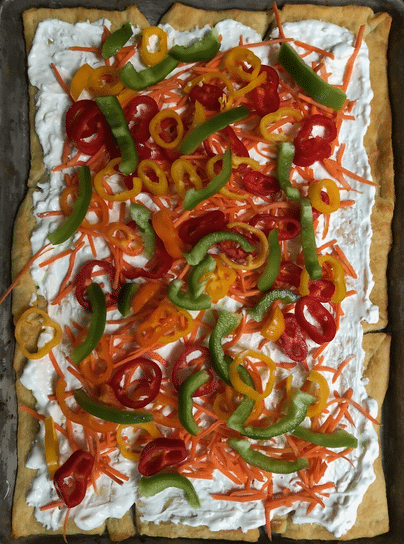 Cut into squares and serve. My thoughts are that it's best when it's chilled! I love it crispy cold!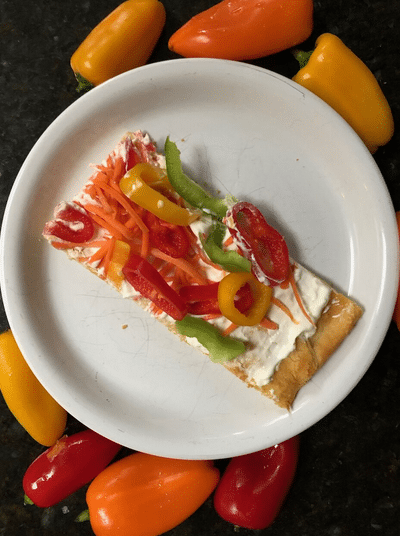 ENJOY!!!! I will say – if you're going to serve this at a party – the colors of all the veggies just looks fantastic! It's a beautiful dish and it's something that I really do think people will want to try on their own at home, too! My mother in law always changes up what veggies she puts in her pizza – I've always loved that about her dish!
For a dessert – try this AMAZING S'mores Crostini Recipe!