New England is know for its FALL season! The leaves changing and the beauty of it all is just magnificent! It's no wonder that people travel from all over the country to come see Maine, Vermont, New Hampshire, Massachusetts, Connecticut and Rhode Island in September, October and November! It's breathtaking and I love it more than I can possibly express. Growing up here, my parents would always find some fun and exciting activities to do on the weekends in the fall with our family. From festivals to apple picking to pumpkin patches to corn mazes to hikes in the woods… our weekends were always full. Now as a mom myself – I want to give my kids the same comfortable and loving kinda fall season love!
Recently our town had a Fall Festival – Pumpkin Party! Signs were up all over town and (I'm not kidding) I literally counted down the days for it. I was so excited to bring Victoria and have her experience some fall fun at our own local New England Fall Festival. This Fall Festival was geared towards little kids, so the boys sat this one out! It was all about pumpkin decorating, pony rides, face painting, food trucks and lots of picture taking! Victoria was over the moon excited! She was bouncing as we walked to the center of town for it!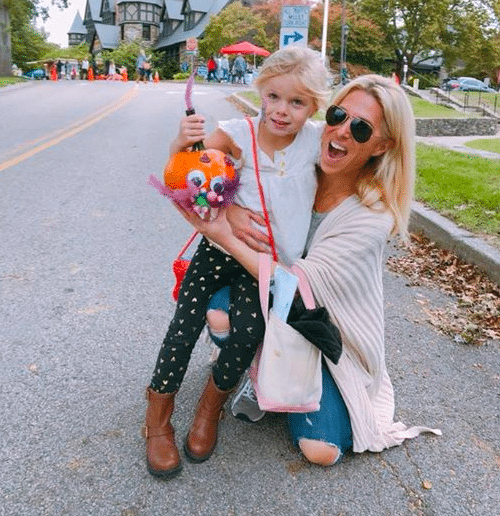 When we arrived – it got me thinking immediately that I am now living a Gilmore Girls episode and I LOVE it. I mean… LOVE IT! I grew up in the this same town and I never thought I would actually bring my own family back here to be raised, too. Life as a way of working out, huh? I always thought this town was so quiet and that everyone knew each other and it was (dare I say it) not exciting enough. I was wrong… very wrong! Growing up like this was a dream… one bagel shop, one YMCA, one high school, one center of town. It's these little things that really make me love it now as an adult! Truly… it's like living in a Gilmore Girls episode!
New England Fall Festival time is my favorite time of year! It's magical and relaxing and really makes me smile. I love showing my kids this same kind of family fall fun, even if they aren't as excited about it as I am (yet!).
If you're someone like me that loves the FALL SEASON, head over here to see some additional FALL FAMILY ACTIVITIES!!