The 30 Day Self Care Challenge – ARE YOU GAME?? ARE YOU READY?? CAN YOU GIVE THIS TO YOURSELF?? I'm all about sharing Self Care Ideas, but we don't always take the advice of others. It's not easy to do for ourselves – Self Care! It's essential. It really, really is essential. When was the last time you really took care of yourself? I want to give you this gift. I want you to know that you're not alone, but I want you to know that I want to do what I can to help you out! Self care is a big deal for people to give themselves.
Self Care Ideas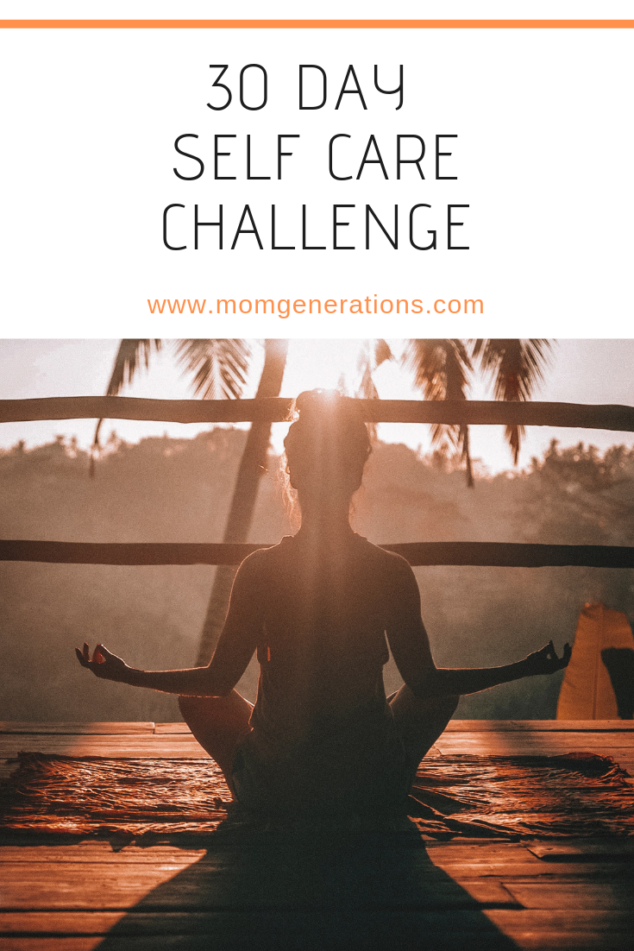 Does this sound familiar to you? You wake up with the intention to work out, but your day completely got away for you and there's just no time now. OR – you're at work and then you find out you need to be there an extra hour or so for an additional meeting and now you need to miss your son or daughter's track meet.
You're overworked. You're stressed. You're overwhelmed. You haven't been hanging out with your friends. You've missed your pilates and training sessions lately. You're missing meals and eating on the go. And – basically – you're just feeling like a fish out of water and that you're constantly on a merry-go-round! Self care tips are the best way to connect with yourself.
I've felt this way. I've felt this way a bunch. When the fall season kicks off and school is back in session, I always find myself breathing a little easier. Routines start to come into play. Schedules are firmed up. Self- care is something I really try to give to myself because I don't want to be overwhelmed and I don't want to be stressed out! Self Care Ideas are things I used to always try to google and look up on my own. I wanted to find the best and easiest ways to give myself some self care.
This fall I decided to create a 30 Day Self-Care Challenge for myself. The beauty? It can be started at ANY moment! It's just to give yourself 30 days straight of doing something for YOU. 30 Day Self-Care Challenge is a gift to give yourself in your life. Every single day I created something for YOU to do for YOU. Sounds nice, right? Everything is mixed up and a little different. Not one day is the same. I did that on purpose, I just wanted it for YOU. If you feel like putting your own twist on it, twist away! Just embrace this as a gift for YOU.
I want you to take a look at these Self Care Ideas and really see if you can bring these into your life over the next 30 days!
30 Day Self-Care Challenge
(I have 2 different layouts, pick the one you like best and you can print them below!)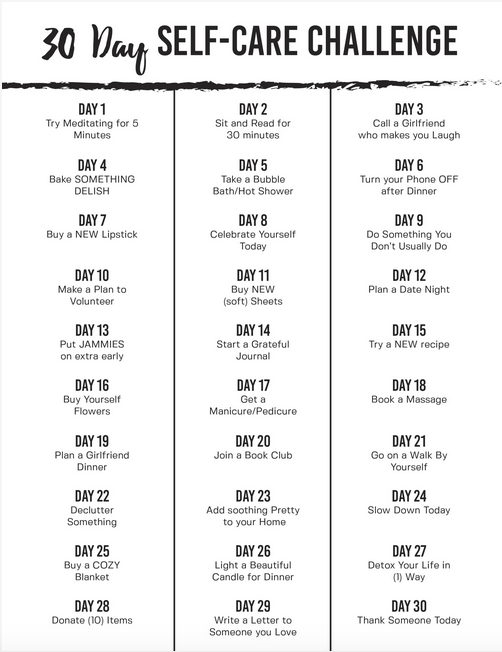 (PRINT OUT THE 30 DAY SELF-CARE CHALLENGE HERE!)
Give this to yourself and have some fun with it! 30 days and you will feel like a NEW person!! Self Care Tips for YOU! Please do it for yourself!! It's so important!! Make sure you give yourself something, too. Book a massage. Go to the library. Be present in your life. Fully present. Do little things that make a big different. This is what I love to do because it makes me feel relaxed.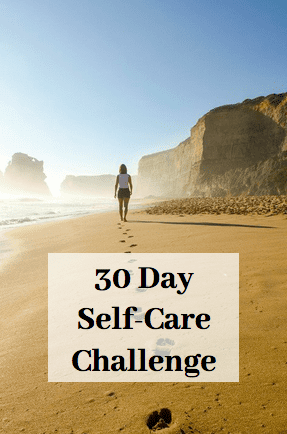 Check out some of my other Self Care Challenges:
10 Easy Healthy Meal Prep Tips
Back to School Organization Tips