Wacom Intuos Bluetooth Creative Pen Tablet
Are you ready for the coolest way to create digital art? I'm thrilled to share with you all about the Wacom Intuos Bluetooth Creative Pen Tablet, available at Best Buy!
Wacom Intuos has everything you need to get started in digital art. I have 5 kids that are growing up in this digital age, this – for them – is the future. I love when products bridge together the digital world and the "old" way of things that I knew as a kid. It's a true win-win!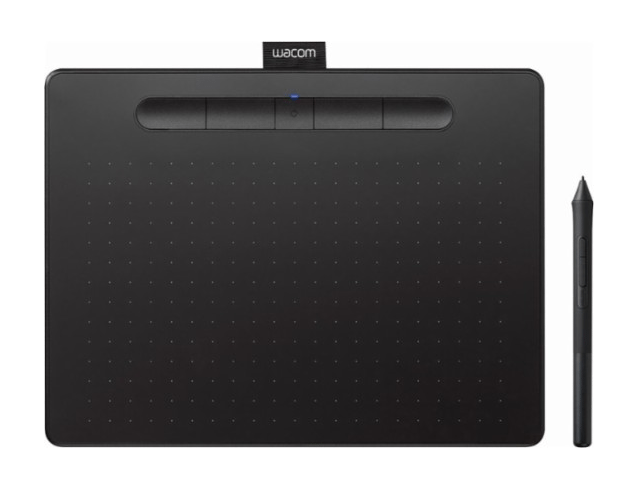 With the Wacom Intuos Bluetooth Creative Pen Tablet a pen in your hand is a more natural creative interface on your computer when creating artwork. With Wacom's pressure-sensitive pen, you can create thicker or thinner lines simply by pushing harder on the pen, or edit images with more or less opacity depending on how hard you press.

Whether you love to draw manga art, paint digital watercolors or retouch your photos, you will receive up to 3 free creative software programs to suit your style.
Pretty cool, right?
I'm telling you – this is the way to integrate the world of tech into art and I love it! I have 4 sons and daughter who LOVE to draw and love art… I love seeing the world of tech bring them products like this to be creative with on their own! It's amazing!!
Here's an incredible review of the Wacom Intuos Bluetooth Creative Pen Tablet that I wanted to share, too!
Just so you have it, here are some of the OVERALL SPECS of the Wacom Intuos Bluetooth Creative Pen Tablet:
Medium size with larger active area
Ideal for use with large or multiple monitors and can be set up for both left- and right-handed use.
Four customizable ExpressKeys
Put your favorite shortcuts like Undo or Copy/Paste at your fingertips.
Wacom Pen 4K
Cordless, pressure-sensitive, battery-free pen with built-in pen nib compartment and nib removal tool.
4096 levels of pressure sensitivity
For control and precision when drawing, painting and photo-editing in any software program.
Bluetooth connectivity
Connect wirelessly with Bluetooth to your Mac or PC.
Includes free downloadable software
Choose two of the following: Corel Painter Essentials (drawing/painting), Corel AfterShot (photo-editing), Clip Studio Paint Pro 2-year license (comic/manga).
Check out more information over at Best Buy.