Nintendo Labo is Heading to School!
We're HUGE Nintendo fans in our house. I mean, HUGE. Nintendo is played (dare I admit this) every single day in our house. My sons and my daughter are all Nintendo-obsessed and really enjoy playing the games that Nintendo offers with their gaming systems. I must say, I was the same way when I was a teen – so I understand this Nintendo love. One of our favorite "new" Nintendo things to play with is Nintendo Labo. If you're not familiar with it, Nintendo Labo is a series of DIY kits crafted to work with the Nintendo Switch! You build Toy-Con creations from cardboard and bring them to life with your Nintendo Switch. It's INCREDIBLE! It's wonderful to see the creative world and digital world merge together for my kids. They are growing up in a true digital age and have amazing technology around them like Nintendo… so I love seeing Nintendo bring in the importance of creation through building, making and discovering. Nintendo Labo truly does embody MAKE – PLAY – DISCOVER.
I've had many opportunities with my kids to MAKE – PLAY – DISCOVER Nintendo Labo and every single time I do, I always have thought how amazing this would be to have in our schools. My sons are so engaged when they are building and working together… and then they get so excited when it comes to "life" to play with on their own! Well – I'm THRILLED TO SHARE that Nintendo Labo is heading to SCHOOLS throughout the United States!!
WHAT??? YES!!!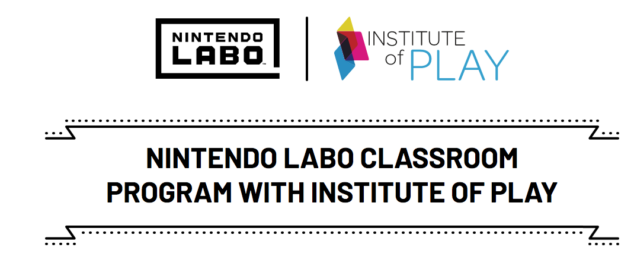 It's official – Nintendo and the Institute of Play have teamed up to bring Nintendo Labo kits into elementary classrooms nationwide, combining the innovative play of Nintendo Labo with the basic principles of science, technology, engineering, art and mathematics (STEAM) to inspire kids and help make learning fun. Simply amazing!!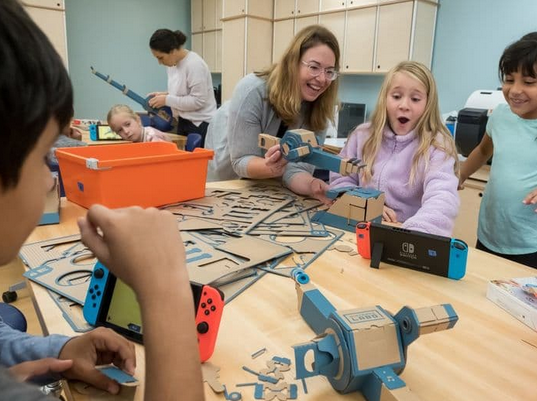 Nintendo will provide Nintendo Labo: Variety Kits and Nintendo Switch systems to participating classrooms to reinforce skills such as communication, creativity and critical thinking. The program aims to reach approximately 2,000 students ages 8 to 11 during the 2018-2019 school year. Helping to build a curriculum for the program is the Institute of Play, which works as a trusted partner with teachers and schools in developing play-based learning experiences for students. This specialized nonprofit research and design organization has an interdisciplinary team of educators, researchers, game designers and school leaders, which makes it especially qualified for this Nintendo Labo program. Nintendo and the Institute of Play also share a mission of making people smile.
What will happen is pure magic! Kids will have the ability to create and build and play and learn through this program! I think it's just EXTRAORDINARY!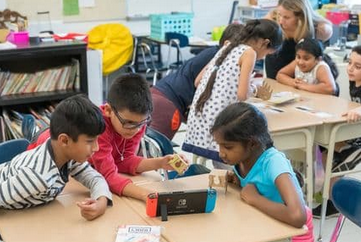 I recently had the opportunity to chat with Cindy Gordon from Nintendo and Arana Shapiro from Institute of Play where they discussed the program and shared how excited they both were to bring this to life!
"We are always on the lookout for new tools and technologies that combine the best of learning with the spirit of play, and in Nintendo Labo we found an inspiring and innovative approach in both areas," said Arana Shapiro, Co-Executive Director of the Institute of Play. "Teachers in the pilot program are already seeing the natural fit for Nintendo Labo in the classroom, and now we can bring that dynamic to schools across the country."
I loved hearing their passion for this and how they really want this program to succeed and continue to grow. I'm such a big proponent of education and I love seeing this partnership come to fruition. It's simply incredible!
The Institute of Play is currently conducting a pilot program with schools in the greater New York area. Nintendo and the Institute of Play will use these pilot classes to develop a Nintendo Labo Teacher Guide that will allow other educators to implement Nintendo Labo in the classroom to promote the development of skills such as creative problem solving and collaboration. The Nintendo Labo Teacher Guide will include sample lesson plans and learning modules dedicated to basic elements of STEAM and the Make, Play and Discover components of Nintendo Labo. The guide will be available for free later this fall to anyone who wants to incorporate Nintendo Labo into their classrooms or homes.
Once the pilot is complete, the program will expand to approximately 100 schools across the United States. Schools that wish to take part in the program can apply at http://instituteofplay.org/nintendolabo.
#NintendoLaboClassroom