Thanksgiving BINGO! This is a super fun game to play at the dinner table with your family and friends during Thanksgiving. Since we usually travel to Pittsburgh to visit my in-laws during the Thanksgiving holiday, our "holiday" is extended to 3-4 nights of family and friends gathering around the dinner table. It's always so much fun to do something that will capture everyone's attention! Thanksgiving BINGO printable for the dinner table is such an awesome way to bring everyone together!
I've created (2) different Thanksgiving BINGO printable and sheets for family Thanksgiving Day fun! Hopefully one will feast your fancy over the other!! I love how they both look fall-inspired and ready to be shared with family and friends!!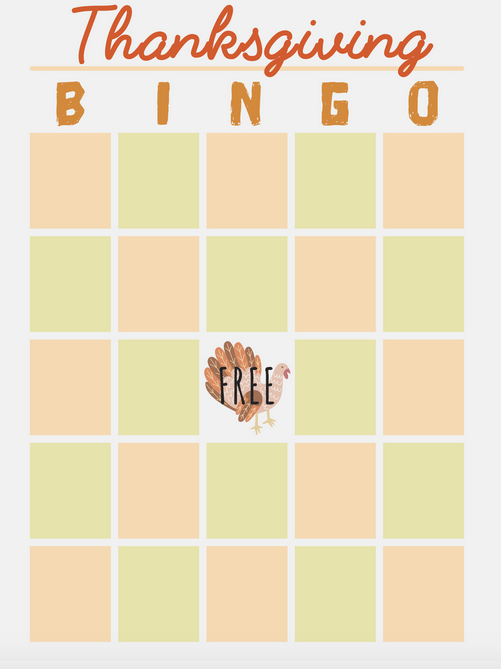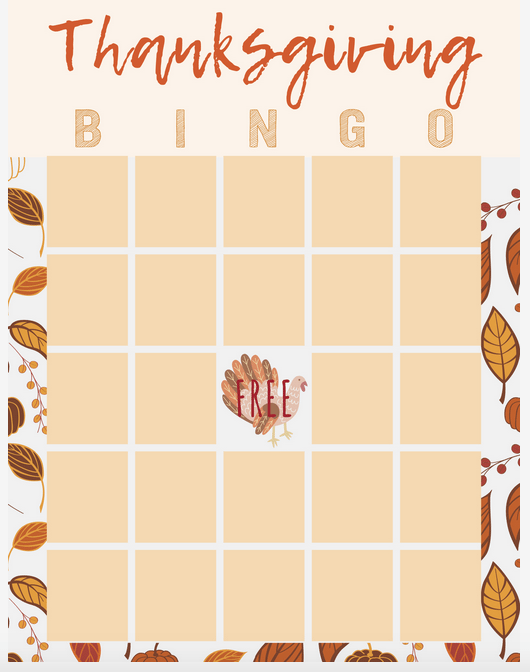 Here are the PDF printable versions here.
HOW DO YOU PLAY THANKSGIVING BINGO?
Easy! Print out the Thanksgiving BINGO sheets above and fill out each box with these 24 items (make sure the person playing mixes them up on their own card!):
1. Someone says "Pumpkin Pie"
2. Someone starts a toast
3. Someone sneezes
4. Something is knocked over
5. Out of gravy
6. Someone laughs out loud
7. Someone says "Cranberry Sauce"
8. Someone says "Black Friday"
9. Something falls on the ground
10. Someone says what they're thankful for
11. Someone wearing red
12. Someone's hair is UP
13. Someone goes to the bathroom
14. Someone says "Pilgrim"
15. Someone says "Turkey"
16. Someone says "Potatoes"
17. Someone changes seats
18. Someone tends to the kids
19. If a child makes you laugh
20. Someone compliments the food
21. Someone says "Thank you"
22. Someone hugs someone
23. Someone says "Happy Thanksgiving"
24. Someone mentions football
OK… so in review – everyone needs to jot down these 24 items in any particular order on their Thanksgiving BINGO sheet. Have some fun – make sure they're in a fun order! You don't want your card the same as someone else's Thanksgiving BINGO sheet!
As the meal progresses, keep crossing out something that happens! It's your call as to how you want to play! Do you want one line complete? Do you want 2 lines complete? Do you want to make an "X?"
The 1st person to win screams, BINGO!! And then you win something fun and special!
Here are some additional Thanksgiving Day craft ideas!