Thanksgiving is about being thankful for your blessings in life. It's a day to give thanks and appreciate what you have around you. It's a day to be celebrated with the ones you love, whether it's family or friends.
Throughout my entire life I've celebrated Thanksgiving with my family. When I married my husband and started having children, we started celebrating Thanksgiving in Pittsburgh with my in-laws.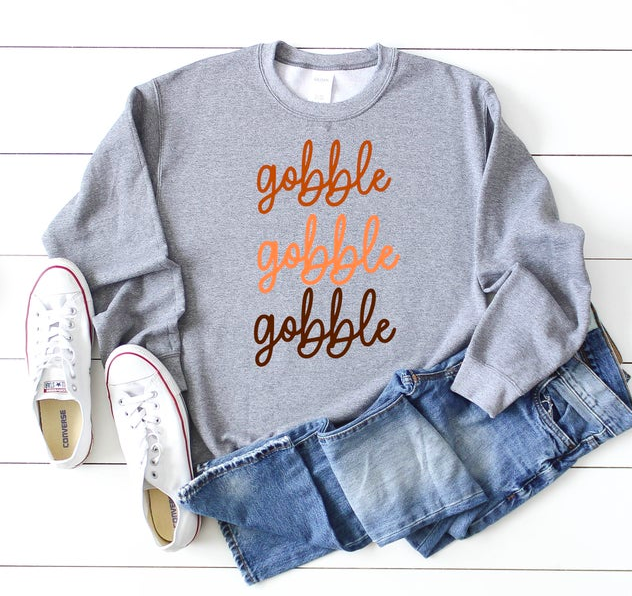 The drive is about 10 hours from Rhode Island, so it's always been a long one – one that my kids dread! I get it – it's not easy making the hike via car to Pittsburgh, but it's about family and being with them during the holiday.
As they've gotten older, they've realized the importance of it – which has been nice. Ever since they were little kids – at least old enough to understand – I started playing with them the "Alphabet Thankful List" game.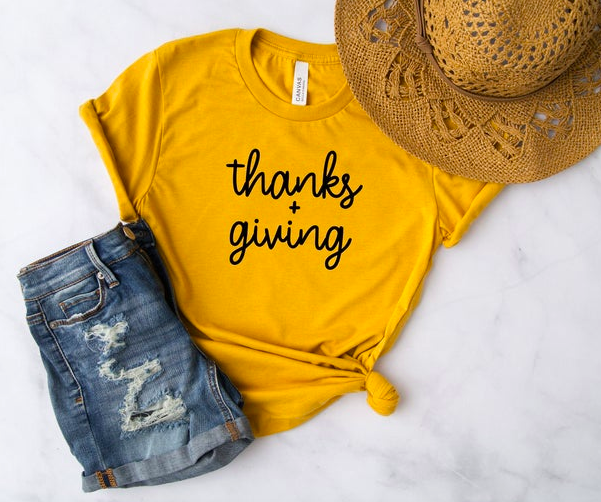 It's a Thankful List Printable for Kids that I made up years ago! I always called it a game because I wanted them to see if they could come up with something for every letter.
As they've gotten older – it's more of a challenge where no child can repeat the same thing that their thankful for… it's just always been our "thing" during the drive to my in-laws for the Thanksgiving holiday and I love it!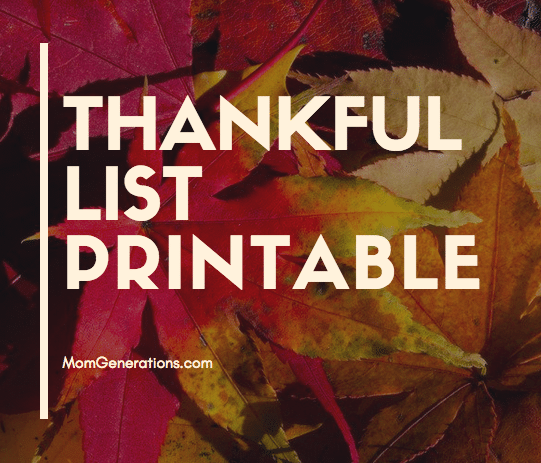 I thought it would be fun to share our family's Thank List Printable for Kids on the blog today to encourage your family to start the "What I'm Thankful For" conversation now.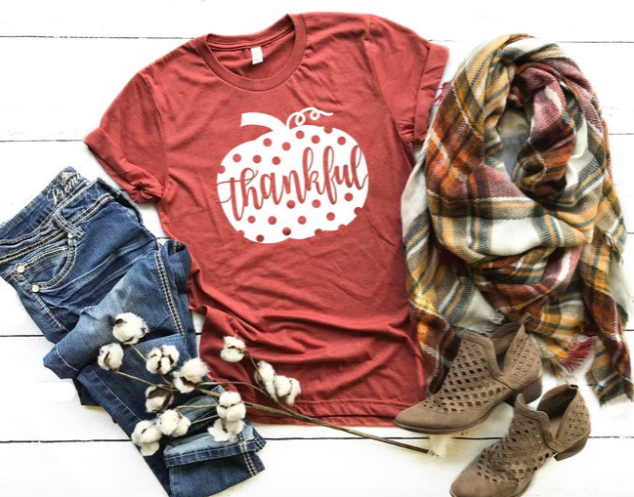 Kids are silly when they're little and it's so much fun to see what they're going to say. I love to keep the lists and date them on the back. I have a bin upstairs in my attic filled with past years and it's so cute to look back!
One year William said he was thankful for Cheerios because it's all he used to eat for breakfast and dinner!
Thank List Printable for Kids
Here is an example of our Thankful List Printable for Kids… as you can see, they need to come up with something for every letter in the Alphabet! With Victoria being in Kindergarten, this will be a great way for her to practice sounding out letters and coming up with words to go along with letters. So see – an educational game, too!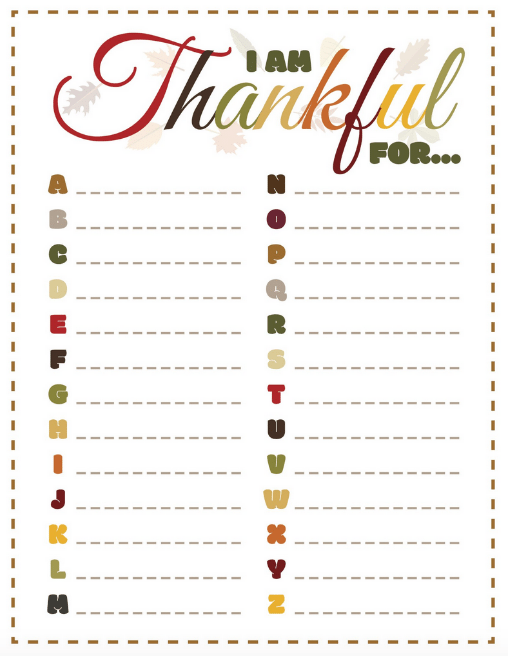 And another printable layout for you, too!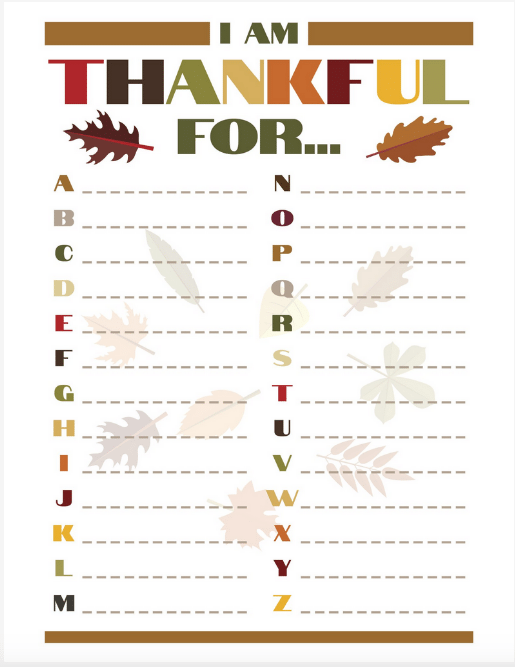 Have some fun with your kids throughout the Thanksgiving holiday and the lead up to it coming up with some fun and special things to be thankful for! I'm telling you – save the printables and keep them for years down the road!
Your kids will get such a kick out of them and it will be a wonderful way to capture a time in their life!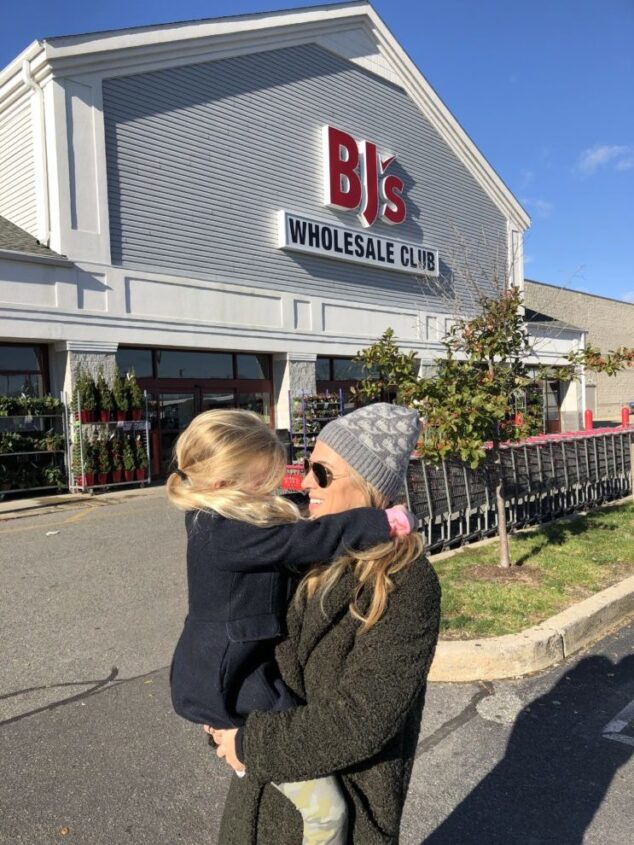 Here's what I'm thankful for from A to Z…
A – Alex
B – Benjamin
C – Car to get me places
D – Dunkin' Donuts coffee in the morning!
E – Electric Blanket now that it's getting a little chilly on the couch at night
F – Fuzzy Socks
G – Gloves to run in outside
H – Henry
I – Ice cream milkshakes after-school with the kids
J – Jane, my sister!
K – Keith, my older brother!
L – Love from my family
M – Matt, my husband
N – Noon-time lunch break
O – Outdoor road races in the fall
P – Playing with my kids
Q – Quilt on Victoria's bed that my Nana made me when I was a kid
R – Running with my sons
S – Sunday lazy days
T – TV time with my family
U – Umbrellas on rainy days!
V – Victoria!
W – William!
X – XMAS movies on Hallmark soon!!
Y – Yellow balloons that remind me of my Nana!
Z – Zigging when people zag in business is my motto!
Enjoy this lists!!
PINNABLE IMAGE TO SHARE: