Are you ready for some HOLIDAY FUN? How about 30 Days of Holiday Fun? This time of year is my absolute favorite! There's just magic in the air and regardless of how old you are, you can feel it! Even regardless of where you live, you can feel it! It's just a fun and fabulous time of year to celebrate with the ones you love and are grateful to have in your life! I thought it would be fun to create a CHALLENGE of sorts for everyone during the holidays! I came up with 30 Days of Holiday Fun that you can start at anytime you want! You don't have to start this on a particular day, just start it on the day that you want! And if you feel inspired to to 3 or 4 things on one day, GO FOR IT!
30 Days of Holiday Fun
I want these 30 days to inspire you to do more and think of more! I want these 30 days to get you extra excited for the holidays and all the magic and beauty and wonder that comes along with the HOLIDAYS! I want this to be an over the top – massively fun – family activity!! I really took my time to come up with 30 Days of Holiday Fun! I hate to admit this, but even for me – the holidays get so busy and chaotic, so to have a list of things that we can do together as a family (right in front of me!) always helps! I want my kids to see that I want to do anything and everything HOLIDAY FUN related during the holidays! I want the holidays to be exciting for my kids and I know this starts at home with me making sure that happens!
Here is my full listing of 30 Days of Holiday Fun –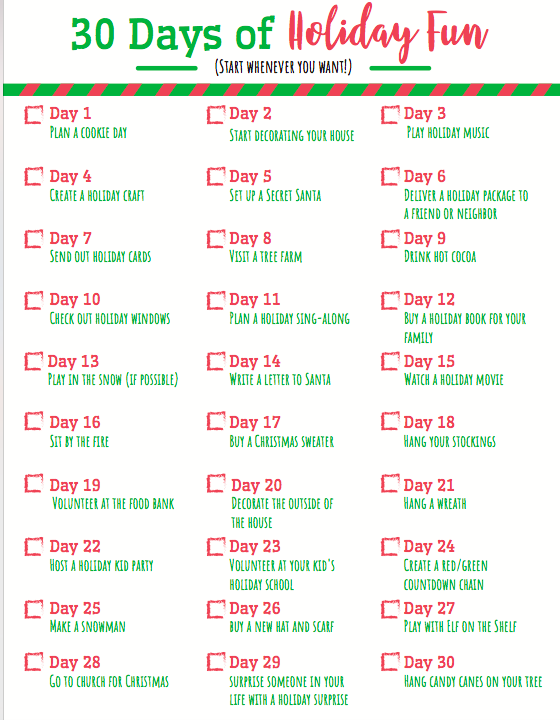 Remember these 5 things during the holidays!
30 Days of Holiday Fun is important, but also —
1) It's a time to truly enjoy and be present in the moments of life with your friends and family.
2) It's a time to be grateful and thankful that all you have in your life. Look around you and feel the blessings!
3) Don't let yourself have any unnecessary stress on your shoulders. There's too much stress in life and don't let it creep in and get you this time of year. Push it away!
4) Never be afraid to be over-the-top with your holiday love! Wear something bold and fabulous!
5) If you're a parent – it's a wonderful time of year to show your kids the magic of the holidays. Let them be part of all the celebrations and really hone in on some new traditions!
The best part is that all of these challenges require NO DEVICES! This is also a great time to take a DEVICE FREE CHALLENGE, too!!
So those are my 30 Days of Holiday Fun, but here are 2 fun things that you can make sure you add in, too!
If Hallmark Movies are something you love, here's a FULL LISTING of all the movies now through the end of December!
Have some fun finding the ugliest Holiday Christmas sweaters!! This is a great tradition to start with your family!
PINNABLE IMAGE: