I'm a big believer in doing what you can to give back, not just individually – but as a family. It's very important for me to make sure my kids know at a young age the importance of doing something nice for someone and just being kind. We need more of this nowadays and I'm trying my hardest to inspire and teach my own kids how good it feels and how special it is to do for others. I recently partnered with Ready to Care to take on one a Care Mission with my family. If you're not familiar with Ready to Care is an initiative by Home Instead Senior Care® to enhance the lives of aging adults and their families. You enhance their lives by understanding and doing simple acts of care and kindness, the initiative aims to expand the world's capacity to care for older adults.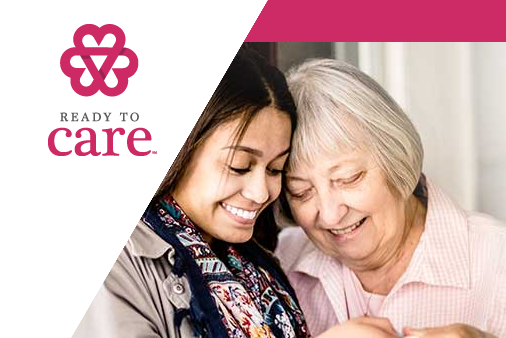 I personally love what Ready to Care does because it was always important for me to show my grandmother – who sadly passed away at 92 years old last December – constant simple acts of kindness. I would have the kids send her letters in the mail. I would have the kids surprise her at her nursing home. I would have the kids make her videos and show her when I would visit. All simple things that went a very long way. They made her smile. When I would go visit her with my children at her nursing home, even just taking a second to stop and say hello to some of the elderly patients playing cards or bringing used books from the library or just taking a moment to ask about someone's day… it left an impact. It brought happiness. It brought joy. And it was beautiful to see.
When Ready to Care reached out to see if I would be open to doing a Care Mission, I jumped at the opportunity because it's so near and dear to my heart. Ready to Care didn't even know my backstory and how much I truly love doing what we can as a family for the elderly. Taking on a Care Mission was something that really excited my kids and it's something everyone should do with their own family, too! So how do the Ready to Care – Care Missions work? Ready to Care challenges people to complete Care Missions, which guide members through various ways to give to causes that help seniors, learn about the aging crisis and issues impacting seniors, and serve seniors through small actions or volunteering. Most Care Missions are simple acts of kindness, such as opening a door, learning about Alzheimer's, or helping with a chore. Each week, a new Care Mission is delivered right to participants' phones via text message.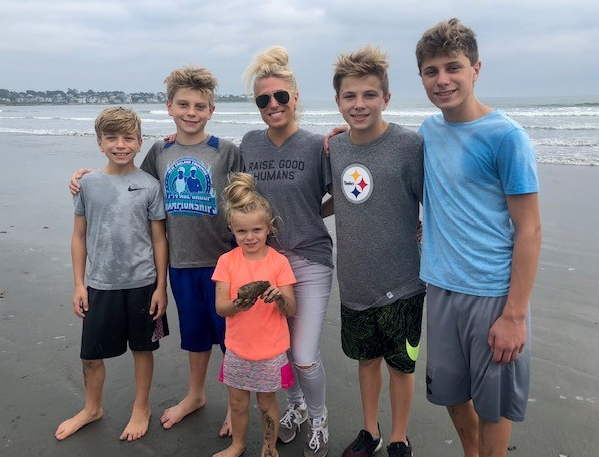 Our Care Mission: Take the Gratitude Challenge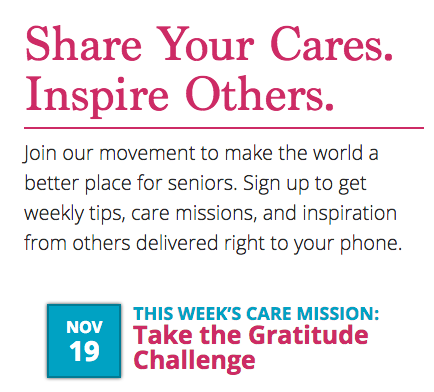 Thank three seniors you're grateful to have in your life.
Then, reach out and do something kind for a senior in your life. Be the reason they're grateful this week!
Next, challenge your friends or followers to take the Gratitude Challenge and share their experience.
We were up for it! When I asked my 5 kids what seniors they wanted to thank in their lives, they all said their grandparents! I have to tell you, it made me tear up. My parents live about 15 minutes away and get to see my kids at least once a week, but my in-laws live in Pittsburgh (10 hours away!) and only see the kids about 2x a year. I'm BIG on making sure we check-in with both sets of grandparents all the time. I love them to be updated on test scores or activities or game schedules, anything that would make them excited to learn about the kids… I make sure it's relayed to them. But the ONE thing my kids don't do is tell them that they're thankful for them and grateful to have them in their lives. I had the kids call each set on speaker phone and tell them they they were grateful for them… each grandparent was taken back by the kind gesture.
(Thrilled to see Ready to Care share my videos on my Instagram Takeover!)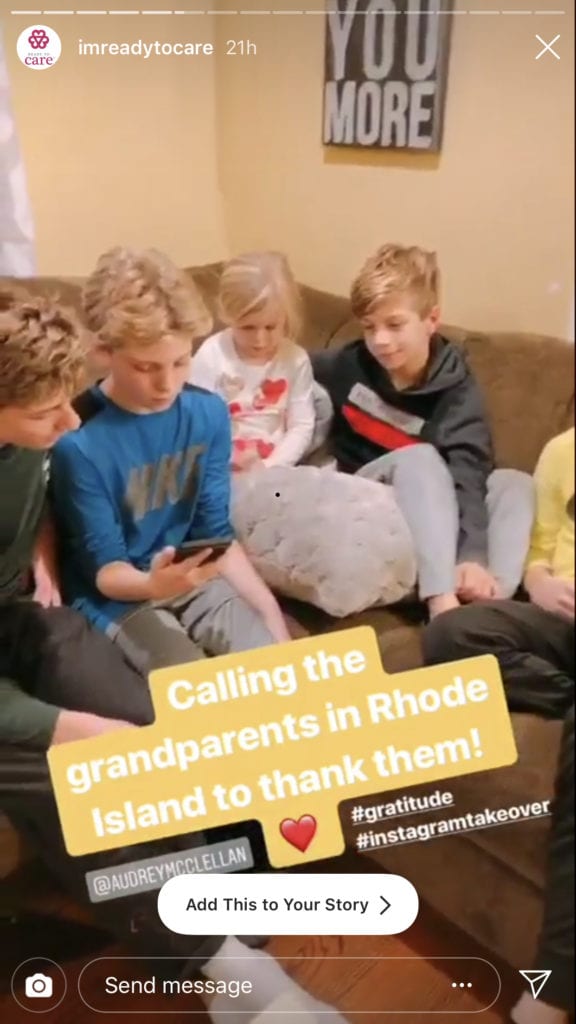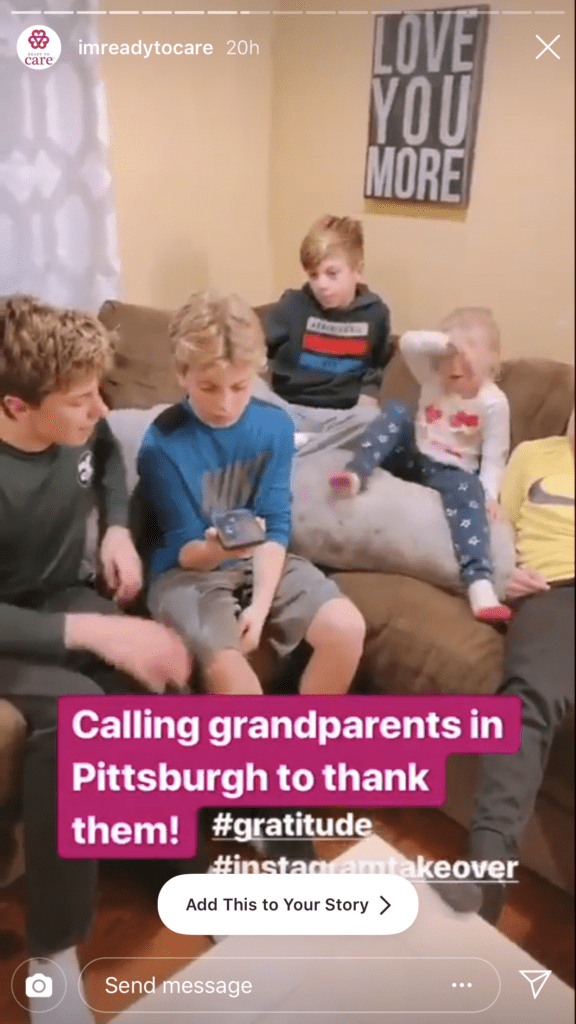 They couldn't believe it. My mother-in-law even called me later that night and told me she cried when she got off the phone! Just that simple act of kindness – quite literally – made their life. To hear from their grandkids that they mean something to them and that they're grateful for them, it was like liquid gold.
This part of the Care Mission was my favorite because I really saw the impact.
Next part of the Gratitude Challenge was to do something kind for a senior in your life! My son Alex came up with a great idea for this one! Our next door neighbor is a 90 year old man who lives by himself and with Rhode Island being in full FALL season, leaves are everywhere! The kids went over and raked his front lawn and bagged the leaves. It was a BIG job, but they did it together and you could tell he appreciated it immensely! He didn't have to hire a company to come do the leaves or have his kids come out to the house to get it done. It was cute watching him from the window as the kids raked. They were getting a little silly with the leaves, but (I swear) it made it that much sweeter for him to watch! It really made my kids see first-hand how truly a simple act of raking leaves for an elderly neighbor could make someone so grateful and happy… not to mention it made them feel really good, too.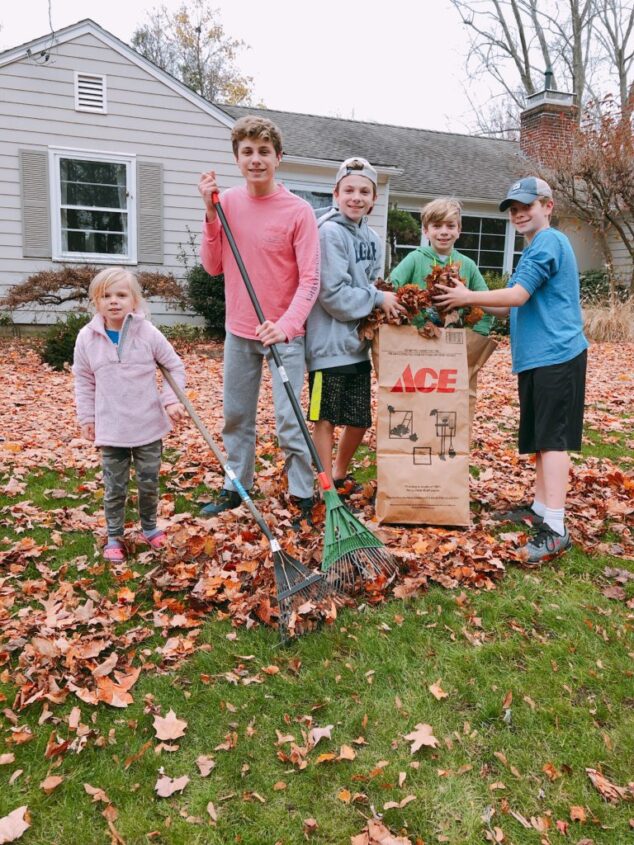 The last part of our Care Mission is to inspire friends and family to do the same! When was the last time you did something just because? When was the last time you did a simple act of kindness for an elderly person in your life? I had the kids share their experience with their cousins and close friends and I'm hoping this Gratitude Challenge will have a ripple effect. I also know it inspired my own kids to want to keep it up! Make a difference in the life of a senior, it really will make a huge impact. Just sit and talk. Play a game of cards. Talk about the weather. Show off some of your musical skills. Whatever it is that you do, I promise – they will appreciate it to the core. It will mean something to them.
How Do People Get Involved with Ready to Care?
Join! Go to here and and fill out the sign up form.
Get Inspired. Receive weekly senior care missions, tips and inspiration delivered right to your phone.
Complete Missions. Complete simple care missions, check off completed items and then share inspiration and tips with others in the comments section.
Smile. You are making the world a better place for seniors today and your aging journey tomorrow.
Thank you again to Ready to Care for partnering with me and my family. It meant the world to us, more than you will ever know.
Disclosure: This was a sponsored partnership, all opinions are 100% my own.
PIN IMAGE: