I'm all about COMFORT FOOD, especially in the winter. It's so cold here during the winter months, so whenever I can bring warm and delicious and yummy food into our family menu – I do! Although – I have to be totally honest here, this is my husband's recipe! He is our family chef and he always comes up with some incredible recipes and this one takes the McClelland Family cake (or grilled cheese!)! Grilled Cheese Bites are the most scrumptious and delicious food for the winter! You're going to want to make this easy recipe for lunch of even dinner – today!
Grilled Cheese Bites for the WIN!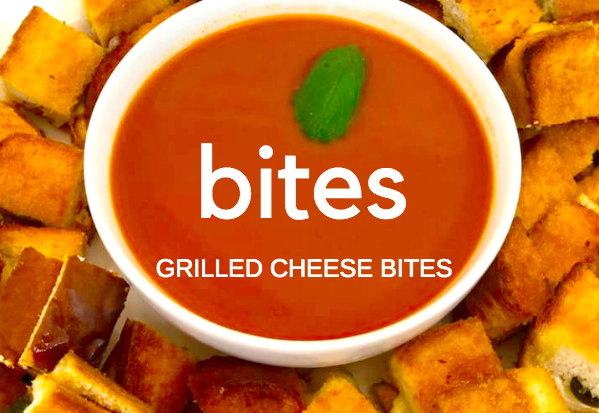 My husband actually makes his grilled cheese in the oven. Did you know you can cook grilled cheese in the oven? I'm telling you – I always thought it needed to be made on the stove top.  My husband gave Grilled Cheese Bites Oven Making a Shot – and guess what? SLAM DUNK!
How do you make the Grilled Cheese Bites?
Directions for Grilled Cheese Bites?
Preheat the over to 450º – find a baking sheet that you can use for this, too!
Butter the bread just like you would a normal grilled cheese
Add the cheese and bake for 8-10 minutes until golden brown.
*My husband melts the butter in the microwave and brush it on the bread to get a nice even crust on the bread.
Cut up and serve with a bowl of tomato soup for an easy appetizer. This is also a fabulous lunch on a weekend!
Let me know what you think!! It's easy as can be!! This is such a delicious recipe to have in your back pocket for the winter months ahead! You will love it and add this into your usual arsenal. My kids absolutely loved it and they asked for more of these!
My husband blogged about here.
More recipes here on MomGenerations.