It never fails. Monday through Friday the kids are impossible to wake up in the morning. The weekends? They're up – fresh like daisies – by 6:30AM! During the week I'm usually revisiting bedrooms 2, 3 and 4 times – trying to get little butts out of bed and out the door on time. My 3 big guys (in grades 6, 7, and 8) have to be at the bus stop at 6:55AM. I usually start waking them up at 6:15AM – and it's a win in my book if they're all down by 6:40AM. That gives them 15 minutes to eat something, pack their bags and get out the door. For my Henry (5th grade) and Victoria? They get to sleep a little later. I wake them up at 7:30AM and then we need to be out the door by 8AM to drop Victoria off at school and then off to drop Henry. I will say this – every morning by 8:30AM – I feel like I'm just done a morning workout. It's always fast. It's always furious. And there's always a wildcard tossed in with one of my five kids! But hey – this is my version of normal – so I don't know any other way.
This morning (it's Saturday) I was in a beautiful deep sleep when I started to hear male voices fighting. They weren't voices I recognized, so I jumped out of bed and ran to the hallway. The voices were coming from Ben and Henry's bedroom. I walked into find Ben sitting up in bed watching someone playing Fortnite on YouTube. I instantly became angry and said, "On what planet do you think it's OK to play that SO LOUD in the morning when everyone is sleeping?"
"Sorry, Mom…" was what I got back from him immediately and the phone volume instantly turned down. I went back into my bed, checked the phone and saw the numbers 6:10AM flashed on my phone.
6:10AM? Is he KIDDING? He out of all of my kids is one of the toughest to get up in the morning. But on Saturdays? He's always the first one up. I will never understand this logic. I started to get upset in bed about it… I haven't slept past 6:15AM in 3 weeks! I was looking forward to sleeping past 7 or even 8AM! Now? I was up. There was no way back to a deep sleep. I heard Victoria wake up and then she ran into my room to snuggle. As I was lying there with her, it suddenly occurred to me – like a lightening bolt – that someday I won't get these morning snuggles. Someday she'll be too "cool" or too "old" to crawl into bed with me and snuggle. And then I started thinking about Ben… and that someday, just someday (it's not now)… but someday I'm going to wake up on a Saturday morning and wish I had these 4 "little" boys to wake up or tell to turn down the volume on their phones.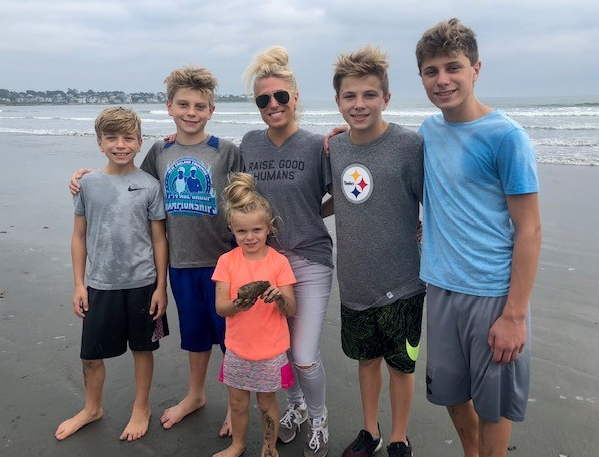 Someday.
It got me thinking of the somedays. All moms and dads have those someday thoughts. And all moms and dads have those someday conversations with their kids or with themselves. These somedays are our anchors many times. These somedays help us through tough parenting stages and ones that are bittersweet.
Someday you'll be out of diapers.
Someday you'll stop asking for a bottle.
Someday you'll stop using binkies.
Someday you'll learn to crawl.
Someday you'll learn to walk.
Someday you'll look at me and say "mama" or "dada."
Someday you'll learn how to pee on the potty.
Someday you'll have to go off to preschool, without me.
Someday you'll fall asleep without the hall light on.
Someday you'll be big enough to take a shower.
Someday you'll take the school bus.
Someday you'll stop wanting your blankie.
Someday you'll be off to school like a big kid.
Someday you'll won't run into our bedroom in the middle of the night.
Someday you'll stop wanting to hold my hand.
Someday you'll want to have a girlfriend or boyfriend.
Someday you'll get your heart broken – and I will be here.
Someone you'll have to break someone's heart – and I will be here.
Someday you'll be embarrassed to see the notes from me in your lunch.
Someday you'll stop calling me "Mommy" and call me "Mom."
Someday you'll want a kiss – just on the cheek.
Someday you'll be OK to walk to the bus stop on your own.
Someday you'll go to your first dance.
Someday you'll need to make tough decisions without me.
Someday you'll get your license.
Someday you'll be off to college…
There are so many somedays. And right now – this morning – I thought of those somedays. I thought of this list in my head as I was lying there in bed this morning with Victoria in my arms. And these are just some of the days, there are so many more in between. But it got me in the gut. I had tears in my eyes. I felt it in my heart. Here I am upset that Ben woke me up early… and someday – 8 years from now… when he's off to college, I'll be wishing he was in the next room with a phone loud enough to wake up me on a Saturday morning.
Someday. It's not always easy to go to the someday when you're in the thick of it, but this morning… I did. And it really just truly got me. I'm going to embrace the crazy and the chaos of parenting, even on the hard days because these are the days I will miss. These are the days that go by so fast and before you know it… time has just flown by. I already look at my 4 sons and I can't believe how big they've gotten. I miss the little boys that needed shoes tied and pancakes cut.
Remember the somedays.
Know the somedays.
There will always be new ones coming.
And always be ones you miss.